The Science of Making with Dr Rebecca Struthers
October 7th 2021 @ 5:00 pm

-

6:30 pm

£15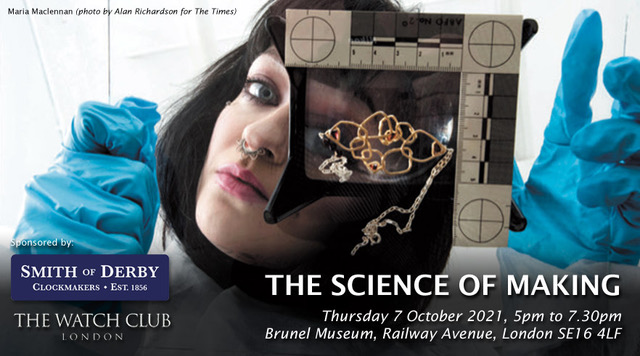 This panel event, organised by the Heritage Crafts Association and Dr Rebecca Struthers as part of London Craft Week, sponsored by Smith of Derby and The Watch Club, will explore the invaluable and sometimes surprising links between science and making.

Chaired by designer, materials engineer, presenter and director of the Institute of Making, Zoe Laughlin, the session will see award-winning scientists, makers, engineers, and educators from a diverse range of disciplines share their journeys of building successful careers in the space between science and craft.

The line-up includes:
·  Dr Rebecca Struthers – a real-life 'time doctor', independent watchmaker, author, historian and Sustainable Skills Ambassador for the Association of Heritage Engineers.
·  Dr Anna Ploszajski – a trumpet playing, channel swimming, performer, podcaster and materials scientist (author of Handmade: A Scientist's Search for Meaning Through Making)
·  Roma Agrawal MBE – speaker, presenter and structural engineer who has worked on projects from sculptures and footbridges to The Shard (author of Built: The Hidden Stories Behind our Structures and children's book How Was That Built?).
·  Dr Maria Maclennan – Lecturer and Researcher at Edinburgh College of Art, Service Design Manager at Police Scotland, and world's first 'Forensic Jeweller', exploring how jewellery can be used to assist identification and help solve crimes.
·  Alom Shaha – science teacher, filmmaker and writer who has worked with organisations including BBC Bitesize and The Royal Institution to improve childhood learning through making (author of several books including Mr Shaha's Marvellous Machines).

After the main session, scientific glassblower Terri Adams of the University of Oxford will be on hand to talk through her endangered and sometimes life-saving craft. With networking and opportunities to meet the panellists before and after, this event is suitable for all ages. A drink and nibbles will be provided.