Fundamentals of Furniture Making (Part I) with Aidan McEvoy
September 11th 2021 @ 9:00 am

-

September 12th 2021 @ 5:00 pm

£325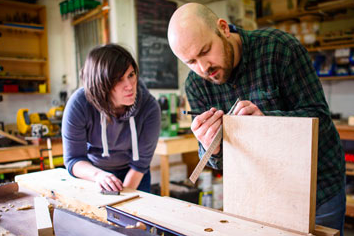 This is the first part of a two part beginner's course designed to provide an introduction to furniture making.
The course covers:
Use of hand planes
Sharpening and tuning of hand planes
Characteristics of timber and working with it
Achieving flat, straight and square with a hand plane
Marking tools
Advanced sharpening of planes and scrapers for 'difficult' timber
Building confidence in the use of hand tools
At the end of the two days you will have gained the knowledge and confidence to attempt simple furniture making tasks. You will also have learned the fundamentals of using and sharpening hand planes. Finally, you will leave with your own hand-crafted breadboard which can take pride of place in your kitchen.
Following the course you will receive an email with a range of information to help you take your next steps. For example, advice about buying and maintaining tools and details of suggested suppliers. We will also include plans and a materials list for a project using the skills you have learned during your course. This will help you put your new knowledge into practice.