QEST Open House – London Craft Week 2019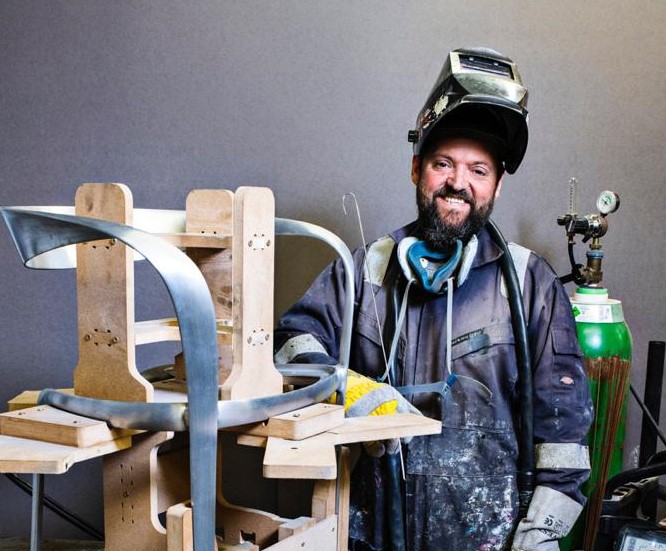 London Craft Week returned to the capital for its fifth edition in May 2019. Celebrating outstanding British and international creativity, the festival brought together over 240 established and emerging makers, designers, brands and galleries.
QEST held an Open House at Pewterers' Hall, an historic gem in the heart of the City with 17th century panelling, Georgian chandeliers and fascinating pewter artefacts. The day began with traditional and contemporary craft demonstrations by 14 QEST alumni, including engineer turned bookbinder and Worshipful Company of Clothworkers Scholar Manuel Mazzotti, signwriter and fairground artist Amy Hopkins, and sculptor Richard Mossman.
During the afternoon, Julian Calder, who travelled the length and breadth of the UK for the QEST book A Celebration of British Craftsmanship in 2018, gave a talk on his craft of portrait photography. Julian has undertaken all kinds of commissions in a long career, but his heart has always been in portraiture, striving to achieve a lasting image. Other books he
has photographed and produced include The Oldest – Everything that is not in a Museum, Keepers – The Ancient Offices of Britain and The Queen's Birthday Parade – Trooping the Colour.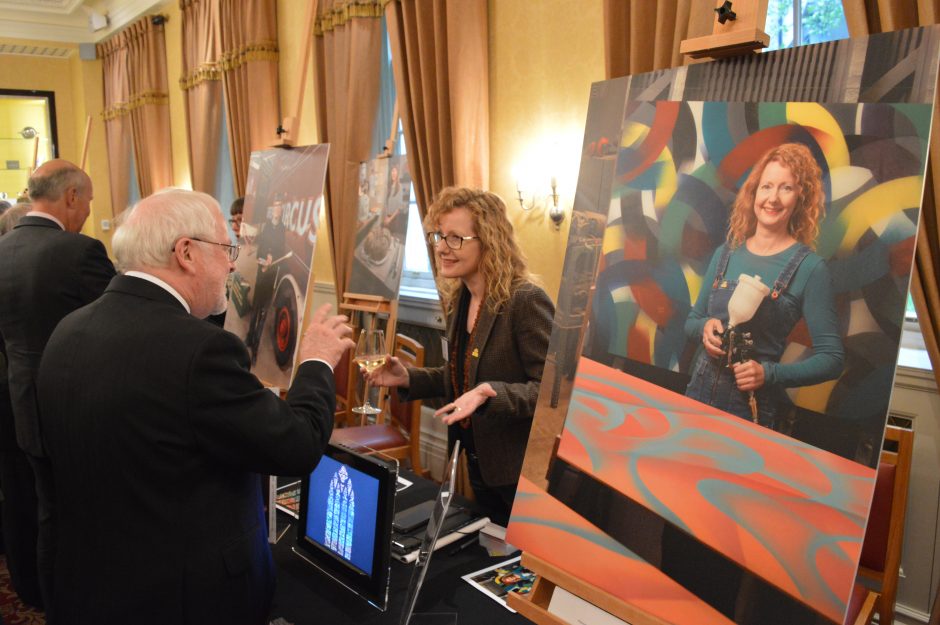 Julian also revealed a series of new portraits for QEST, which Chairman Nick Crean highlighted at the evening reception, where the five subjects were among those exhibiting their work. QEST Worshipful Company of Pewterers Scholar and Freeman Pewterer Gordon W. Robertson is pictured at Vintners' Hall with Alderman Dr Sir Andrew Parmley and the gifts he created for Sir Andrew's year as Lord Mayor of London: pewter formed into bowls and bottle holders, etched with a swan and vine motif designed to reflect elements of his coat of arms and livery companies.
Alice Walton, who completed her MA in Ceramics & Glass at the Royal College of Art on a QEST Carole Bamford Scholarship in 2018, is in her studio working on the surface texture of one of her street furniture-inspired pieces. Sophie Barrett is painting the set for a production of Rutherford and Son at the National Theatre, where she is in the final year of a Scenic Art Apprenticeship. QEST Garfield Weston Foundation Scholar Jamie Murray is more used to being behind the lens; he is in the midst of a series of workshops on bespoke printing methods to further his practice as a photographer, printer, and bookmaker.
Having created ways to manipulate wood into complex sculptural forms, Tom Vaughan, founder of Object Studio, has been exploring ways to achieve similar results in metals through a QEST Howdens Scholarship. Julian has captured this progress with Tom working on his Goldsmiths Chair, an evolution of a design for the Worshipful Company of Goldsmiths Made for the Table exhibition and the first piece towards a boundary-pushing collection of cast metal furniture.
This article was originally written by Karen Bennett for the Summer 2019 QEST magazine.