Sanderson Launches New Wallpaper Designed by Rachel Spelling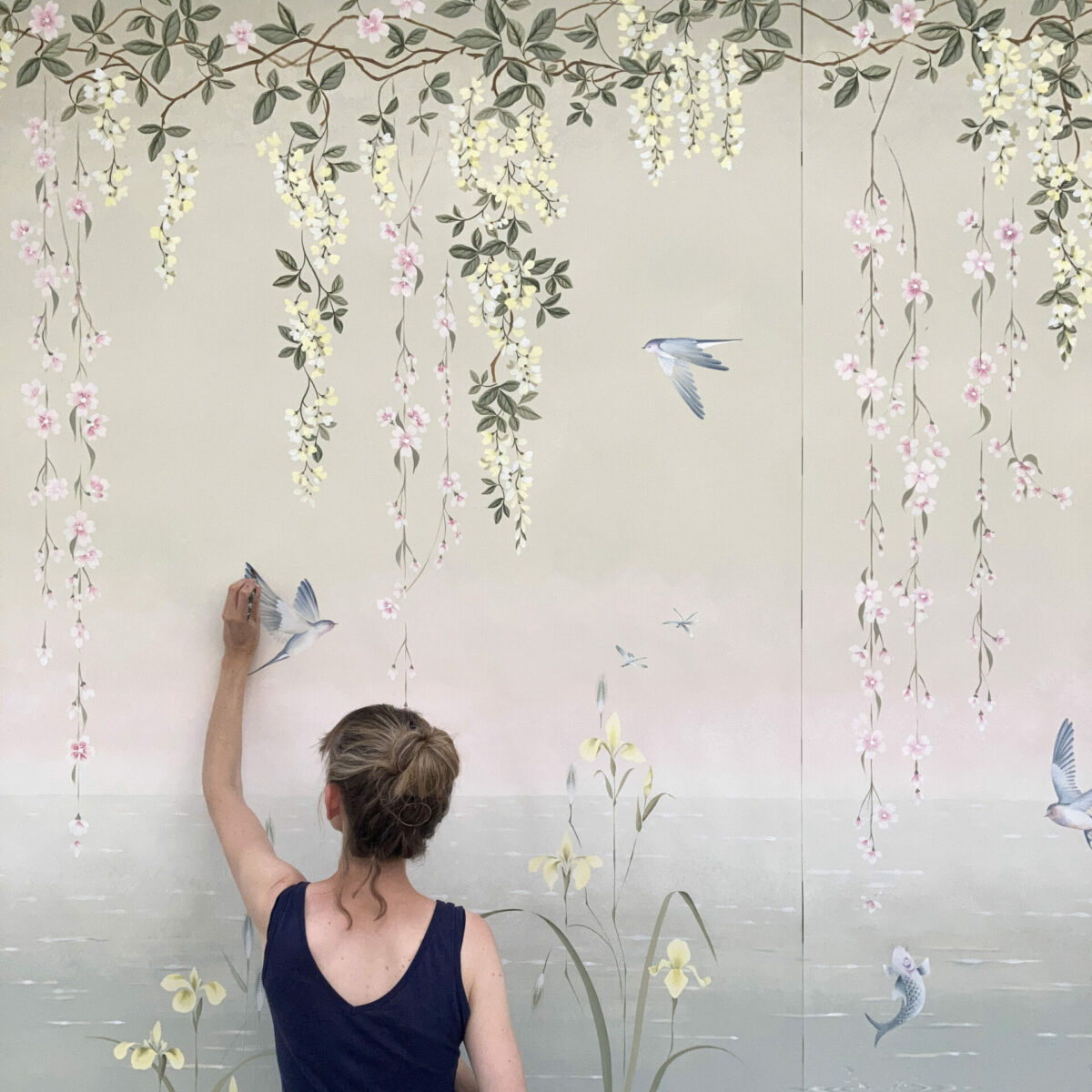 Decorative painter and QEST Sanderson Design Co. Scholar, Rachel Spelling, has crafted an elegant, contemporary wallpaper panel for The Water Garden, a new collection from Sanderson. Inspired by nature's peaceful pleasures, in contrast to the chaos of London in lockdown, her design draws on the joys of springtime buds, early butterflies, and a quiet sense of space.
Here Rachel describes the project from beginning to end:
The design process started when I was given access to the Sanderson archives, and I was taken aback by the incredible variety of material in there. I had associated Sanderson with beautiful English florals, and there are certainly a lot of these in the archive, but there were so many other influences too. Arthur Sanderson had an eye for the new, and he habitually brought back material from his travels. It was the imported Japanese wallpapers that caught my eye. And then I came across some extraordinary Japanese drawing guides that he had brought back to the studio to inspire the artists who were painting Sanderson designs. They were beautiful, delicate, very fragile early 19th century books about how to draw from the natural world, with separate chapters for tigers, waterlilies, blossom, frogs, birds… It was such a privilege to be allowed to quietly leaf through the yellowing pages and drink in this alternative approach to drawing.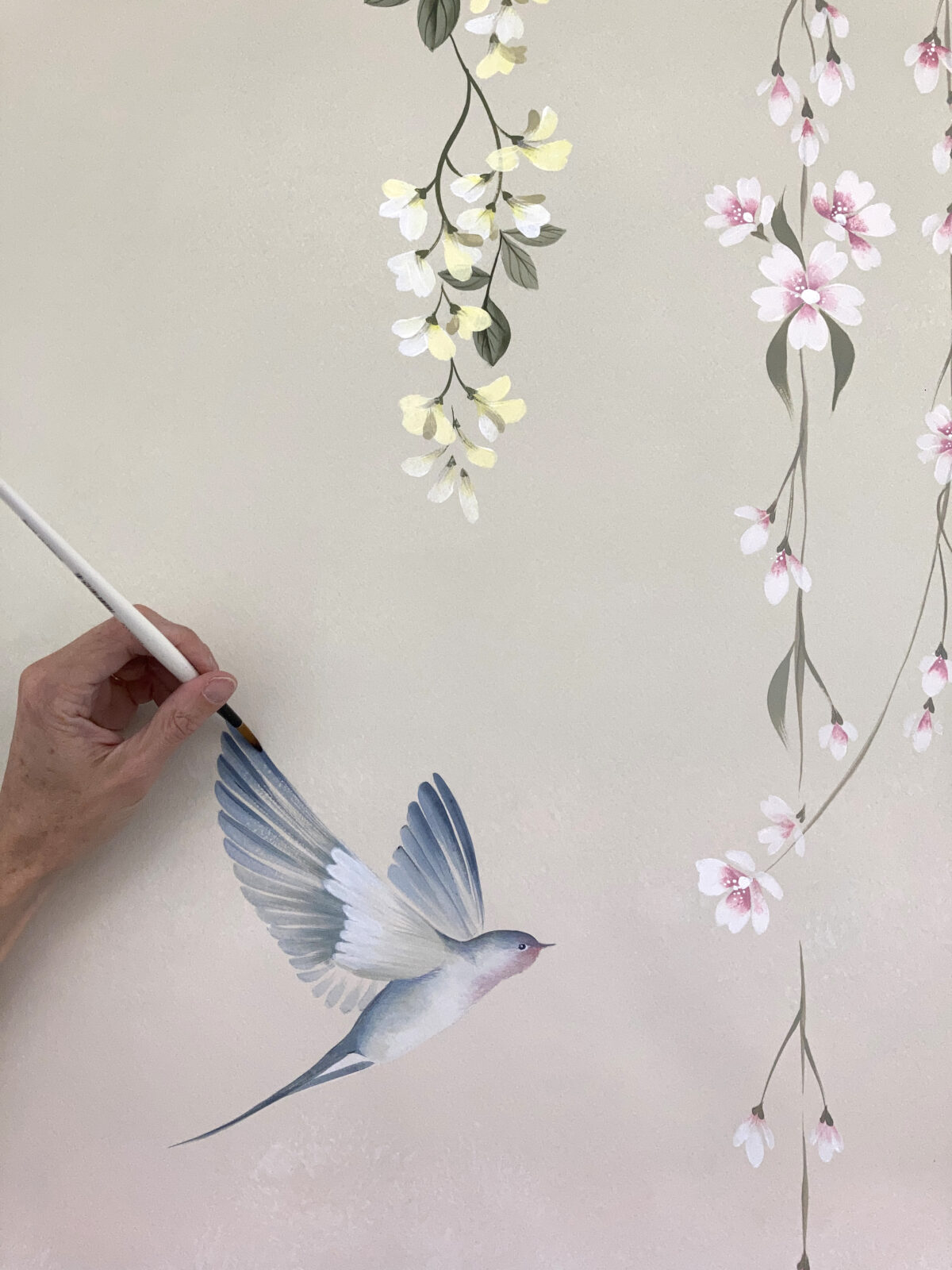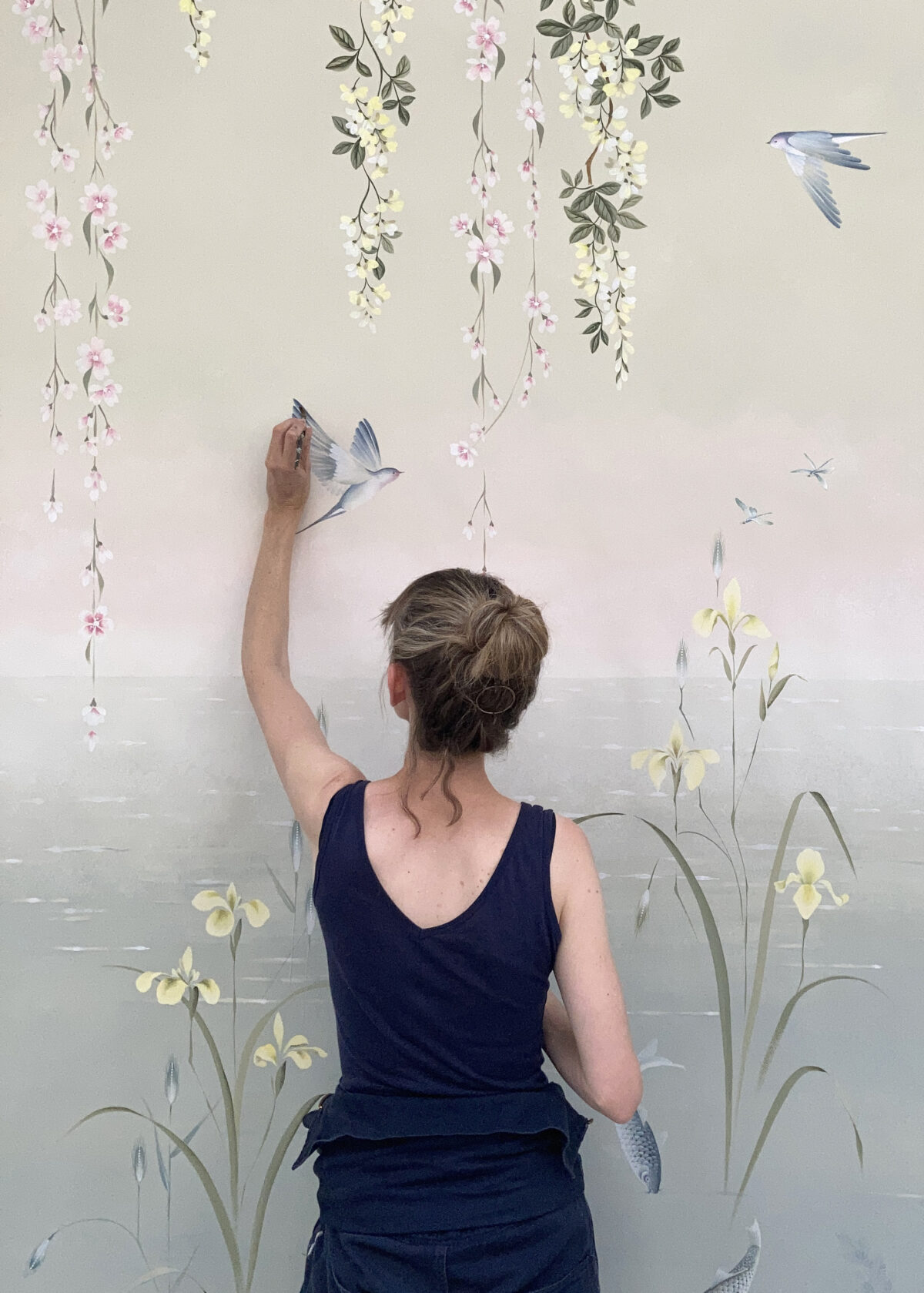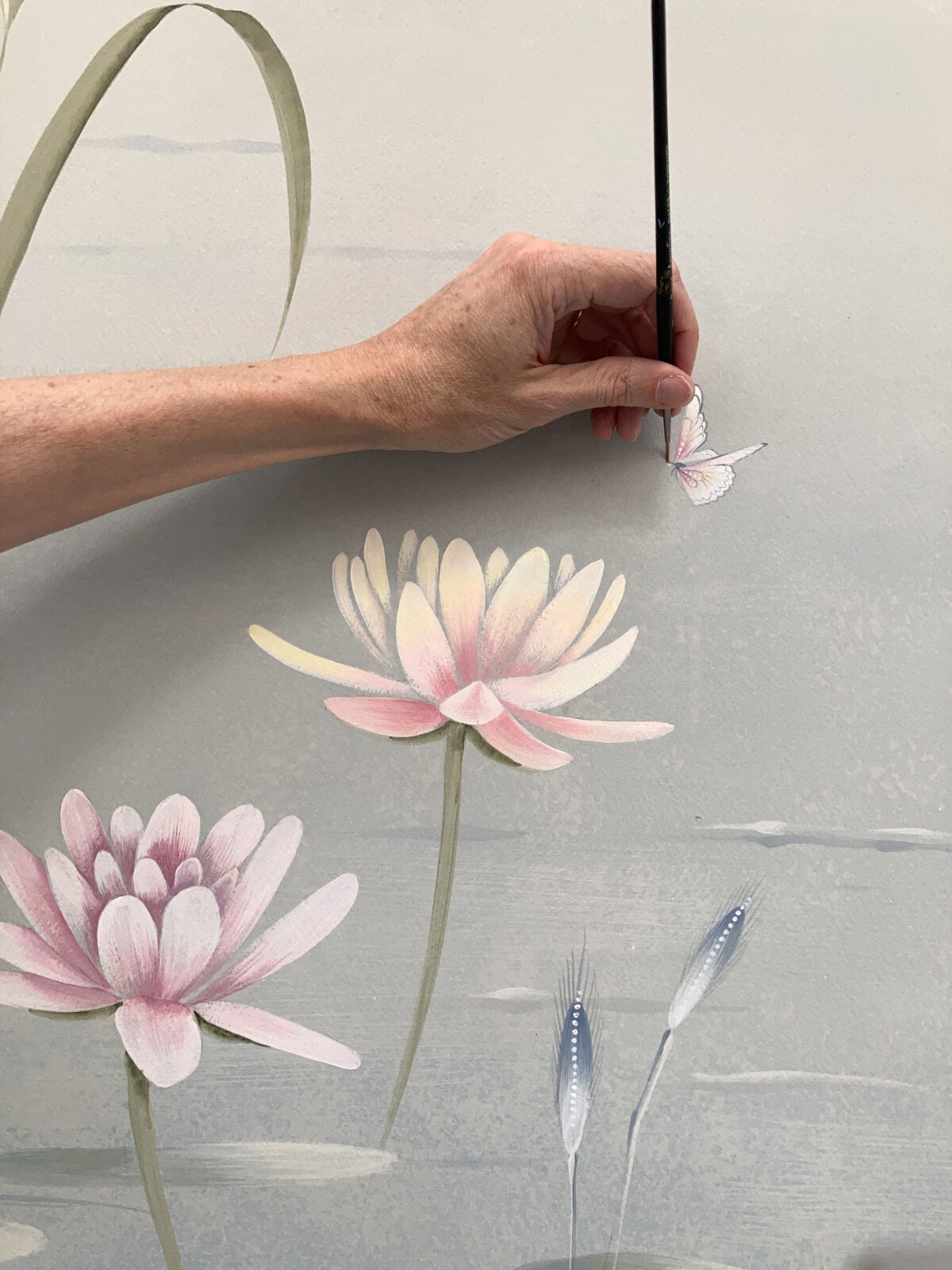 I was in the middle of my QEST training when I visited the archives, and my tutor and I were focussing on 'Chinoiserie' and the wallpapers produced in China for the Western market in the late 18th and early 19th century. We shifted our attention to Japanese screens from the same period, which are very different to the dense and detailed Chinese papers. The elegance, simplicity and empty space in the Japanese screens really appealed to me, and I decided to paint a mural wallpaper with something of their atmosphere, but incorporating iconic elements from the Sanderson visual lexicon – swallows, carp and trailing laburnum.
I designed a floor to ceiling scene where water fades into sky and then up to foliage. Laburnum and blossom trail down from the top, and tall water irises and grasses reach up from the bottom. Birds are flying in the sky, fish are swimming in the water, dragonflies and butterflies are fluttering around, and waterlilies bring in pops of colour. I was focussed on bringing in a really strong sense of calm and serenity in the design, by using empty space and the softest of colour palettes, and by creating a gentle, harmonious composition. The twists and turns of the leaves, the fish and birds lead the eye around with a kind of slow melodic rhythm. I'm interested in the atmosphere a wallpaper can bring to a space, and with this design I wanted to conjure the quiet, joyful feel of early spring: a gentle breeze, soft sunlight and the promise of new life.