Training Tales: Charlie Calder-Potts on Indian Miniature Painting in Pakistan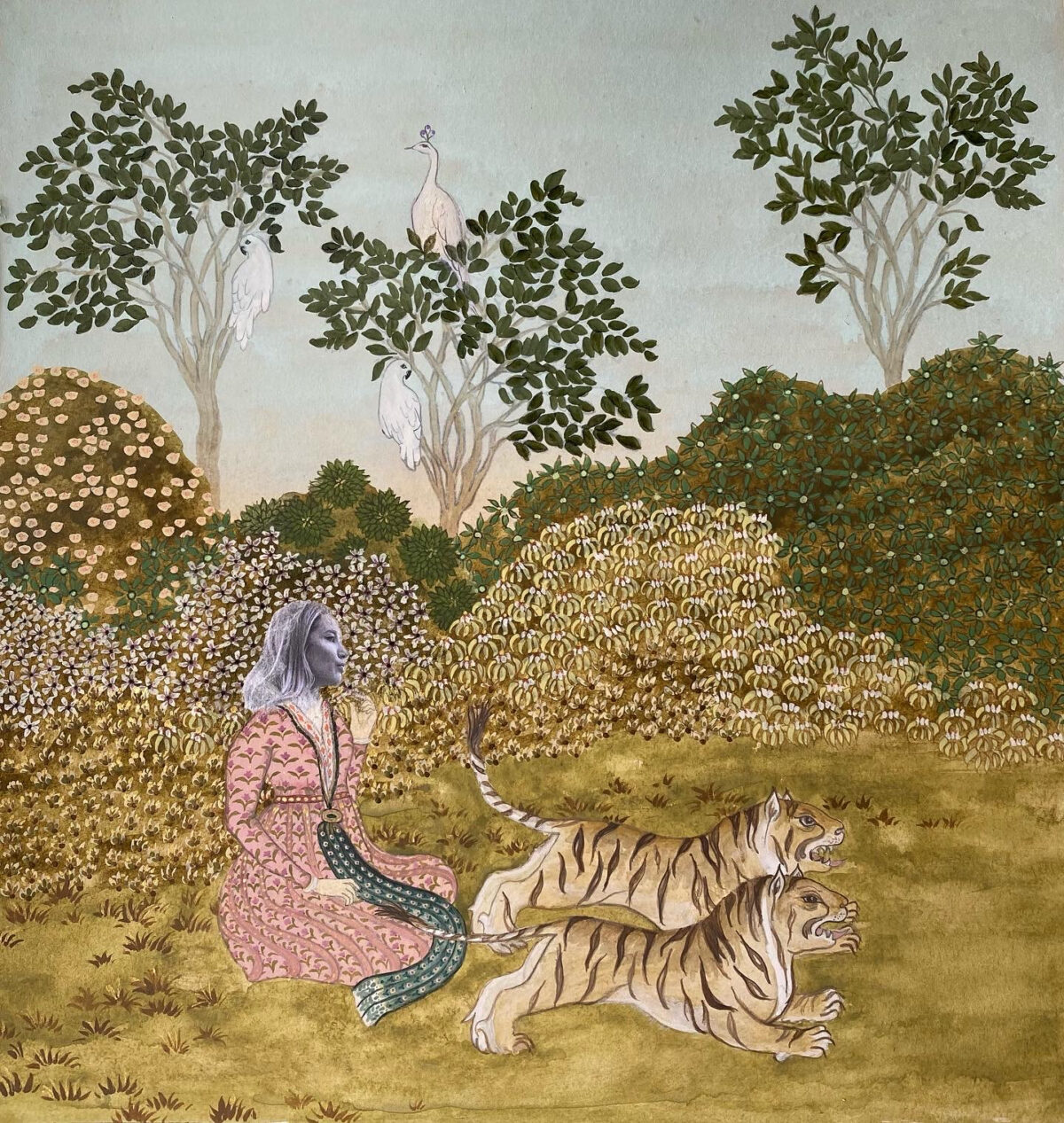 Charlie Calder-Potts travelled to Pakistan with her QEST Scholarship to learn the art of Indian Miniature Painting with Heraa Khan. She learnt how to make a kalam (brush) with squirrel hair, why it's important not to wear nail varnish when making a safeda (base paint) and much, much more. Here she reports on her complete immersion into this most painstaking of arts.
Touchdown in Lahore at 3am on an already sweltering Sunday…it was July 2021, Pakistan was on the Red List and Covid was on the up. I have travelled extensively for all of my previous projects but this, in the climate of Covid, and the solitary existence of the last few years, felt very different. My hunger to learn, combined with the relief at finally having made it to Pakistan, meant that, on this boiling July morning, I was overwhelmed with appreciation. It was to be the most intense 7 days of learning of my life and I would relish every second.
My previous projects include sponsorship as an Official War Artist with the British Army in Afghanistan; private commissions in Iraq; collaborating with Persian poet Rosa Jamali in Iran (sponsored by the British Arts Council) and studying traditional Russian Icon Painting in the studio of Vladimir Bushkov in Palekh. This project, funded through my QEST Scholarship, was to give me a week under the tutelage of Heraa Khan, a master of the Indian Miniature Painting style. Not only were we to have long days in the studio together but Heraa was also to be my host. I would be living with her and her family, her parents-in-law in the apartment downstairs and her young son giving up his bedroom in order for me to have a place to sleep. It would be a week of complete immersion, together with the most overwhelming hospitality. I could not have wished for more.
When looking at a traditional Indian Miniature painting, it is obvious from its infinite detail that the making of this work is far from speedy. What is not obvious, however, is the time-consuming process of preparing the materials required to actually paint it. My first day in the studio was a humbling one. I thought, from my reading and research, I had a pretty good idea of the miniature painting process…I did not. Sitting on the floor of Heraa's studio (barefoot and cross-legged on the most beautiful silk Persian rug) she informed me that before we even start our miniature painting, we must first make the traditional white opaque paint base (safeda) and the finest brush I would ever see (a kalam).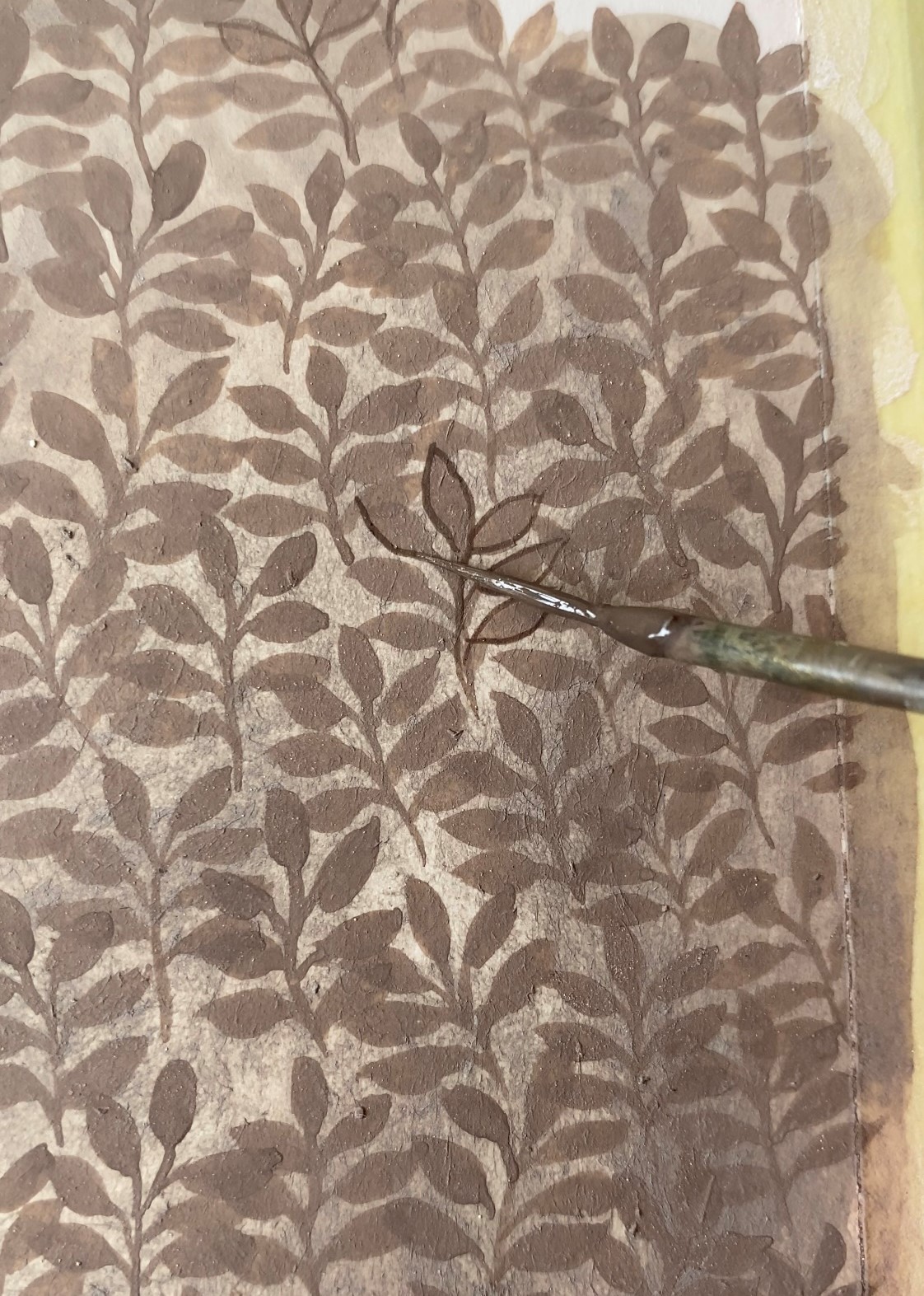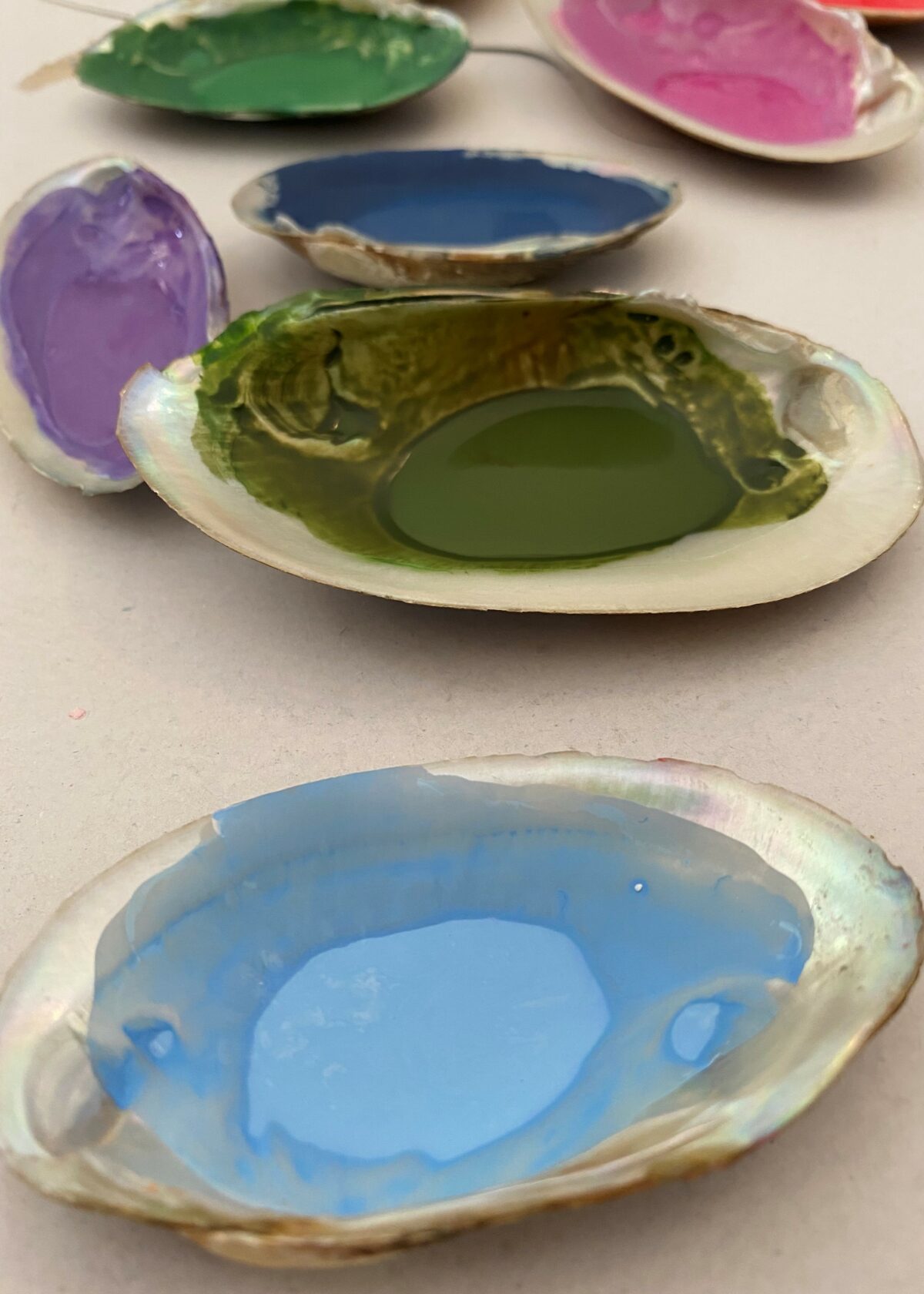 The safeda was essential to get right; with it I could go on to mix all the colours of the rainbow, storing each one in its own mussel shell – the perfect container for a little jewel of pigment. It was relatively easy to actually make safeda but also, unfortunately, relatively easy to mess up…the tiniest speck of dirt could contaminate the whole thing, rendering it useless. Since it took a whole week before it would be ready to use, you did not want to get it wrong. After I made mine, Heraa (in true 'Blue Peter' style) then whisked out a perfect 'here's one I made earlier' for me to use in the studio for my lessons that week. Finally, on my last day with her, I removed the delicate muslin cloth to reveal MY finished safeda andexpected to find a pure, opaque, beautiful white block of cracked pigment, just like Heraa's. However, mine was pink. Heraa couldn't understand what had gone wrong until I remembered I had been wearing nail varnish the day I arrived…a molecule of my Rimmel 'Double Decker Red' was all it needed. I now do not wear nail varnish when making safeda and scrub my hands within an inch of their life. First lesson learned.
The making of my kalam was, thankfully, more successful than my safeda. This is a truly magical brush created using materials taken directly from nature; a pigeon feather, gum arabic and some carefully selected squirrel hair (or…if you are really stuck for a dead squirrel…hair from a willing Persian cat…but only as a last resort as squirrel hair is apparently THE BEST). This brush is finer and stronger than any brush I have ever bought from an art shop in the UK. As I sit in total awe of my first homemade kalam, Heraa tells me with glee that it will last at least a year and will only get better as the tip becomes finer and more honed to my practice.
It is no exaggeration to say that my new brush opened up an entirely new world of painting possibilities; the most resounding of which being the impact of colour when applied patiently, thoughtfully and most importantly, subtly. With my kalam I learned how to layer colour so delicately it appeared, at the first instance, to be only clear water with no pigment at all. Traditional miniature painting teaches that you must not mix directly on to the palette, but instead, on to the back of your hand in order for your skin to absorb any excess paint. What you are left with is an amount of pigment that is almost invisible to the naked eye. The important thing is that however seemingly non-existent this colour appears to be…it isn't. As Heraa said, it is in these essential subtleties that the story comes alive; real life is reflected through these edges and layers.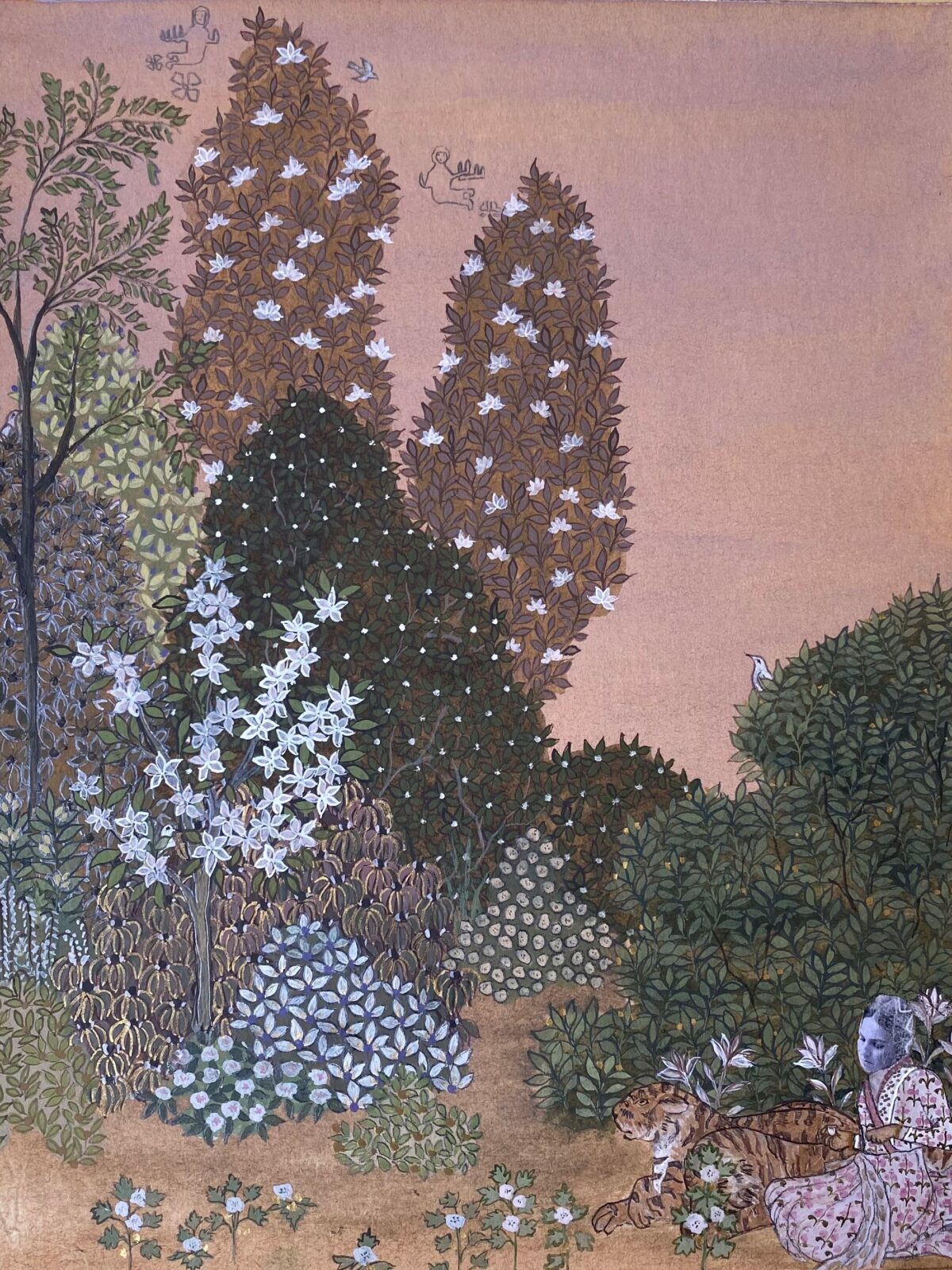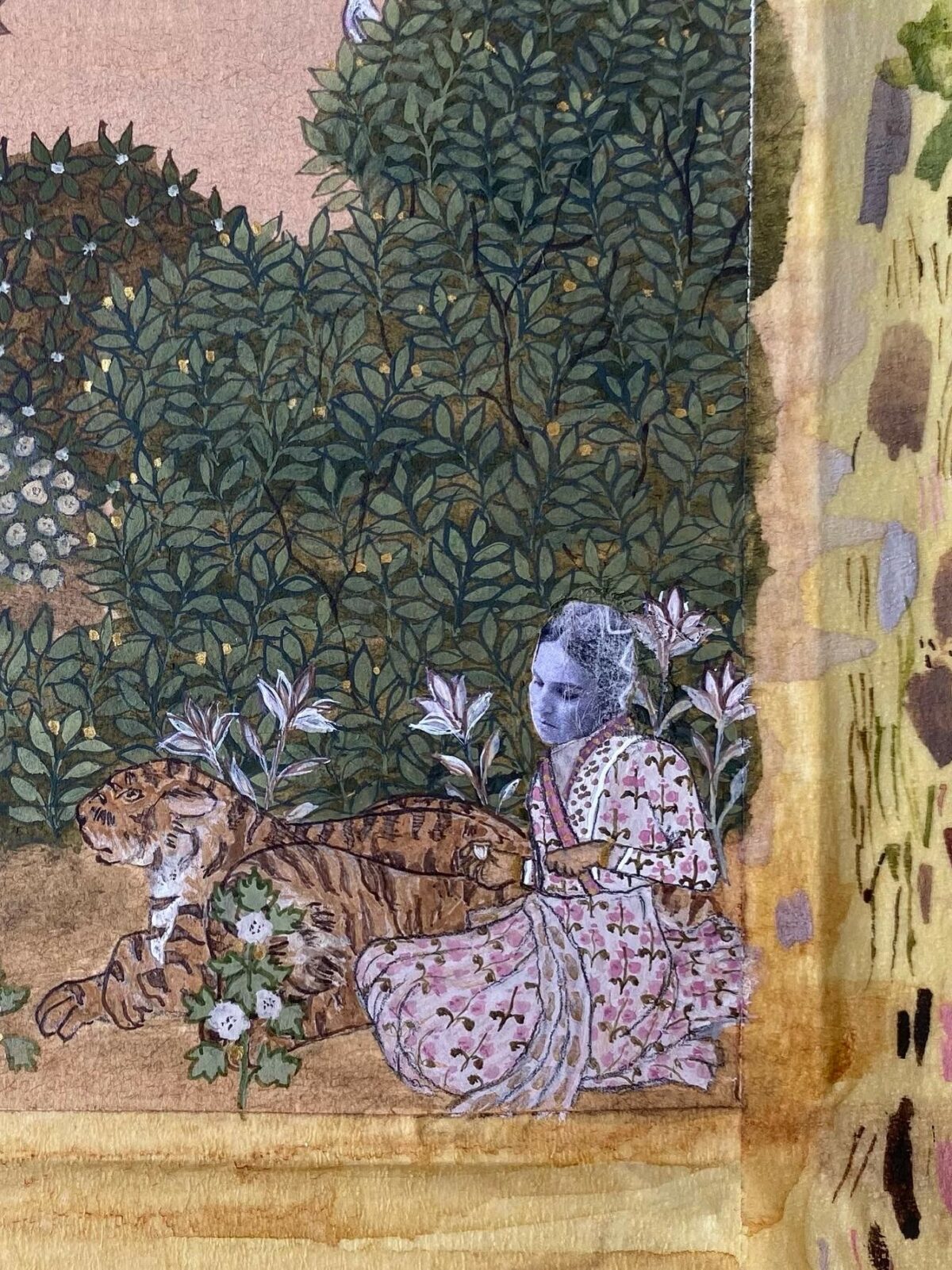 In Afghanistan I learnt the gravity of bearing witness first-hand; in Iraq the importance of human connection and a direct dialogue; in Iran the unparalleled gift of true storytelling and what it can communicate; in Syria how much and how quickly history and people, along with their stories, can be lost. It goes without saying that these experiences have hugely impacted my craft and the way I work today. The same can be said for my time in Pakistan with Heraa Khan. I learnt skills I have wondered for years how to achieve…a flatness of colour, the finest of lines, how to make my own materials and tools directly from nature. During those first few days in the studio, Heraa impressed upon me not only the importance of your materials but also the respect they demand. She taught me a new reverence for the process of making itself and I hope this most essential lesson will be forever reflected in my practice.
Charlie's solo exhibition 'The world was all before them' will open at The Fosse Gallery, Stow-on-the-Wold, in September 2022. See more of her work at www.charliecalder-potts.com and on Instagram at @charliecalderpotts.