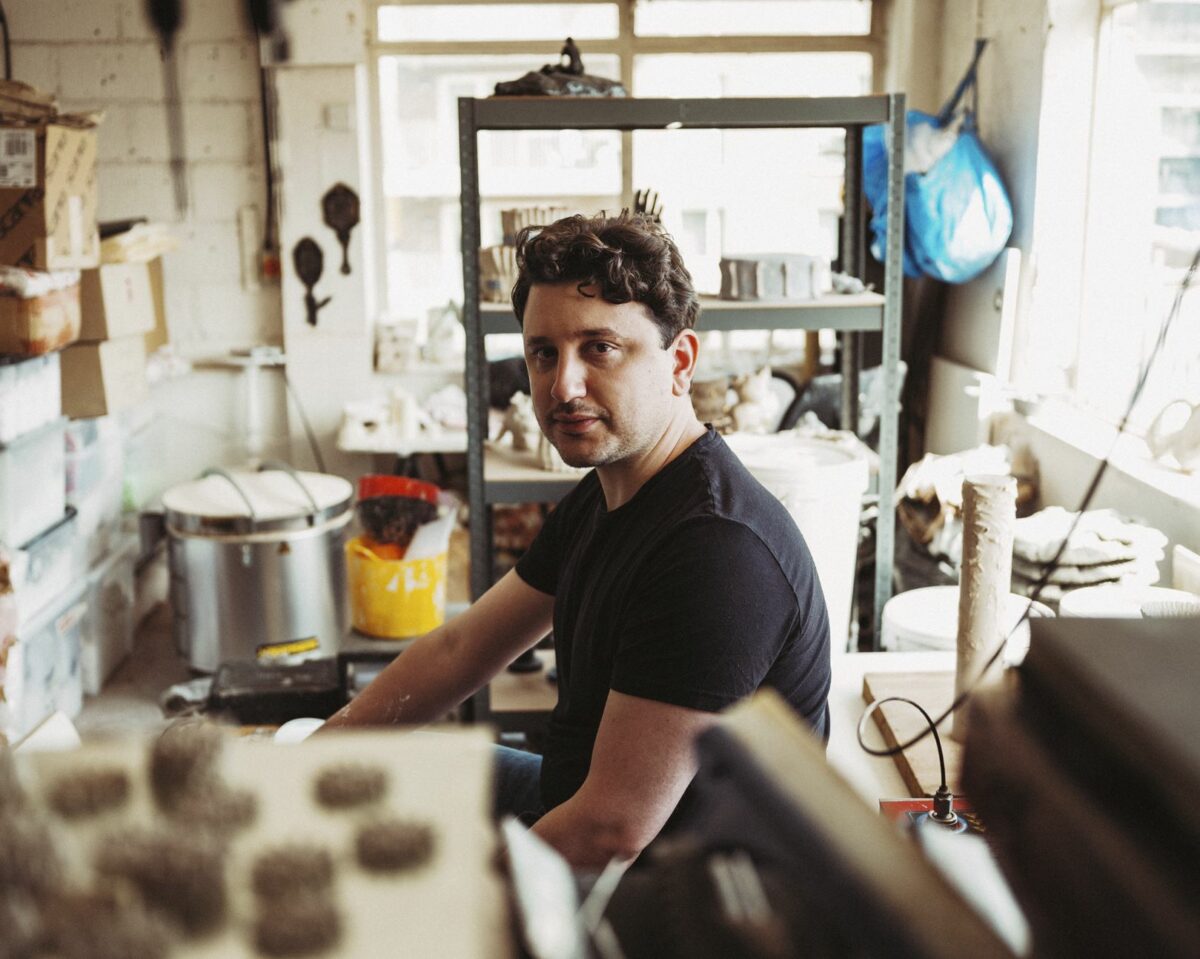 Nico Conti has brought the oldest craft in history up to date with his exquisite ceramics made using 3D printing technology
An elegant chalice-like porcelain form stands on the windowsill of Nico Conti's London studio. It is ribbed, like a gothic cathedral ceiling, and the light from the window reveals an exquisite lacework of tiny shapes within that recall the armature of a stained-glass window.
If at first glance it transports you back to the 14th century, its smooth surfaces and hard, super-whiteness are very much of the present. On shelves nearby are similar pieces in the shapes of urns, vases and cups. Some look like beautiful sea urchins, and all of them have an intricate internal structure.
Conti is a QEST Winch Design Scholar, and might at first seem the unlikeliest of artist-potters. Born in 1992 in Paola, a "very ordinary" village in Malta, his father was a car-sprayer and his mother a greengrocer. However, as a five-year-old he astonished his kindergarten teacher when he constructed a model car from bits and pieces found in the classroom. She rang his parents and insisted that he have art lessons. By the following year he was making pictures with feathers collected from his father's racing pigeons.
"I've been so lucky," he says. "I have found support at every stage of my life in a world where art is not really encouraged as a profession – even by me. I spent the longest time trying to avoid doing it."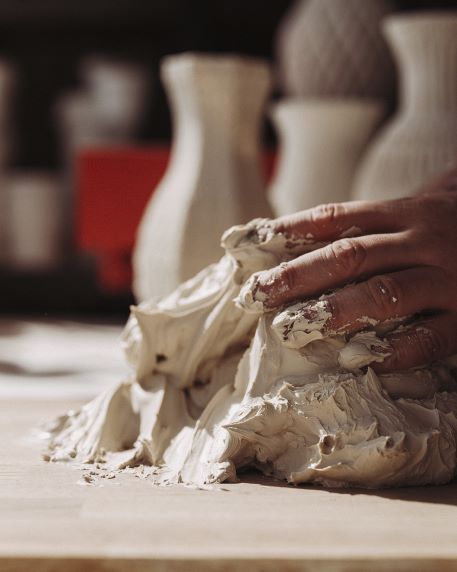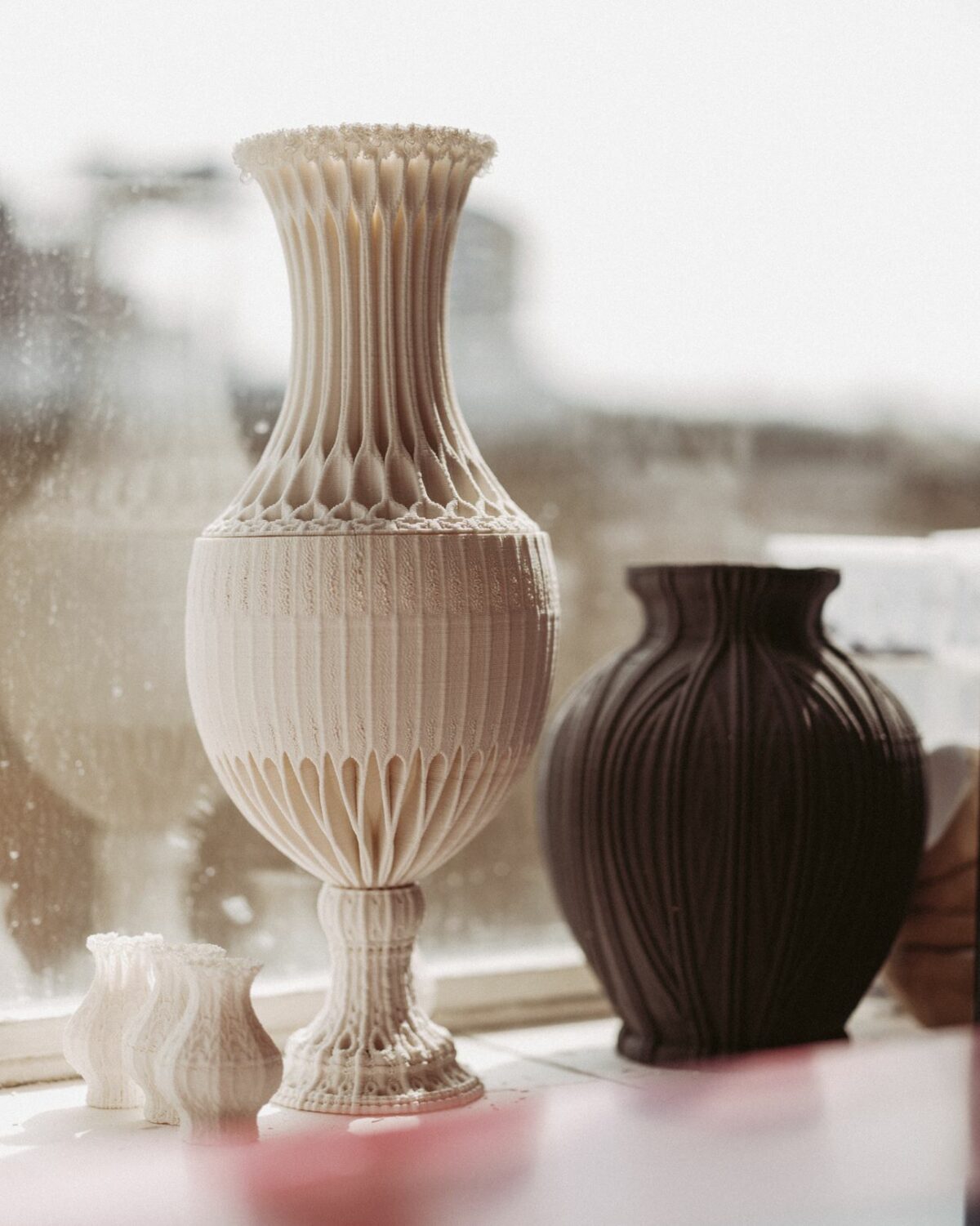 His education reflects this constant push and pull. He has no GCSE in art, but studied it at A level. Then he started a classics degree at the University of Malta, but switched to history of art. "I didn't enjoy it. I'm a rebel… the tamest kind. So I quit, and did telephone sales and wedding planning for a year. I enjoyed art as a hobby, but I wasn't comfortable presenting work to tutors. I was scared of failure." He eventually returned to university to study fine art, though the faculty was heavily weighted towards a conceptual approach, where some people "were good at coming up with complex theories for explaining something simple".
During his three years he didn't make a single pot, so it was a bold move to apply for a postgraduate course in ceramics at the Royal College of Art in London. The potter Edmund de Waal – and specifically his book The White Road, a paean to porcelain – inspired something of an epiphany for Conti. "My approach at the interview was that my lack of ceramic knowledge was to my advantage; I would not be limited by what I had been told. They liked that idea. It was a bit of a gamble."
It paid off. Conti felt he had something to prove, and worked at the college from 8am until midnight every weekday, putting in only slightly fewer hours at the weekends. His tutors encouraged experimentation. During the chopping and changing of his previous studies he had also found time to learn computer programming, so when the RCA acquired two 3D printers for the ceramics studio at the end of his first year, Conti jumped at the chance to use them.
Common in industry since the 1990s for its precision and flexibility, 3D printing is used to manufacture both tiny and very complex components, such as minute gears, turbine blades and filters with microscopic holes. The process starts with a design made on a computer using specialised software. This is the input for a 3D printer, which splits the design into hundreds or thousands of individual layers. Each slice is then laid down within the printer using the chosen material, which can be plastic, metal, or in Conti's case, clay.
"I start by modelling the shape in one programme, and give it some detail with another. The printer takes the image of the 3D sculpted object and divides it into layers, one on top of the other. These are then translated into a code that the printing machine can read," says
Conti. An air compressor pushes out clay particles through a tiny nozzle to form each thin layer and slowly build up the body of the piece. "I let it dry until it's hard, then fire it in the kiln at 1,300C, so the silica in the clay vitrifies."
His pieces emerge with a matt surface, rather like that of Josiah Wedgwood's famous jasperware. An early RCA project involved using the shapes and contours of an ornate 1790 Wedgwood vase and rearranging them using a computer algorithm to create a simpler, more modern vase shape with subtle reminders of the original.
At first, Conti found the 3D printing process boring and predictable. Then one day he left the computer working on a simple piece and returned a few minutes later to find that an unforeseen glitch had transformed the design completely. He has since discovered how best to precipitate such happy accidents, confounding the usual principles of 3D printing. "When something gets too perfect, I nudge it," he says.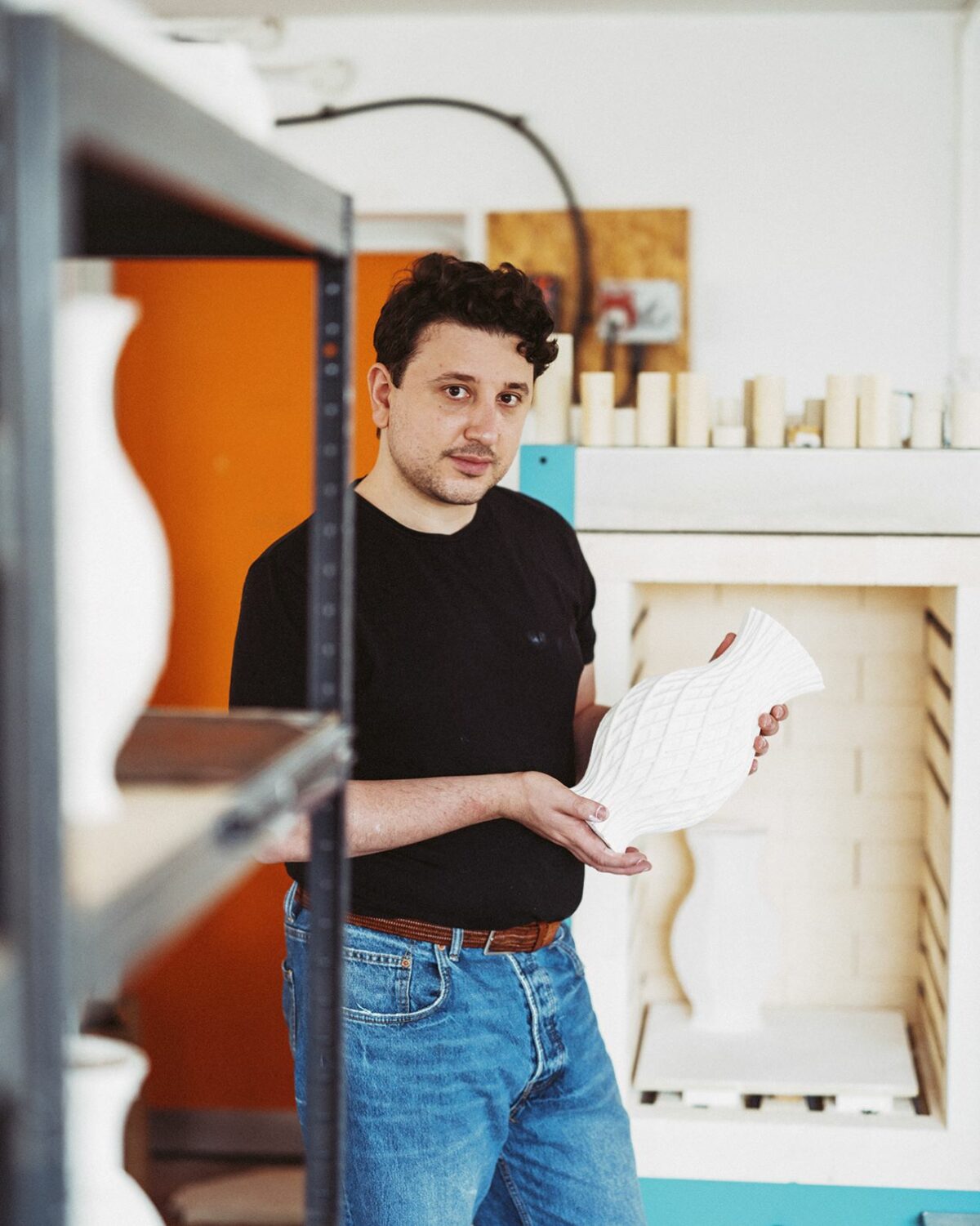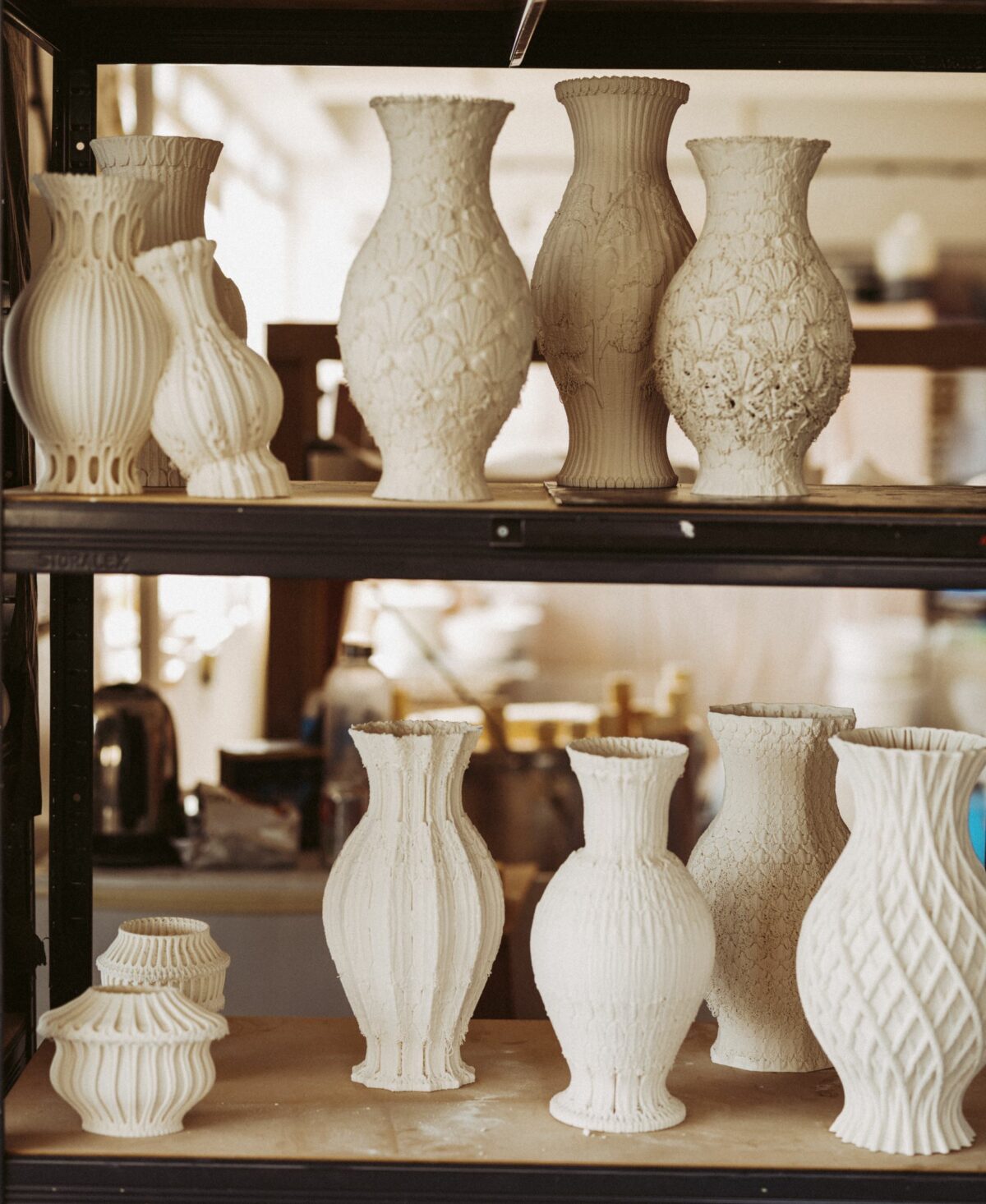 Conti left the RCA in 2019. He passed out at the top of his class and every piece from his final show sold, giving him enough money to equip his own studio. Then the Covid lockdowns struck. It was a commercial disaster for him, as it was for many young artists and craftsmen. He was unable to use the studio and promised shows were cancelled.
He now works in a shared space with four other people, and mainly works in porcelain. It is one of the most challenging of ceramic materials, but Conti has always loved it for its exquisite delicacy and beauty. "My pieces may look fragile, but I've sold them to people in South Korea, Europe and Canada, and they all arrived without mishap," he says. Collectors know that their pieces are unique because Conti destroys the computer design files after production so they cannot be replicated.
Last year Conti was asked to collaborate with the Nantgarw China Works and Museum near Cardiff. In the early 19th century the Nantgarw factory was reputed to produce the world's whitest and most translucent soft-paste porcelain, but the recipe was lost when its inventor, William Billingsley, left the factory in 1820. The museum decided to try to reproduce the material, and drew on the expertise of several universities, industrial chemists and manufacturers to do so. The result has been pronounced to be spectroscopically almost identical to the original recipe.
The QEST Scholarship is supporting Conti while he experiments in making this mixture suitable for 3D printing. "It has almost no impurities, which possibly accounts for it having had a 90% failure rate in the kiln," he laughs. "You need impurities to give clay plasticity."
Conti was delighted to have a piece included (and sold) on QEST's stand at the 2022 Collect show at Somerset House, but he has a further ambition to show his work in his home country. From the sea urchins that he would find snorkelling with his father, to the Maltese tradition of lacemaking, he says, "there's a lot of Malta in my work".
This article was written by Elfreda Pownall, and originally appeared in the Summer 2022 issue of the QEST Magazine. Photos by Benjamin McMahon.