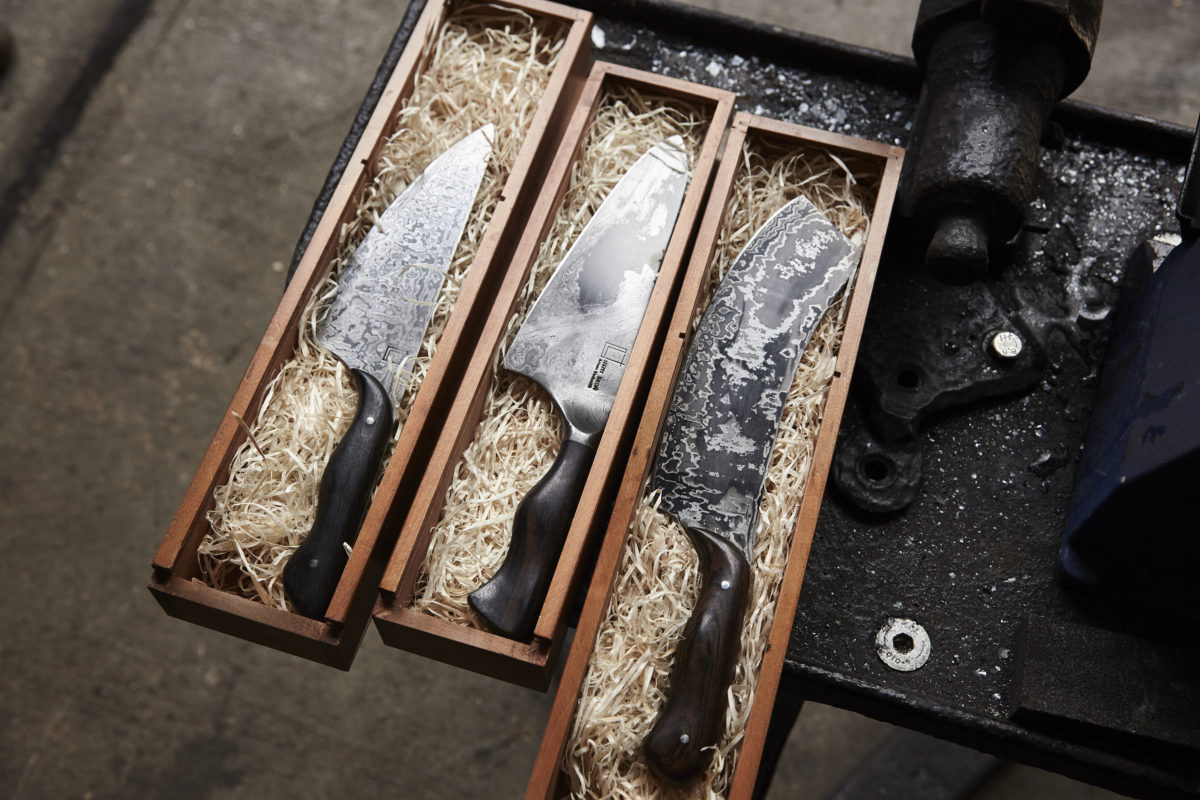 Blacksmith Leszek Sikon forges a range of knives and tools from his workshop in Suffolk. When Covid travel restrictions are lifted he will use his QEST Howdens Scholarship to travel to Japan and further his metalwork skills. Here he shares us how he changed careers, his knife-making process and his plans for the future.
How did you first discover blacksmithing and knife making?
After years of working for a big retail company, I felt burnt out and decided that it was time to change careers. I wasn't sure exactly what I wanted to do, but I knew I wanted to make something that lasts. First I looked into engineering, but nowadays it is mostly CAD work and you don't get many chances to get your hands dirty. I kept searching and eventually stumbled on Hereford College and their blacksmithing course. Their open day offered me my first taste of blacksmithing and I fell in love with the craft.
What is it about metal work you find so appealing?
There is something really satisfying and ancient in shaping steel. I think I was heavily influenced by the books that I read when I was little – Greek mythology, Tolkien and later on various history books. Blacksmithing has been a part of our civilization since the dawn of time, and it is always surprising to see how the steel moves almost like plasticine when it's hot, and all the beautiful patterns and shapes you can create.
Why do you focus knives in particular?
I knew I wanted to make tools when I finished college, and knives are the tools that everyone owns. In the future I would like to expand my practice and produce other tools, but at the moment I think it's best to concentrate on one thing and really master it.
How do you get the beautiful patterns on the blades?
This is one of the oldest techniques in blacksmithing called pattern welding, also known as Damascus steel. By using different steels and forge welding them together and cutting and folding I can create all sorts of patterns.
Where do you usually sell your knives?
Most of my knives are sold at various shows. They are very tactile objects and my customers like to have a feel of it before they buy, Unfortunately, this year most shows have been cancelled – the knives are still available on my website, and social media has helped me to reach a new audience, but I miss meeting the clients in person.
Take us briefly through the process of making a knife, and the skills involved
It's hard to explain, it's a mix of various forging techniques, metallurgy and temperature control. It's like cooking as you first need to start with the right ingredients – in this case high carbon steel of various types that stick together well. Then you prep them and forge them at the right temperature to create your stock. It's then shaped as you would do with a dough, and when you are happy with it you bring it one more time to the right temperature and quench it in oil that makes the steel hard. Then we move into finishing work grinding, polishing shaping the handle, and finally sharpening. If you like you can watch a short process video I had made:
How have you had to adapt your business during Covid times?
This was definitely a challenging time as most of my income in the spring months comes from the knife-making classes I run. These were all cancelled due to lockdown, and as I mentioned the lack of shows also took its toll. I did my best to show my work online which was successful to a certain degree, but nothing beats meeting the customers.
Where do you hope to take your business in the next five years?
I would love to take on an apprentice – I was actually planning to hire one this year but unfortunately due to Covid this was not possible. Hopefully, I will be able to get some help next year, and I also want to expand the range of products I make. Of course I'm looking forward to travelling to Japan with my QEST Howdens Scholarship too, as soon as that is allowed.
See more of Leszek's work and visit his online shop here: www.lsikonblacksmith.com