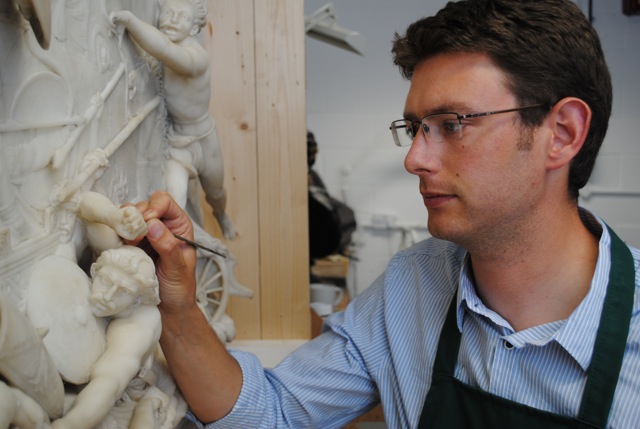 When it comes to honing their talents, the wider world offers an irresistible array of inspiration and specialist skills for many craftspeople. Here, we meet four makers who travelled across the globe with their QEST funding to learn new skills.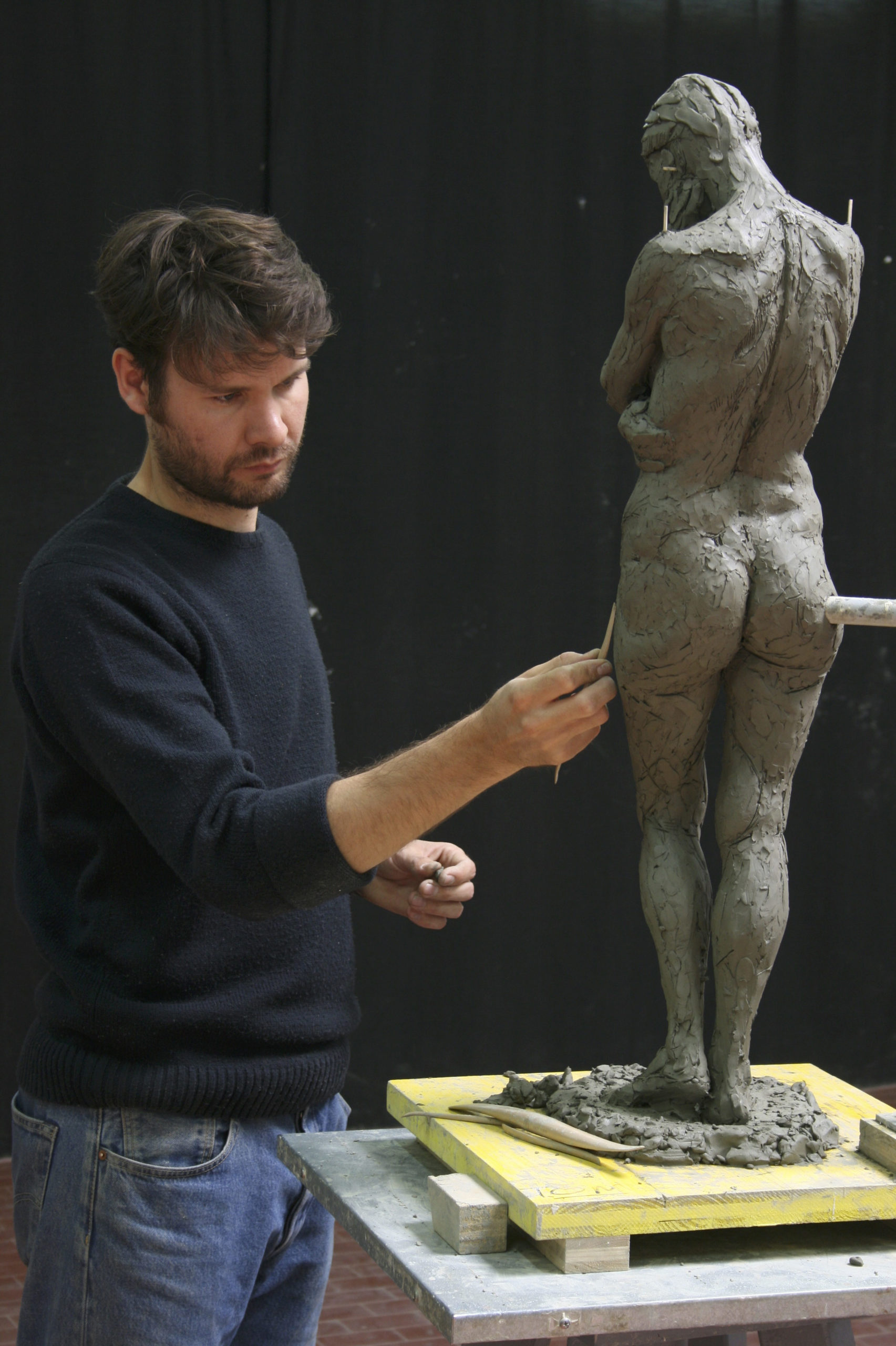 Thomas Merrett, Stone Carving and Sculpture
After training at City & Guilds of London Art School, Thomas was awarded a QEST Garfield Weston Foundation Scholarship to hone his knowledge of sculpture, drawing and modelling at the Florence Academy of Art. He now divides his time between his east London studio and teaching.
"After several difficult years in London struggling to make money from my work, I knew I had to develop my skills to progress as a figurative sculptor. However, as it is not possible to acquire this level of training in the UK, it was essential to travel.
"Thanks to the support of QEST, I spent a very happy year studying sculpture at the Florence Academy of Art. The Academy is a traditional school offering a high level of training in observational drawing and sculpture from the live model. I learned how to construct armatures for figures and portraits, as well as use comparative measurement to develop the sculpture in clay while the model posed, without the use of measuring took I was also able to attend classes in anatomy, which gave me useful knowledge for constructing figures convincingly when the model is not present. I learned something new every day.
"When I wasn't at college, I walked into the centre of Florence to be among some of the world's most famous works of art, previously only real to me in books. The food, wine and weather made the experience all the more special.
"The course was hugely important to my career -not only did it equip me with all the skills that I needed, it also allowed me to return to the UK with a portfolio of work and the confidence to take on ambitious projects which led to my first commissions. I will forever be influenced by my time in Italy.
"I now teach in London, so I am able to pass on those skills that I travelled for."
Hannah Waldron, Tapestry Weaving
Specialising in graphic, narrative-inspired images applied across a range of print textiles, artist and designer Waldron travelled to Japan to discover more about traditional Japanese weaving techniques. Her UK-based studio has worked with such prestigious names as Paul Smith and The V&A.
"While studying for my Textiles masters, I heard about the incredible Kawashima Textile School (KTS) in Kyoto, which teaches kasuri weaving. It's a traditional technique where threads are dyed and then woven to create patterns in the fabric. I applied to QEST to travel there and learn all about it as a scholar. I also wanted to develop my ongoing partnership with Japanese textile collective Link.
"It was a dream come true. After landing in Tokyo, I went to a factory in Izumo with Link founder Kyoko Bowskill to see our collaboration in action with a collection of noren (traditional Japanese doorway hangings) as artwork. I then went to Kyoto to undertake the kasuri course at KTS before travelling to Shikoku to visit a number of art exhibitions. Finally, it was back to Tokyo to stage my exhibition and run a weaving workshop.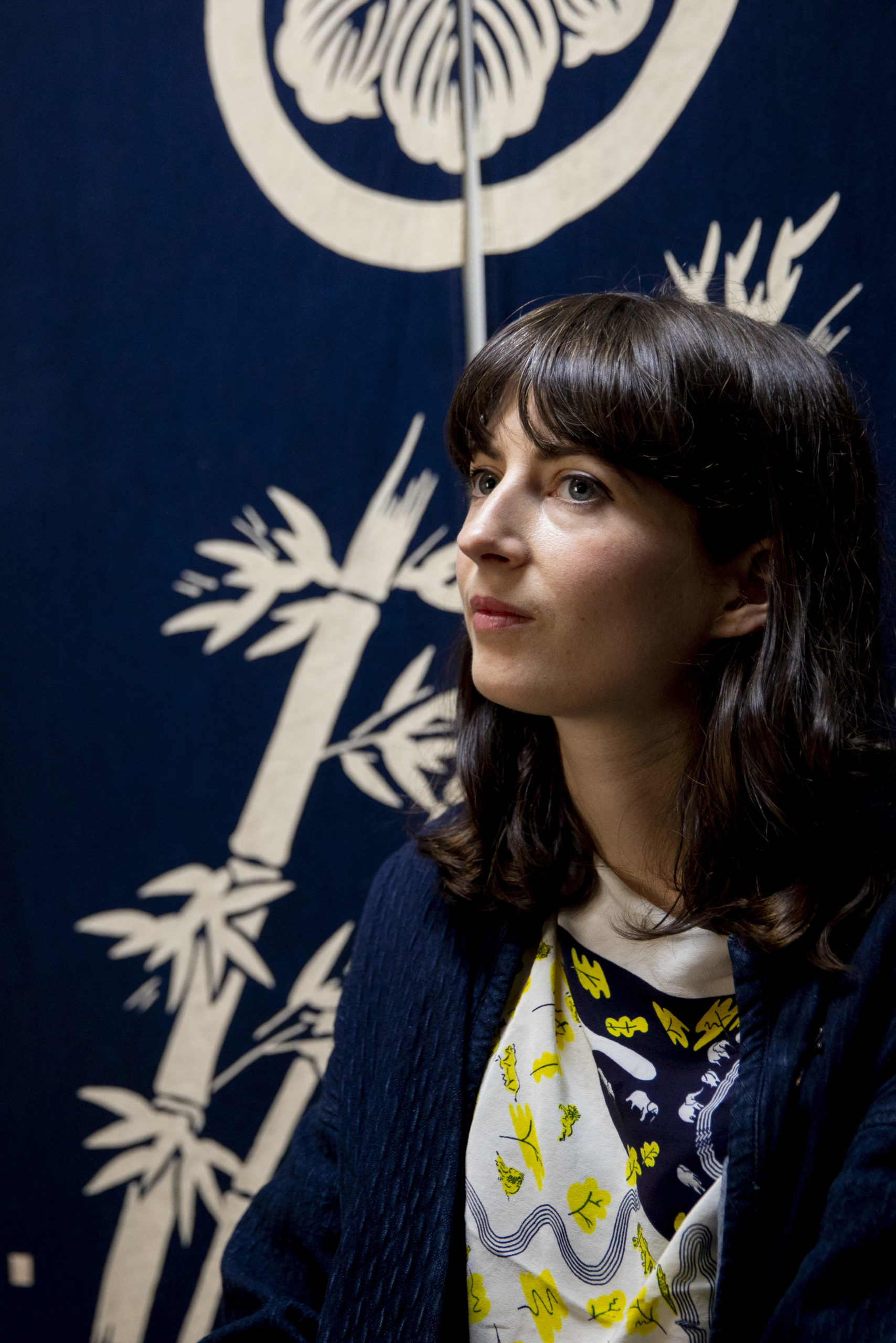 "Kasuri weaving was every bit as complicated as I imagined – I feel like a wizard knowing magic now. My experiences in Japan will serve me artistically for years to come and I look forward to exhibiting some of the work produced around this trip in a solo exhibition at the Fotokino gallery in Marseille, France in the future."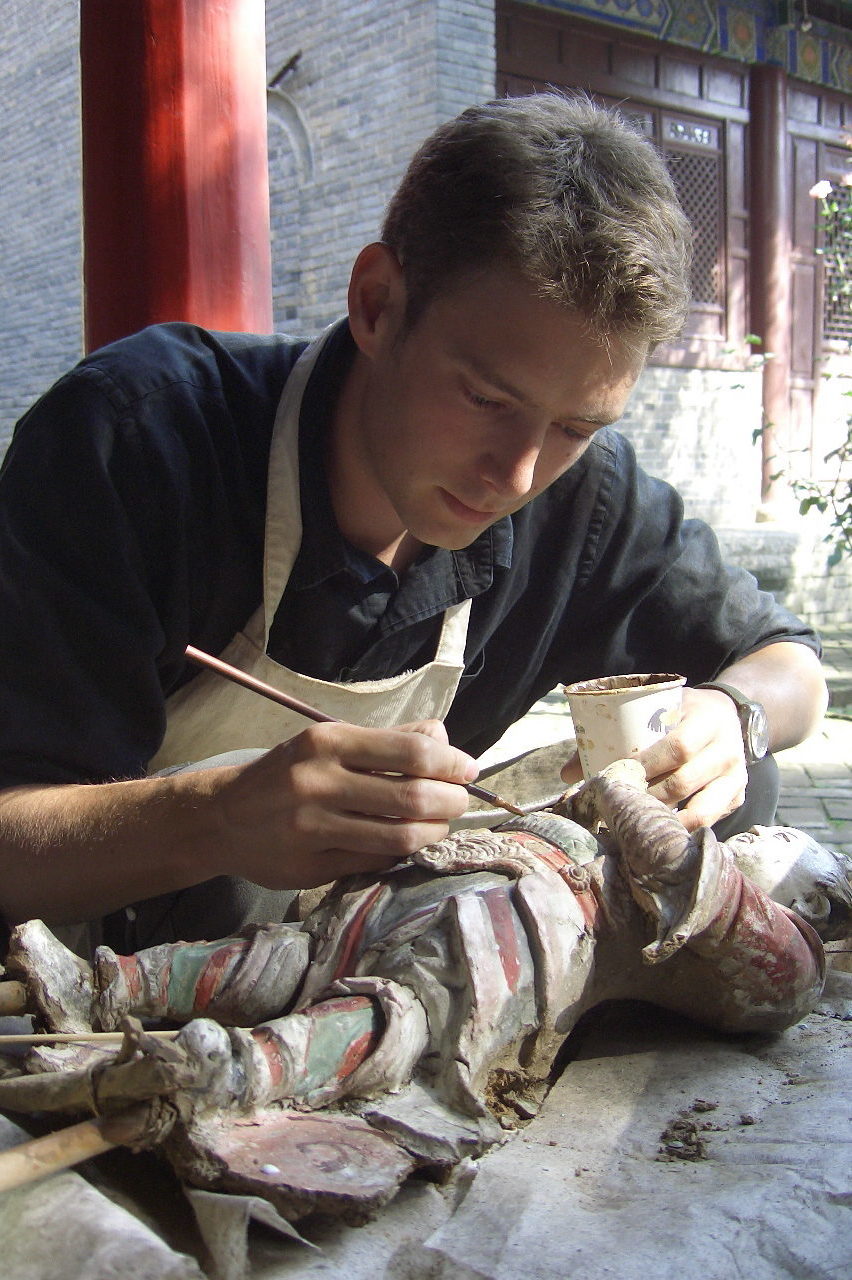 Felix Thornton-Jones, Restorer and Conservator
A QEST scholarship gave Thornton-Jones the opportunity to complete a Masters of Conservation of Archaeological Materials programme in Xi'an, China. Now back in London, his studio, Thornton-Jones Restoration Ltd, takes commissions from the art dealers, auction houses and private collectors of Mayfair.
"Since completing a Conservation and Restoration BSc, I worked as a sculpture conservator at art restoration company Plowden & Smith. I enjoyed it, but wanted to get an MA. I looked all over the world for a suitable course and eventually found a collaborative one offered by the University of Bologna and Xi'an Jiaotong University, which focused on the conservation of archaeological materials.
"I was one of just five western students on the course. When we weren't out on an archaeological dig or visiting the museum, it was fantastic to go out with my classmates to explore the city and local landmarks, as well as the street markets, street food and life of real China.
"A lot of time was spent working at a 16th-century Buddhist temple in the foothills of a picture-postcard mountain range, conserving 1,000 earth and stucco relief sculptures. The temple was still in use and monks often passed by, the sound of bells filling the air.
"The experience added to my knowledge of the materials I now conserve regularly- plaster, terracotta, stone, bronze and wood. I also made lifelong friends and had unforgettable experiences."
Andy Swinscoe, Cheese Maturing
After working for UK-based cheesemongers Paxton & Whitfield and The Fine Cheese Co, Swinscoe was accepted on an apprenticeship in the time-­honoured art of affinage (aging cheese) in France. Upon returning to the UK, he opened specialist cheese shop The Courtyard Dairy in 2012.
"15 years ago, I worked in a Michelin-starred restaurant and noticed that – in those days – the best cheeses were French. There was very little good farm-made cheese in the UK. I contacted our French supplier – Hervé Mons, a renowned affineur and one of the true champions of French cheese -who offered me a six­-month affinage apprenticeship in his cheese-maturing caves near Lyon.
"My trip was amazing, although not very glamorous – most of my day was spent in dark caves turning big bits of cheese, surrounded by gruff French men! Herve and his team taught me how to maximise potential flavours in different cheeses. I learned how to mature certain cheeses with factors like temperature, humidity and environment, but also how to look after them with brushing, washing and rubbing. I'll never forget the cheesemakers we visited in the Alps. Some only had a handful of goats or cows, lived off the land and made cheese in ancient ways- I've never tasted better cheese.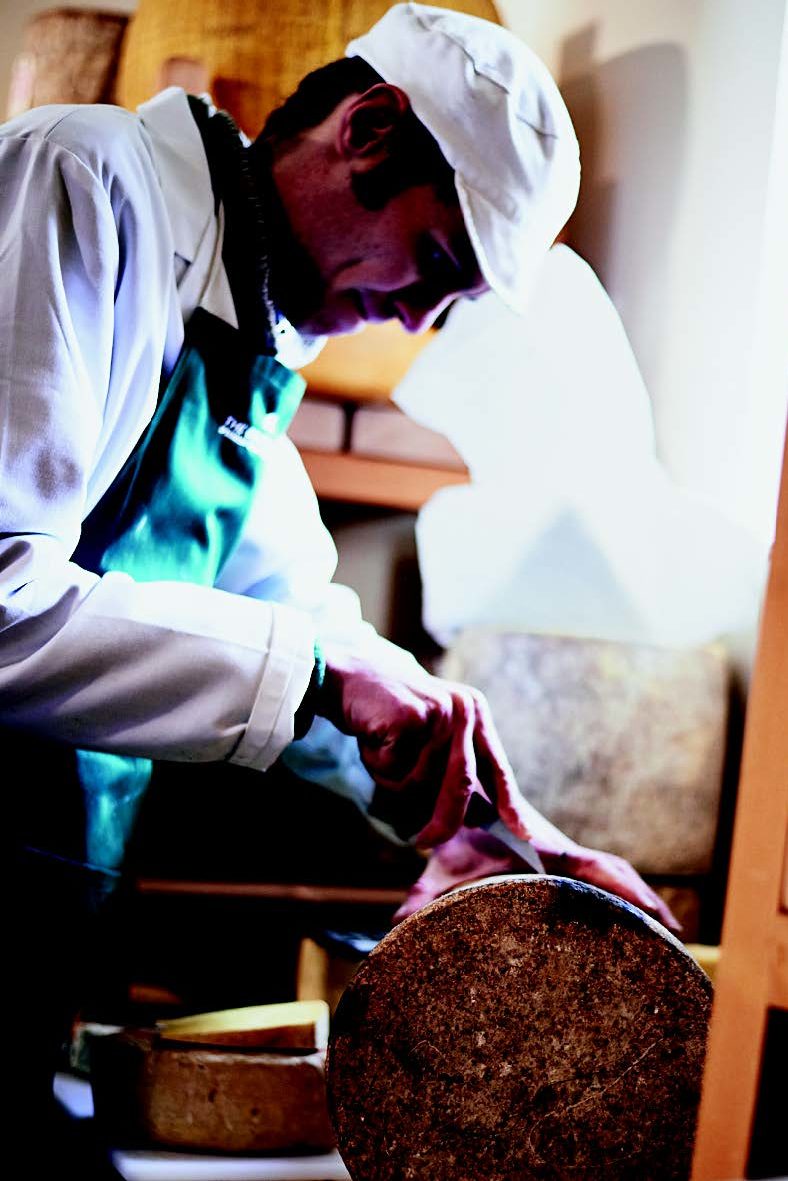 "The Courtyard Dairy was built on the pillars of my experiences in France – I don't think it would exist at all without them. Along with the skills my team and I use, I learned never to compromise and to look at each cheese individually, as well as how to encourage farm suppliers to farm in ethical, sustainable and bio-diverse ways."
This article first appeared in the QEST 30th anniversary magazine, produced by Illustrated London News, September 2020.