Chairmaking in the woods with Jason Mosseri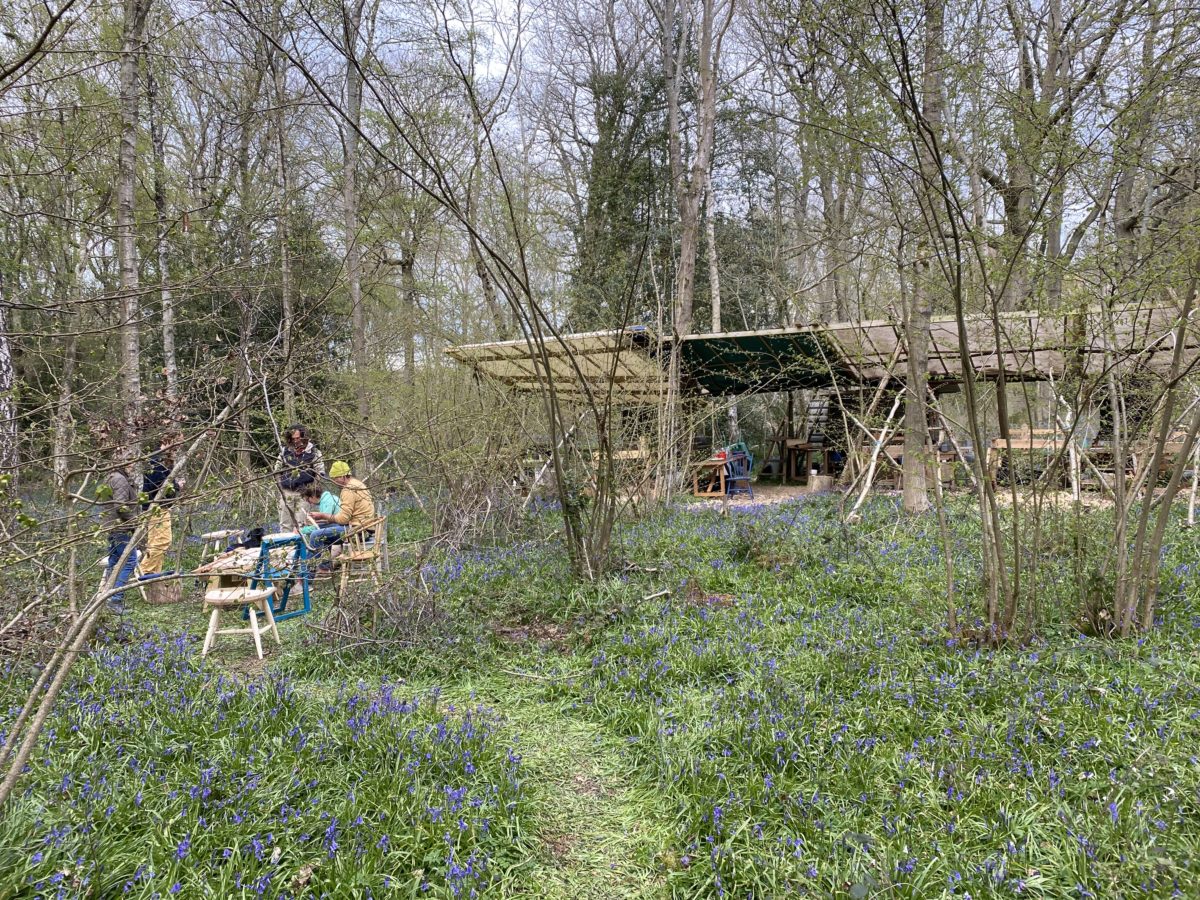 QEST Communications Manager Katherine Boyle shares her experience of a chairmaking course in ancient Sussex woodlands with chairmaker and QEST Radcliffe Trust Scholar Jason Mosseri.
Before last week I had never picked up a chisel, or even heard of most of the tools used in chairmaking, but I didn't need much persuading to leave my laptop to spend a week in the woods learning a new craft. Now covered in wood shavings, blistered, splintered and exhausted I couldn't feel more proud of my very own Windsor chair or more grateful for such a wonderful week of escapism.
Bright sunshine and birdsong greeted us as we arrived on day one at some ancient Sussex woodlands. In the midst of the bluebells and birch trees, Windsor chairmaker and QEST Radcliffe Trust Scholar Jason Mosseri has constructed an idyllic rustic set-up of a shelter complete with pole lathes, benches, shave horses and all the necessary tools, which was to be our base for the next six days. While he guided us through all the necessary steps to make a chair – using only traditional techniques and no electricity – each day he also produced delicious lunches cooked over the fire and an endless supply of tea and cake, as his adorable puppy Megan followed him around.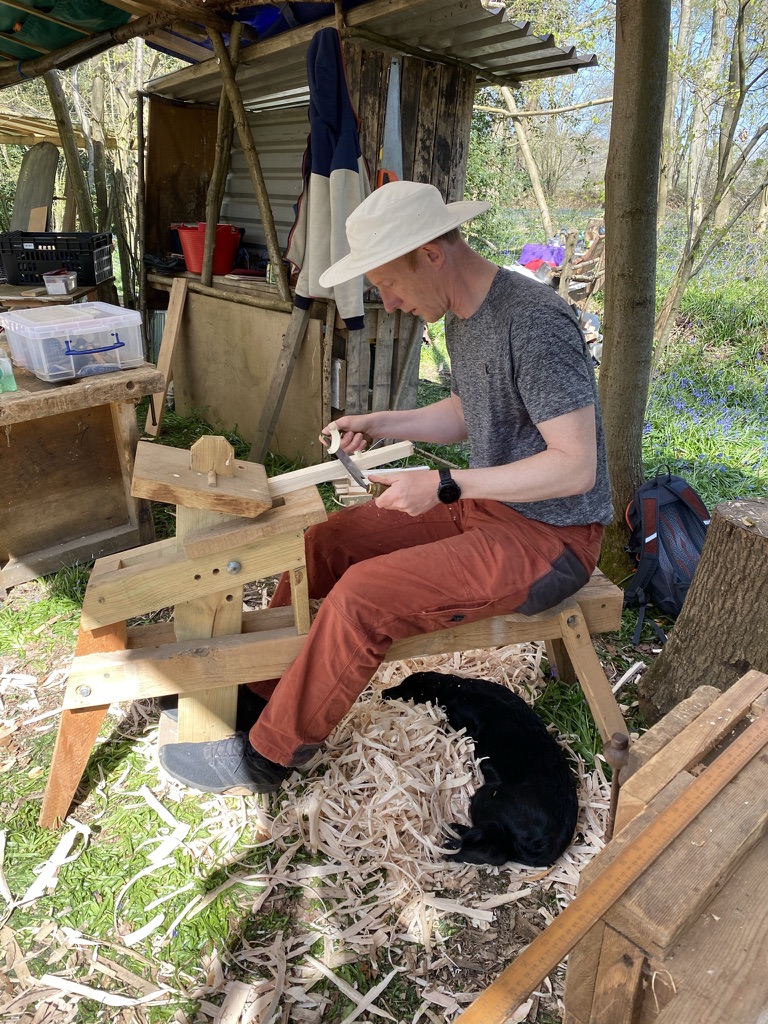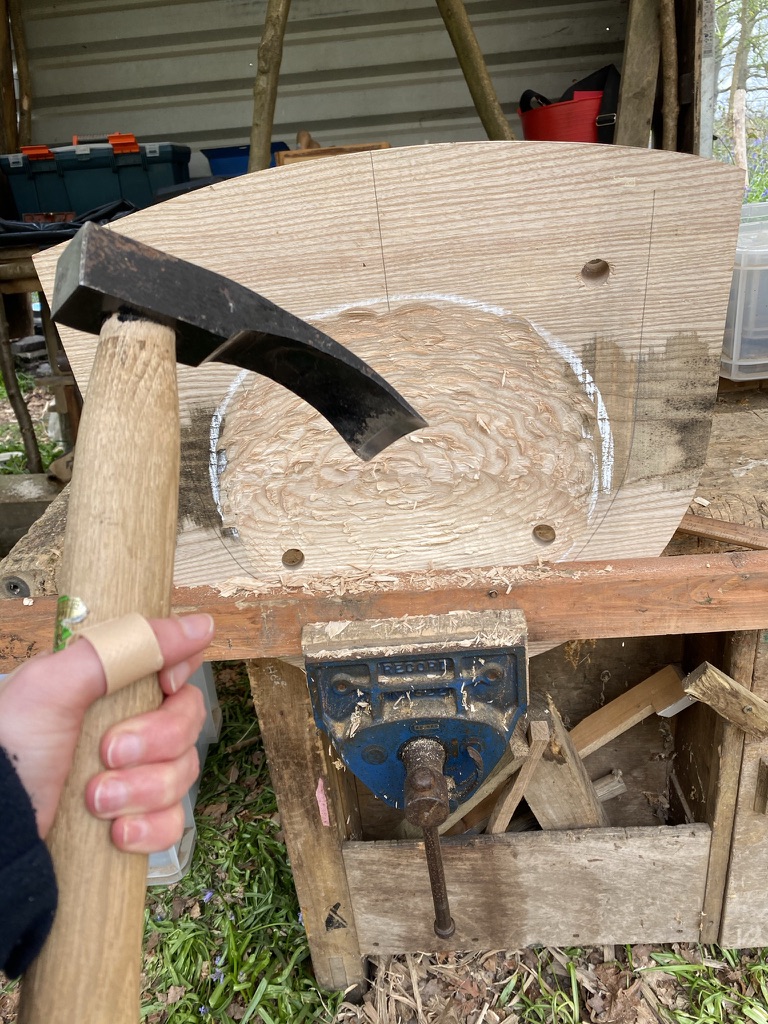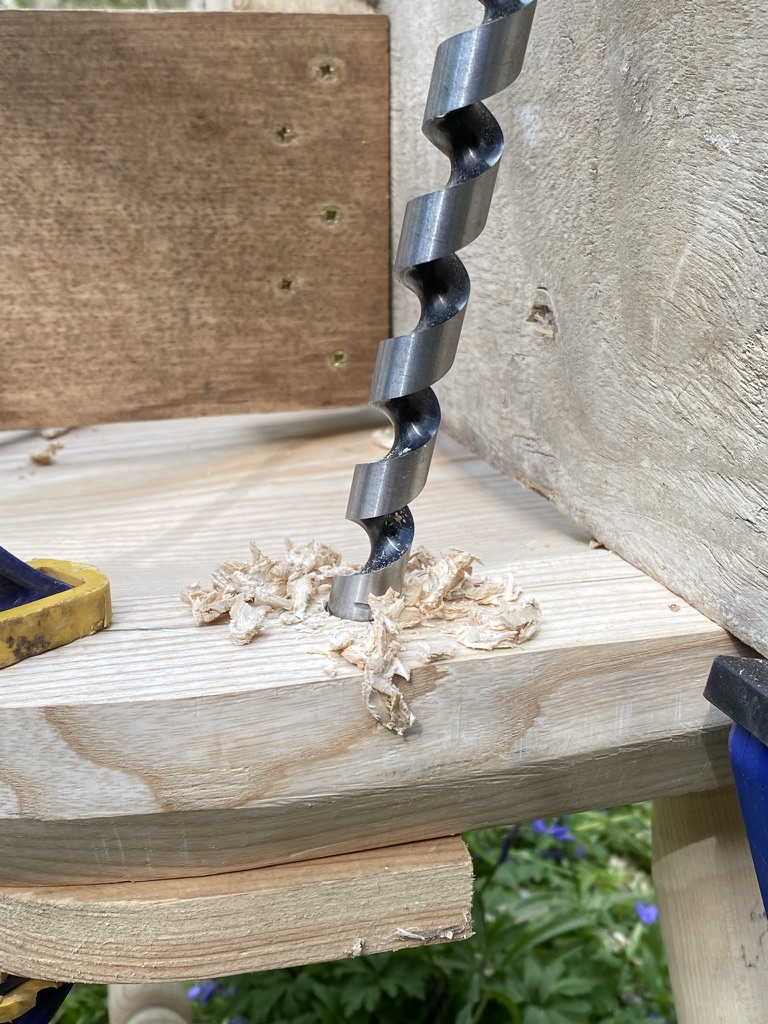 The term Windsor chair describes a style where all the parts are socketed into the seat. As we admired the chair we were to create, we reflected on its strong, yet elegant design. The style has a rich tradition all over the world, but Jason's personal designs are influenced by Japanese and Scandinavian aesthetics.
"People have a very innate ability to make things," he said in a recent interview, "and it's only in the past couple of hundred years that we have stopped making everything we need. It's all there under the surface and most people, when they get down to making stuff, they're just tapping into something that's already there." Although I wasn't entirely convinced I had any innate ability lying dormant under the surface, I found this a reassuring thought as we embarked on the course.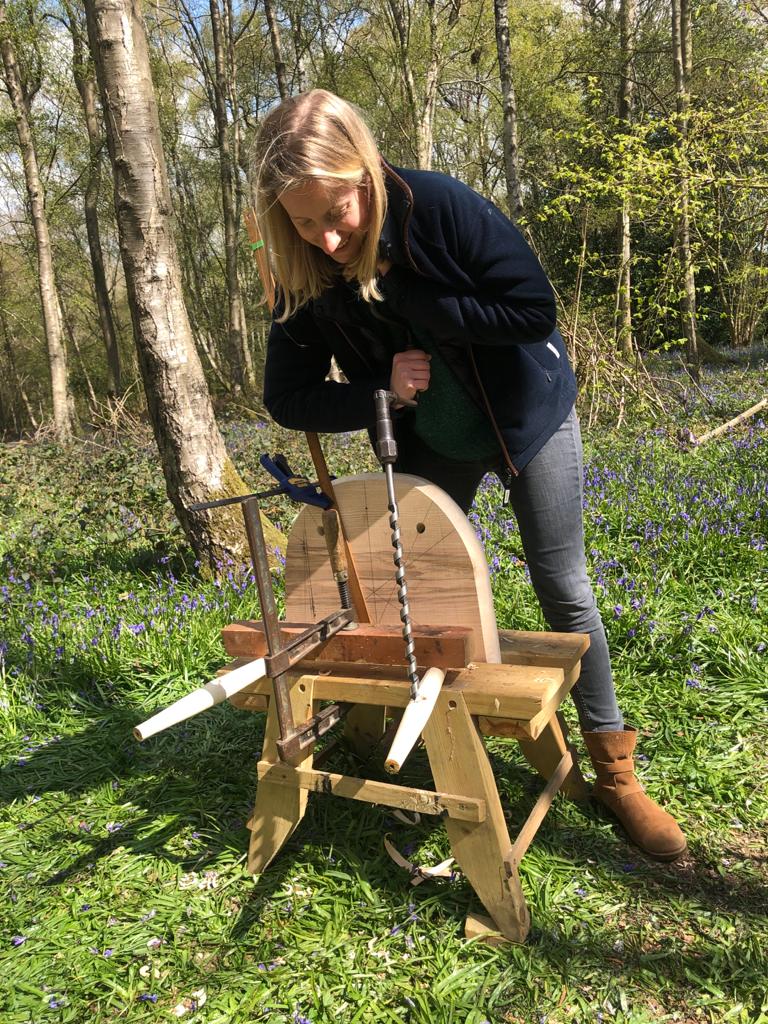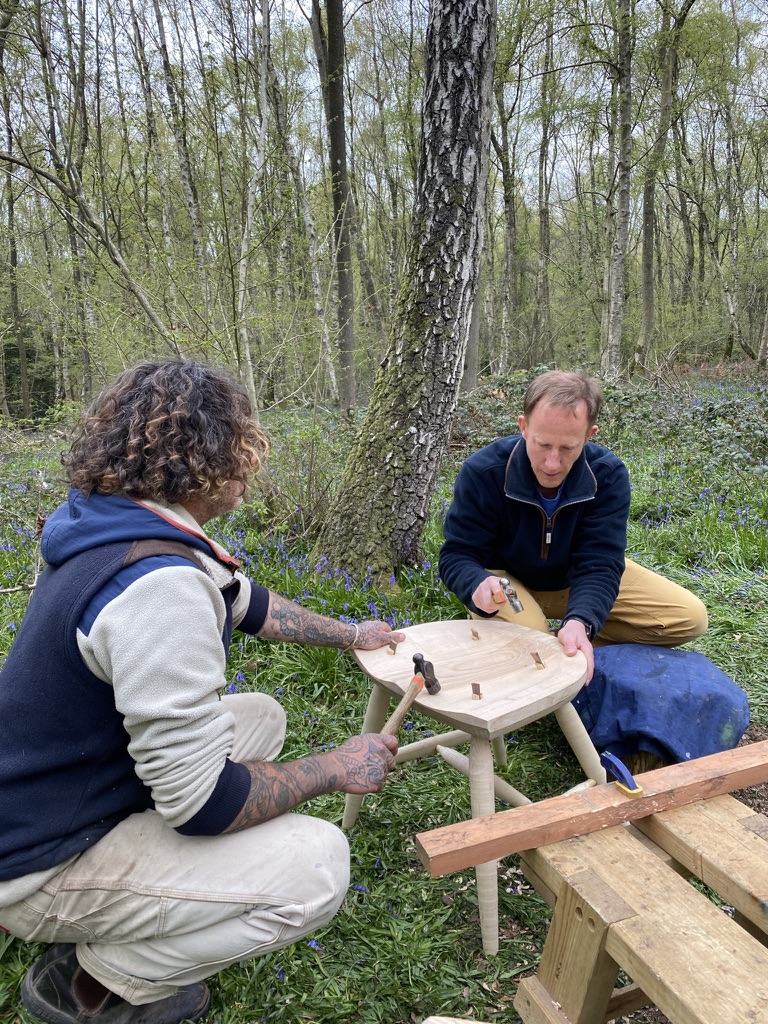 Our task for the first day was to make the four legs for our chairs. We split logs of locally felled ash into rough shapes with an axe, rounded them into more cylindrical forms on the shave horse with a drawknife and then moved to the pole lathe to slim, shape and refine them, adding decorative shapes if time allowed. We were soon lost in the rhythms of the lathe, our orchestra of chisels chipping away and a gentle flurry of wood shavings emerging as the wood began its transformation into legs. Pole lathe design is unchanged since ancient Egypt and there was something incredibly meditative about the process as we powered the treadle by foot. I found it heart-warming to feel part of such a long tradition of craft. The day passed in a flash and I realised nothing unrelated to the task in hand had crossed my mind, so engrossed had I been in the work. Despite my aching muscles I felt an overwhelming sense of achievement when the legs were complete and we were all radiating contentment after our first day in the woods.
As the week progressed, we gradually built up the 18 parts needed to assemble the chair and started to put it all together. Within a few days I could tell the adze from the travisher, and nod knowledgeably about tenon and mortice joints – it felt almost magical seeing the disparate pieces of wood came together to resemble a sturdy piece of furniture.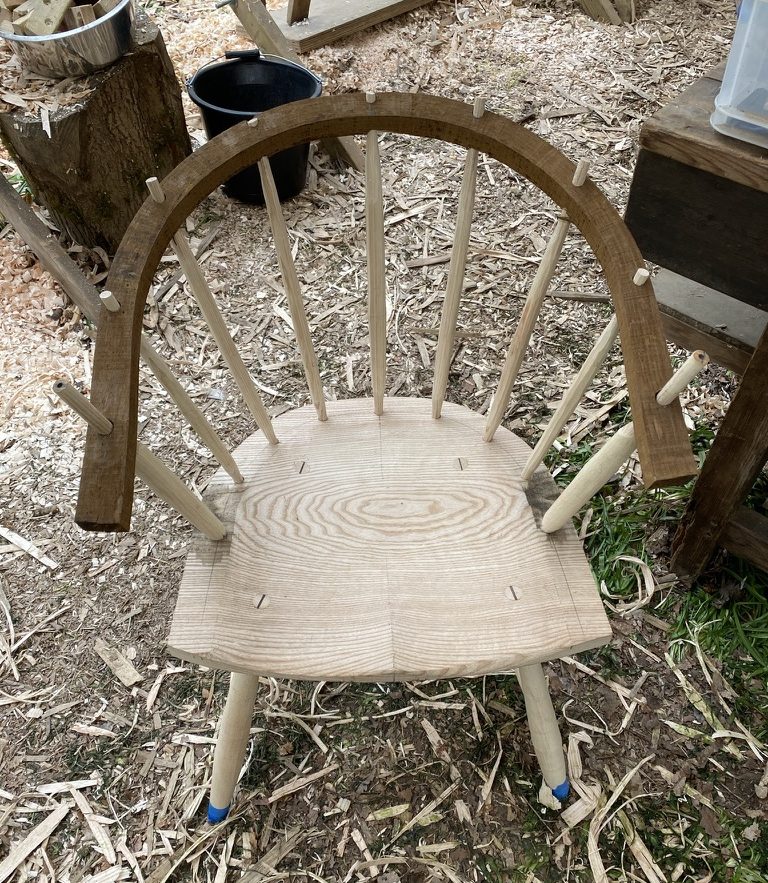 With the adze we chipped away at a large seat blank to carve a gentle curved seat and then used a travisher to smooth the surface. Next we moved on to the spindles, transforming square 'logs' into octagonal shapes on the shave horse and then endlessly smoothing with a spokeshave and carefully measuring with callipers and rulers to ensure their ends were the right size to fit in holes we hand-drilled in the seat. The following day we moved on to steam bending a piece of oak to form the bow. Again this felt wonderfully rustic – three of us using our strength to force a straight piece of wood into a curved shape around a mould.
After yet more drilling, measuring and double checking we were ready to assemble the chair using a hammer, glue and wedges, before files and scrapers helped us achieve a smoother finish than sandpaper would allow. The all-consuming nature of the tasks and the full immersion in nature and craft tradition became more important than the perfection of my final chair as the week progressed. Nevertheless, I can safely say that I've never been prouder of anything I've made and I'll be spending a lot of time contentedly sitting in my chair for the foreseeable future!