Katazome Workshop with Sarah Desmarais
February 20th 2021 @ 10:00 am

-

3:00 pm

£70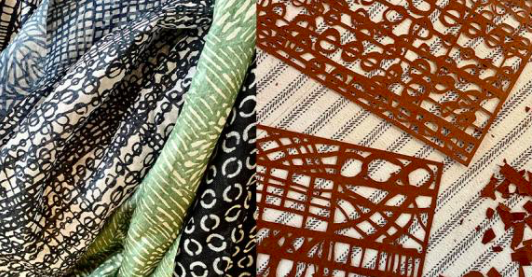 The Japan Society is delighted to present an online katazome workshop with Sarah Desmarais. Japanese katazome (or stencil dyeing) is a centuries-old method of printing on cloth using paper stencils and a rice paste resist in combination with indigo or other dyes. Traditionally, it was often used to produce fabric for kimono.
In this workshop, participants will make a katazome-printed silk square suitable for a head or neck scarf. Materials (Japanese stencil paper, prepared rice paste, silk square, fibre reactive dye and thickener) will be posted to participants in advance. The workshop is suitable for any level of design or textile printing experience.
Participants will briefly learn about the history of this art, and consider ways of designing successfully for the medium. They will then go on to hand cut stencils from their own designs using traditional Japanese stencil paper (made with sheets of mulberry paper that have been laminated with fermented persimmon juice and then smoked to become waterproof). These will be used to print a repeat pattern onto a silk square, using a traditional rice paste resist made from sweet rice flour and rice bran. When the resist is dry, the fabric will be dyed with fibre reactive dye, and then washed out to reveal a white pattern on a dark ground.
You will need the following tools of your own: cutting mat, scalpel knife with blade, emery board for knife sharpening, plastic (e.g. bank, library) card, rubber gloves, small roller and paint tray, jug, whisk and microwaveable container.