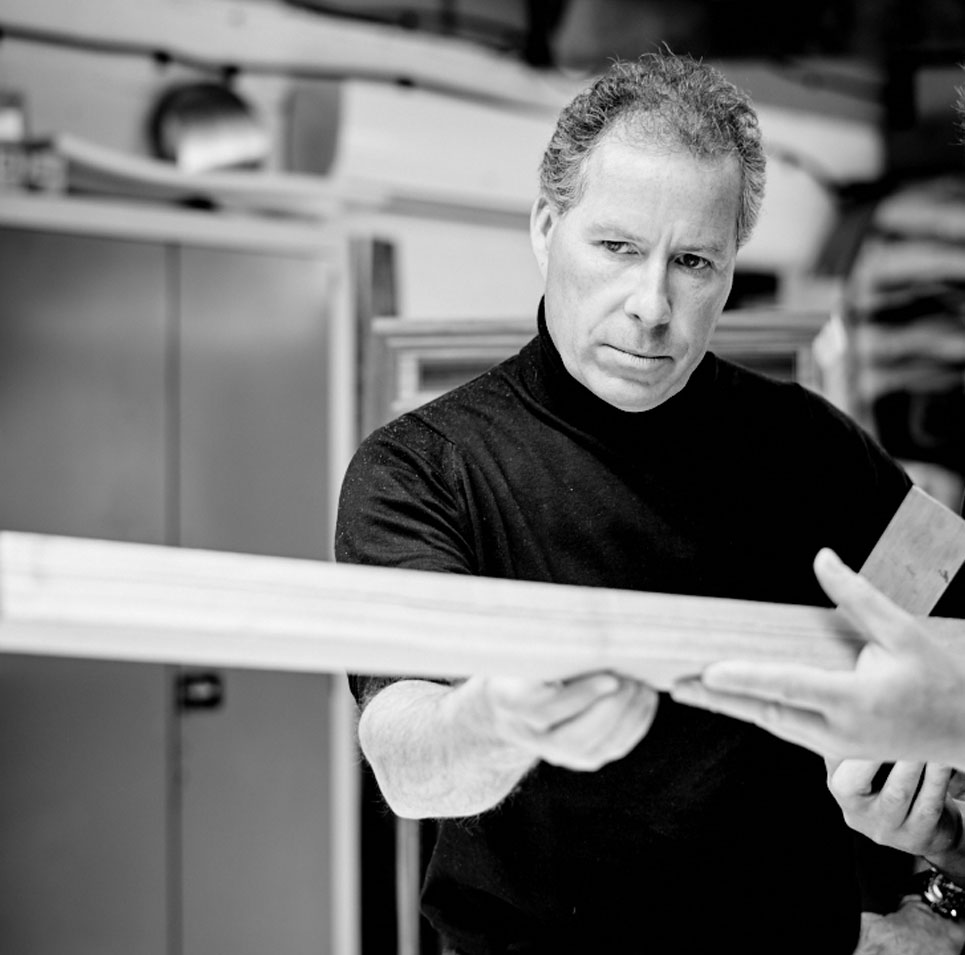 Craftsmanship is very much in furniture maker David Linley's blood – and he is keen to encourage future generations to take up the call, writes Helen Chislett.
There is a striking portrait of Princess Margaret by Pietro Annigoni in the Christie's office of the second Earl of Snowdon. The Earl (known professionally as David Linley) wears his royal credentials lightly, but this portrait of his mother reminds the visitor of just how close his blood ties are to the throne. His maternal grandmother was Queen Elizabeth, the Queen Mother, who lent her name to QEST 30 years ago after the Royal Warrant holders successfully established the scholarship fund. Today, Linley is its Vice Patron. "QEST is one of my grandmother's legacies and I am enormously proud of what it has achieved over the past 30 years. To make something of permanence, as craftspeople do, is so reassuring in the transient world that we inhabit. She would be very encouraged by its influence and success."
Making is in Linley's blood. He grew up seeing his photographer father and first Earl of Snowdon, Antony Armstrong-Jones, regularly disappearing into his workshop at Kensington Palace. As a boy, he would help his father strip down motorbikes or repair doors and floors in the neglected apartments of the Palace. No wonder, then, that he chose to go to Parnham College to join the legendary furniture-making course run by award-winning designer John Makepeace. When he founded the Linley furniture brand in 1985, some eyebrows were raised. "A friend of my mother asked when I was going to get a 'proper' job," he says. Happily, he received nothing but support from his family.
What he, his father and his father's paternal uncle, famed theatre designer Oliver Messel, all understood was the extraordinary satisfaction to be had out of making or restoring something using tools and age-old, hand techniques, "Generally speaking, things that are created by hand are warm and capture emotion. Things created by machines are cold. When something is overly precise and perfect, it somehow kills the human spirit," says Linley. He took the idea of warmth literally on his work on the Lagonda concept car for Aston Martin in 2018, creating the interior in natural materials such as cashmere, silk and wool. "I wanted to suffuse the interiors with something with which people could identify at a deep level."
Naturally, he is a great believer in innovation. "Critics may say that craft is no longer relevant, but that is to ignore the larger picture. Increasingly, craftspeople experiment with technology, but that doesn't mean they turn their backs on traditional tools and techniques. Craft needs to stay forward looking and progressive, but always be appropriate to purpose."
In 2018, Linley was appointed Vice President of The Prince's Foundation, which QEST recently collaborated with on the launch of a new Building Arts Programme. His work at the Foundation has included the founding of the Snowdon Summer School in cabinet-making at historic Dumfries House in Scotland.
Having been for a long time "a voice in the wind" where craft and craftsmanship were concerned, Linley has seen the tide turn to such an extent that "craft" and "artisan" are terms now applied to everything from beer to bath salts. "Every luxury brand is shouting out its craft credentials as part of its marketing message, but where is the support for the individual craftsmen and women who have kept faith with their passion and commitment to doing the thing they love best?" he says. "Why is it that we are still losing crafts as they become extinct owing to lack of interest and patronage? There are good initiatives out there, but more still needs to be done."
What concerns Linley the most is how best to encourage future generations into the world of craft. "If I could wave a magic wand, I would make craft a part of the national curriculum. Everyone in the country should have the opportunity to make at least one thing by hand during their school career. "
Accordingly, he believes the work of QEST is as relevant and important as when it was first founded. "We need to encourage, support, inspire and applaud the great pool of making talent we have in this country. That was at the heart of my grandmother's desire to support QEST and we should never let her vision be lost."
Written by Helen Chislett, this article first appeared in the QEST 30th anniversary magazine, produced by Illustrated London News, September 2020.