Montmartre Support QEST with Sales of Christmas Hamper Box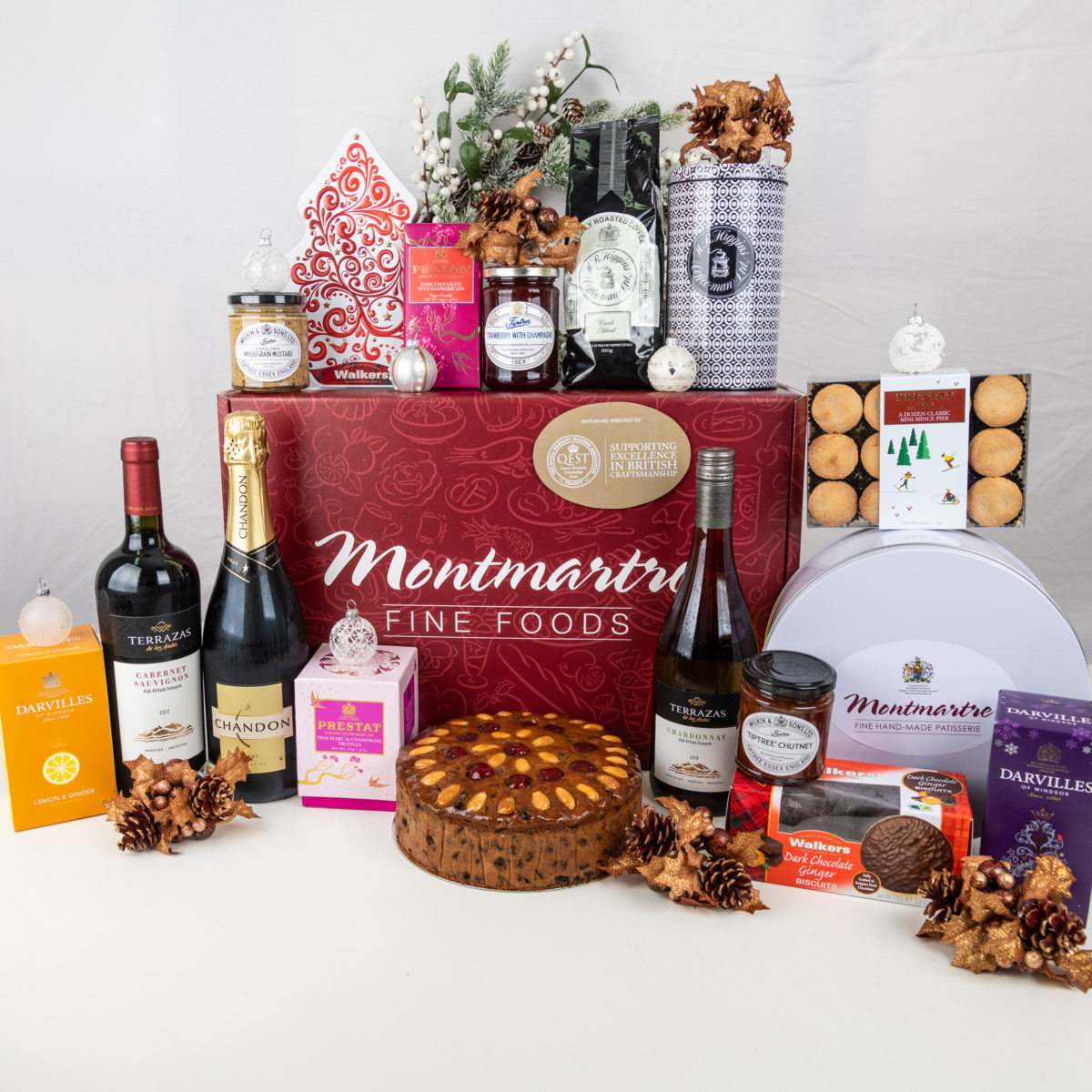 Montmartre Patisserie have launched a new Christmas Hamper Box, with a percentage of sales donated to QEST, when you add the code QEST2020 to the order notes at checkout. 
Perfect for the festive season, the hamper is packed with 15 gourmet treats from fellow Royal Warrant-holding companies, such as Prestat Champagne chocolate truffles, Chandon sparkling wine and Montmartre's own hand-made fruit cake.
"Montmartre Patisserie is delighted to be working with QEST as we launch our new Christmas Hamper Box. It is the result of partnerships with fellow Royal Warrant-holding companies and contains some of the finest gourmet products available," comments Gary Ewing, Managing Director of Montmartre. "The development of craft skills is essential to keep traditional industries vibrant, now more than ever. So it is with great pleasure that Montmartre will donate 15% of sales of our Christmas Hamper Box to QEST, with the code QEST 2020." 
The Christmas Hamper Box is priced at £165 and can be purchased on the Montmartre Fine Foods website here. To support QEST whilst you shop, simply write QEST 2020 in the order notes at checkout. 
Established in 1995 with the goal of making top quality cakes, desserts and quiche for cafes and restaurants around Berkshire, Montmartre Patisserie quickly gained a reputation for quality desserts and friendly service. The company expanded to supply hotels and events such as Henley Regatta and Royal Ascot, and in 2008 received a Royal Warrant of Appointment to Her Majesty The Queen as suppliers of hand-made patisserie. In 2020 they added a home and office delivery service and, finding their Afternoon Tea Gift boxes to be popular, went on to launch 'Montmartre Fine Foods', offering unique collections of quality products in Luxury Hampers and Gourmet Gift Boxes.
Full contents of the Christmas Hamper Box: Chandon Sparkling Wine, Terrazas Chardonnay White Wine, Terrazas Malbec Red Wine, Montmartre Fruit Cake, Prestat Champagne Chocolate Truffles, Walkers Christmas Shortbread Tin, Darvilles Christmas Tea Bags, Prestat Mince Pies, HR Higgins Coffee 250g, Prestat Dark Chocolate Raspberry Bar (70g), Tiptree Strawberry & Champagne Conserve (340g), Walkers Fully Coated Dark Chocolate Ginger Biscuits (150g), Darvilles of Windsor Lemon & Ginger Tea (25 satchets), Tiptree English Wholegrain Mustard (185g), Tiptree Chutney (230g)
Buy direct here.