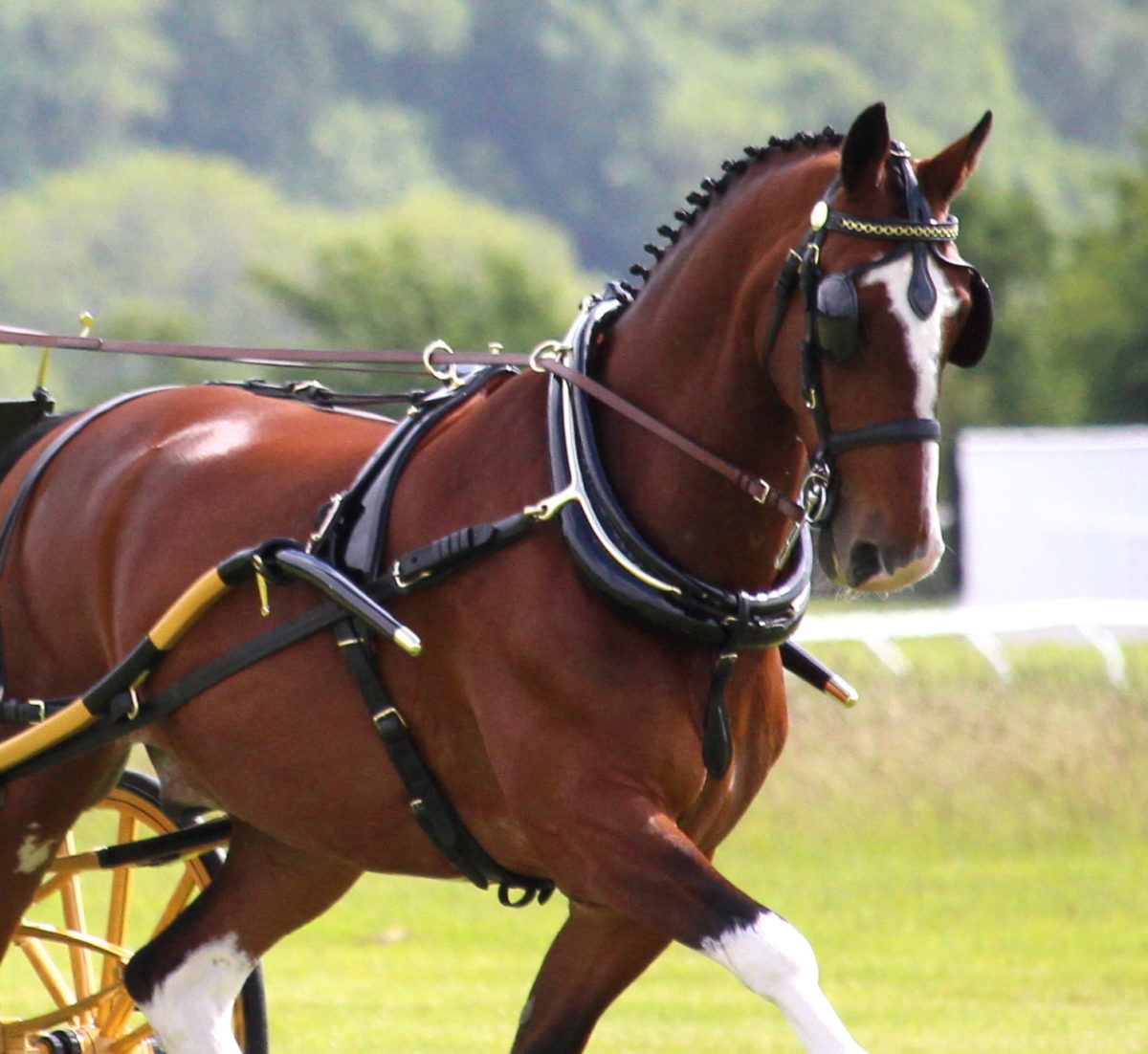 A large number of children love horses and riding, but it's not many who manage to turn their hobby into a career as adults. Here we speak to three QEST scholars, who share a love of all things equine and work in equestrian craft fields, about their careers and the best and worst aspects of their roles.
Bridlemaker Kelly Jones, enjoys the creative aspects of her work
How did you first get into bridle-making? I struggled slightly with academics due to my dyslexia, but I've always been extremely creative. After a recommendation from my saddle fitter, I looked into saddlery as a career, and after my initial training I discovered a love of bridle-work ….. the rest is history!
I began riding from a young age and progressed through pony club taking my B test and competing at championships – I still try and event as much as possible. Understanding the nature of horses, particularly performance horses, is a key part of my job. I always want to put the horses' comfort and safety first and create a bridle suitable for the particular equestrian discipline. Having experience with more difficult horses has allowed me to apply my knowledge into assessing which bridles are best for each horse's needs.
How do you qualify/train in your role? After my basic saddlery training, I enrolled at The Saddlery Training Centre in Salisbury, and over 4 years, I took my City & Guilds qualifications to become a Member of The Society of Master Saddlers (SMS). This led me to apply for QEST for further training with Master Bridlemaker Issi Russell, in advanced bridle work.
What are the best & worst things about your job? The best thing is the variety – no bridle is the same. Plus I love seeing the difference it can make to the horse's comfort and performance. The worst aspect of the work is the long hours, and hand-stitching can be very tiring. My ultimate aim is for one of my bridles to be used on a Team GB equestrian team at the Olympics.
Collar and harness maker Kate Hetherington has also been riding since a young age, and can't image life without horses
I always wanted to work with horses and considered a number of equine career options before I came across the world of harness making at the age of 16 – for me it provided the perfect combination of craft and horses. It also gave me transferable skills in case I had a change of heart further down the road.
How did you qualify/train in your role? I completed a 4 year apprenticeship with a Master Harness Maker, which was complemented by a part time college course at The Rural Developments Commission (now The Saddlery Training Centre in Salisbury). I was also taught collar making by John McDonald on a privately-run course.
Can you tell us a little about your day to day work? Today I make made to measure collars and harness for all aspects of carriage driving. I also occasionally work with World Horse Welfare as part of their international training team. My role is to teach local people to make horse friendly harness using locally available and affordable materials. The teams work in developing countries where horses are being used for work and transport.
What are the best and worst things about your job? The best part of the job is seeing the completed harness working on the horse, the horse working comfortably and seeing all the hours of hard work come together, both in my work here and with the students overseas. The worst part is undoubtedly the paperwork and all the less creative aspects of running the business.
Any goals for the future? In the future I'd be interested in doing some teaching. I will be taking over the collar making course once John McDonald retires, but I'd like to run additional courses as well.
Saddler Helen Reader runs her own business, HR Saddlery in Carmarthan, Wales
Have you always loved horses? Yes. I learnt to ride at five years of age and was lucky enough to own my first pony shortly afterwards – she was a Welsh mountain pony who my mum rescued from going to the meat market. I had her for six years and it was during this time I was first inspired to become a saddler. Her saddle needed some work and the saddler showed me around his workshop and from then on I knew what I wanted to do.
Is your love of horses an important feature of your job? I compete my horses regularly in various disciplines from dressage to show jumping and eventing, and my customers like to see me out competing as it gives them confidence that I understand their needs. I feel it is essential for saddlers to love and understand horses – their comfort is the most important aspect of my job. When looking for a career, I knew I didn't want to work directly with horses as a groom or professional rider. Riding is my hobby and it's how I relax – I never wanted to add the pressure of having to earn a living to that. Saddlery is perfect balance, working in close proximity to horses but also separate to my hobby of riding and competing.
How do you qualify/train in your role? Before training as a saddler, I went to college and trained as a BHS Riding Instructor, to give me a good grounding in what both the rider and instructor are looking for from their saddlery. Following this, I spent two years working on an international dressage and eventing yard gaining experience of how saddlery items are used on a professional yard. I then spent two years at Cordwainers College, London, did an apprenticeship at Pointings Saddlery, Bath and studied at The Saddlery Training Centre, Salisbury, during which time I gained my SMS/City & Guilds qualifications. I now run my own business, and have continued my studies over the years, including learning side saddle manufacture, with the support of my QEST Scholarship.
Saddlery is the sort of trade where you never stop learning, there are always new or different ways of doing something. This makes it a fascinating industry to be part of.
What are the best and worst things about your job? The best thing is the smile on customer's face when they see an item I've made or refurbished. It's also very rewarding being out at competitions and seeing someone enjoying saddlery that I have produced and/or fitted to their horse, helping them perform to their best. The worst thing would have to be all the driving between customers while on the road fitting saddles.