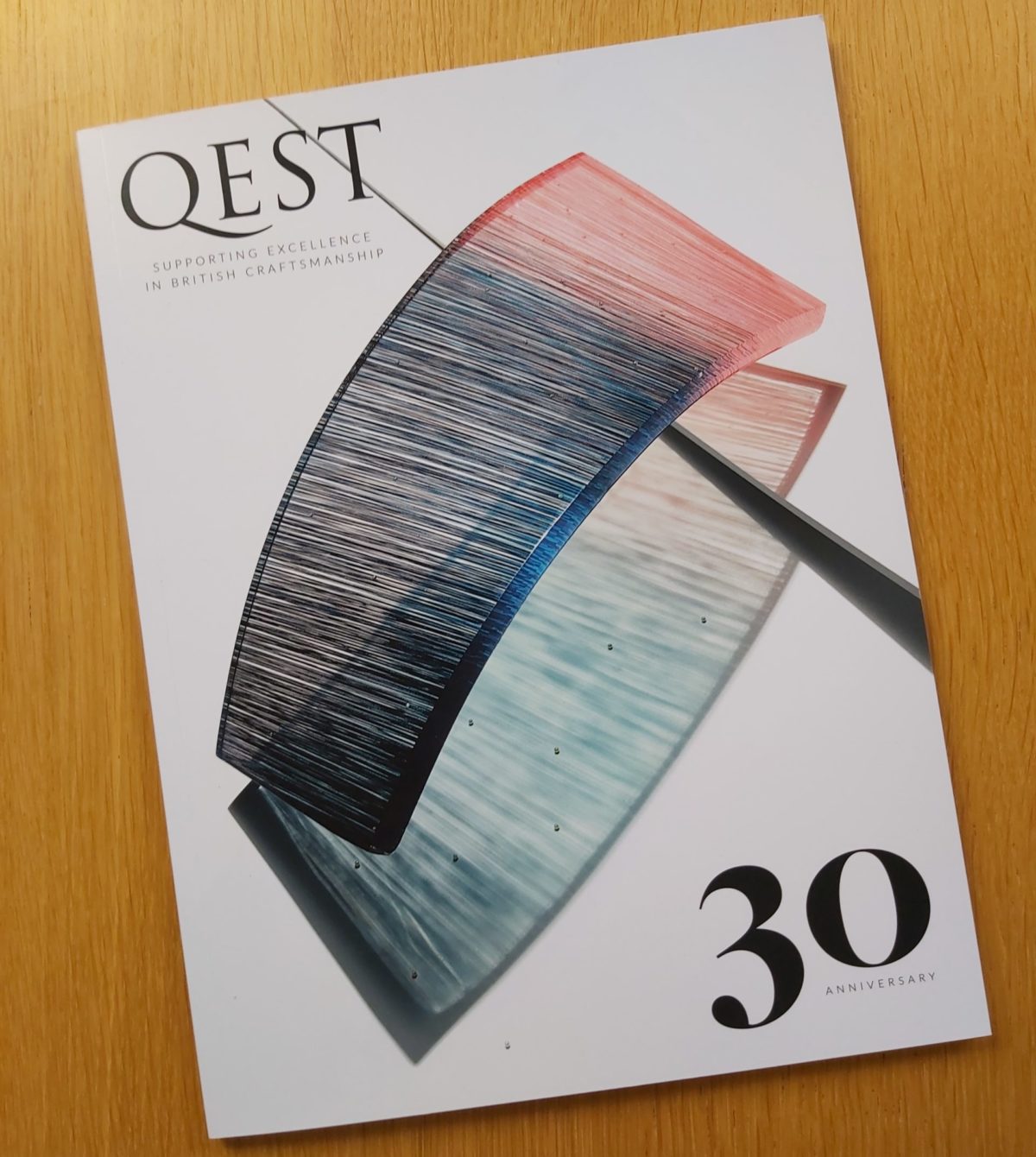 Incorporating innovative shaping, soft colours and luminous pearls, the cover work for our 30th anniversary magazine is the result of careful crafting, collaboration – and many tense moments, as maker Laura Thomas explains.
Laura Thomas is an established woven textile artist and designer recognised for her innovative approach to mixed media creations. She is particularly well known for her "Resonate" body of work, in which delicate textile structures and seemingly free-flowing yarns are encapsulated in resin to form dramatic sculptural objects. In these, Thomas aims to convey a sense of ephemerality and curiosity while celebrating the beauty of pure thread and colour. When QEST posed its alumni the challenge to conceptualise and craft an original one-off piece to commemorate its third decade and grace the cover of this magazine, the Welsh-based maker jumped at the chance.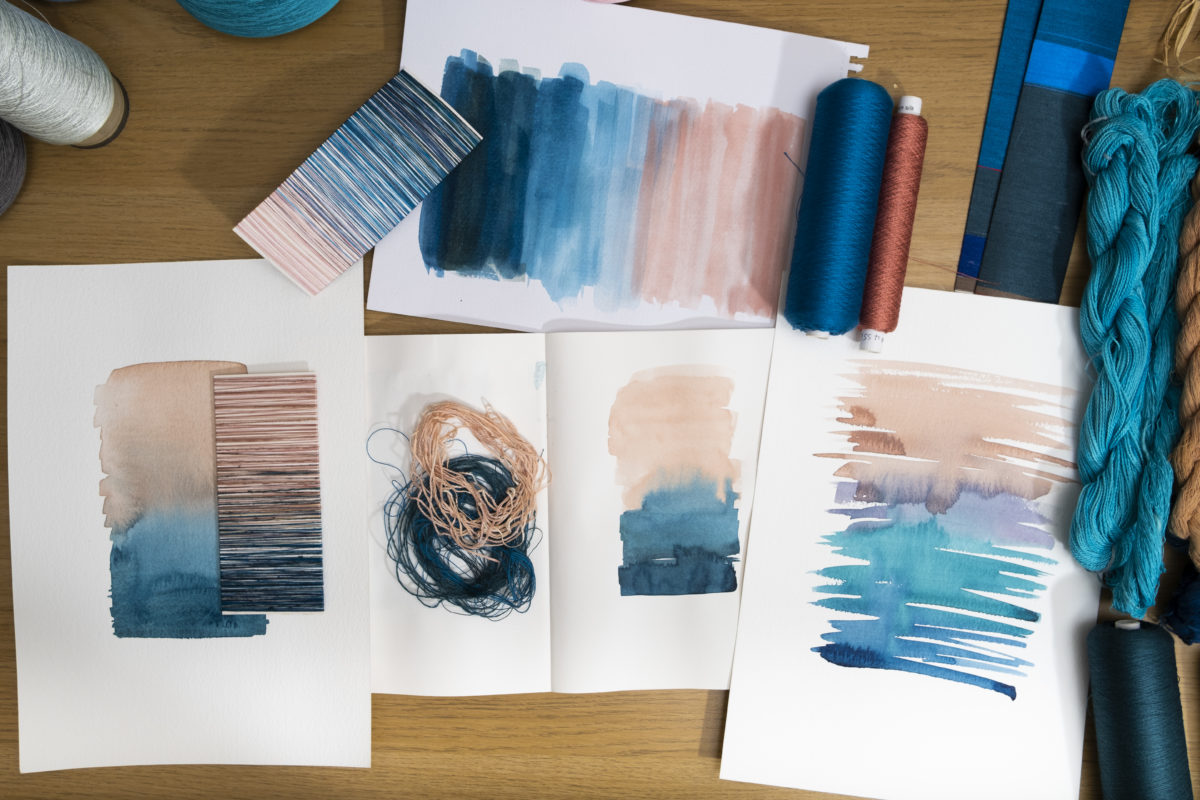 "I took inspiration from pearls, traditionally given to celebrate 30-year anniversaries. The delicate tones of both natural and dyed pearls, plus a sense of delicacy and preciousness, provided the starting point for the design ideas," she says. "Neutral ecru and cream colours tend to disappear somewhat when encapsulated in resin, so the palette was taken towards gentle blush pinks, and rich turquoise and indigo blues, which I knew would create impact without being overpowering."
Thomas used a mixture of pre-dyed and hand-dyed silk and cotton yarns that were stretched taut to create a gradation of tones that changed from pink to indigo. The hand-dyed threads were treated as part of her QEST Ashley Foundation Scholarship. "I've been undertaking bi-monthly dye workshops with Catherine Lewis of ColourField in Cardiff, where I've been learning an array of natural and chemical dye processes, so it was wonderful to be able to incorporate some of this learning into the commission for QEST. I also scattered some real seed pearls on to the threads. This was a first for me to include anything other than a textile in this process, so I was holding my breath until I knew the casting had been successful."
The weaver has been encapsulating textiles into high quality acrylic resin since 2006. In recent years, she has worked on these kinds of pieces alongside Chippenham-based acrylic designers Jamy — one of just a handful of companies that work in this very specialised area of expertise.
"It's a highly technical and industrial process — not something I could ever accommodate in my textile studio," Thomas admits. "Needless to say, I've always welcomed and relished the chance to collaborate, bringing together diverse skills and technical processes to result in unique outcomes that can't be easily replicated."
The casting process began by making a bespoke mould into which the liquid resin was poured. Once the resin started to cure, the textile structure was carefully placed into position before being enveloped by another layer of resin. As the resin is still opaque at this stage, Thomas had to wait until it emerged from an autoclave oven, having been "cooked" at a high temperature and pressure for 24 hours, to judge if the encapsulation had been successful.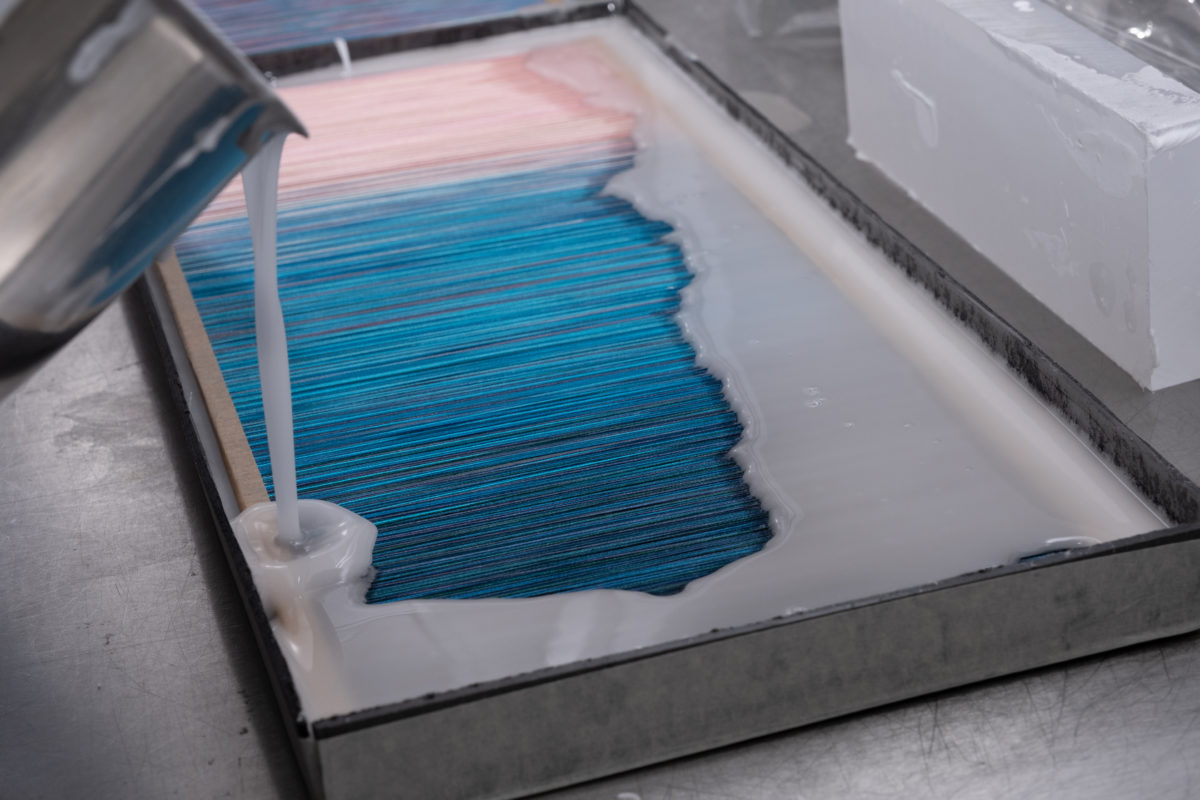 "At that point, the work needed to be trimmed to exact size, as well as sanded and polished — a long process that requires great attention to detail. Once polished, the making process is typically finished at this point," she says. "However, for this commission, we wanted to transform the flat panel into a gently undulating curved shape. To create this kind of curve, the panel needs to be reheated and, once malleable, placed on to a pre-made former. This second heat process is always nail-biting: there is a narrow window of opportunity for the panel to be hot enough to re-form, or too hot and be irreparably damaged." Thankfully, Thomas's expertise came through and the desired shape was achieved without incident. Then, all that was needed was another round of polishing to achieve the perfect finish.
How did Thomas feel about the end result? "I'm delighted. It was great to have the chance to make such an ambitious piece, especially in this curved form. I've only made a few pieces in this shape before and it's fired my desire to make more," she says. "It was also exciting to be given the impetus to explore encapsulating the pearls — something I wasn't sure would be successful or not. Amazingly, they retained their brilliance and surface and bring an extra area of interest to the piece. The cover photography captures the essence of the piece to such dynamic effect — the brilliance of the colour, the light, shadow and luminosity."
This article was written by Charlotte McManus. It first appeared in the QEST 30th anniversary magazine, September 2020, produced by Illustrated London News. Photography by Ross Gardner.