The Making of a Shepherd's Hut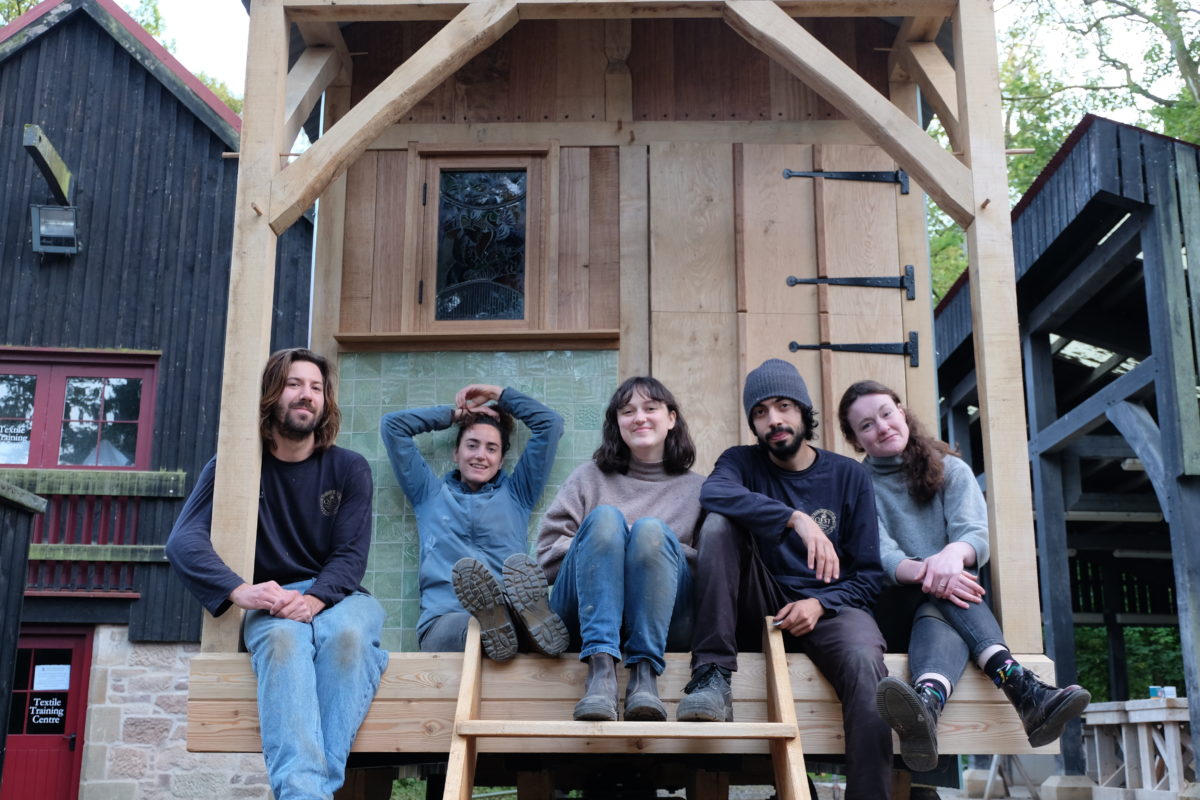 The students on our Building Arts Programme, run in collaboration with the Prince's Foundation, have been very adaptable during Covid restrictions. One of the students, Saman Moein, shares his experience of combining skills with fellow students and building a shepherd's hut from scratch in just seven weeks.
In late July, after many weeks of working remotely through the lockdown, we came back to Dumfries House to begin our final project. After many discussions between us students and the course directors, we came up with our unique proposal: a shepherd's hut, to be designed and built together as a collaborative project. The project unfolded into an unforgettable experience from which I learned a great deal about designing and building a beautiful space.
QEST and the Prince's Foundation trusted us and gave us the freedom to realize our vision, putting the responsibility of designing, building, and managing the project solely on us. This independence empowered us to build something close to our hearts, and resulted in a uniquely crafted hut, as we all poured so much life and joy into the making process.
Initially we discussed the makeup of the hut at length. As an architect, these discussions were particularly valuable to me. Most of my design education has consisted of individually-led projects, and the collaborative aspect of the shepherd's hut project gave me an opportunity to design and build as part of a team. Carrying out the project was hugely enjoyable as we have become close friends over the duration of the programme, but building the hut brought us even closer to each other.
Almost every element of the hut was built in situ, including the timber frame structure, windows, door, stained glass, ceramic tiles, exposed wool insulation, and the wooden furniture. It was incredible to witness the crafted elements being made separately and to see them come together to form a beautiful whole, something a typical architecture education does not provide to students. I worked primarily on the woodworking side of the project, timber framing with Florence Hamer and Jim Nightingale, and making the furniture alongside Simon Worthington.
One of the most exciting aspects of the hut was working out how different materials could come together, such as cladding the timber frame with handmade ceramic tiles or integrating the exposed insulation within the structure. Uniting multiple unique materials to create a harmonious space, especially on a small scale was an interesting challenge, which demonstrated how, by paying great attention to small details, a space can become more coherent and comfortable.
The main reason I joined the Building Arts Programme was to gain more experience in what was fully ignored in my previous architecture education, namely hands-on building skills and crafts. I am very grateful to have been part of such a comprehensive project that incorporated such a diverse range of materials and crafts. The opportunity to design and make a shepherd's hut, from the timber frame to the finest decorative finishes was invaluable – a project that taught me the nuances of designing a simple structure and the joy of seeing it unfold before my eyes.