Papermaker Zoe Collis completes Apprenticeship with Distinction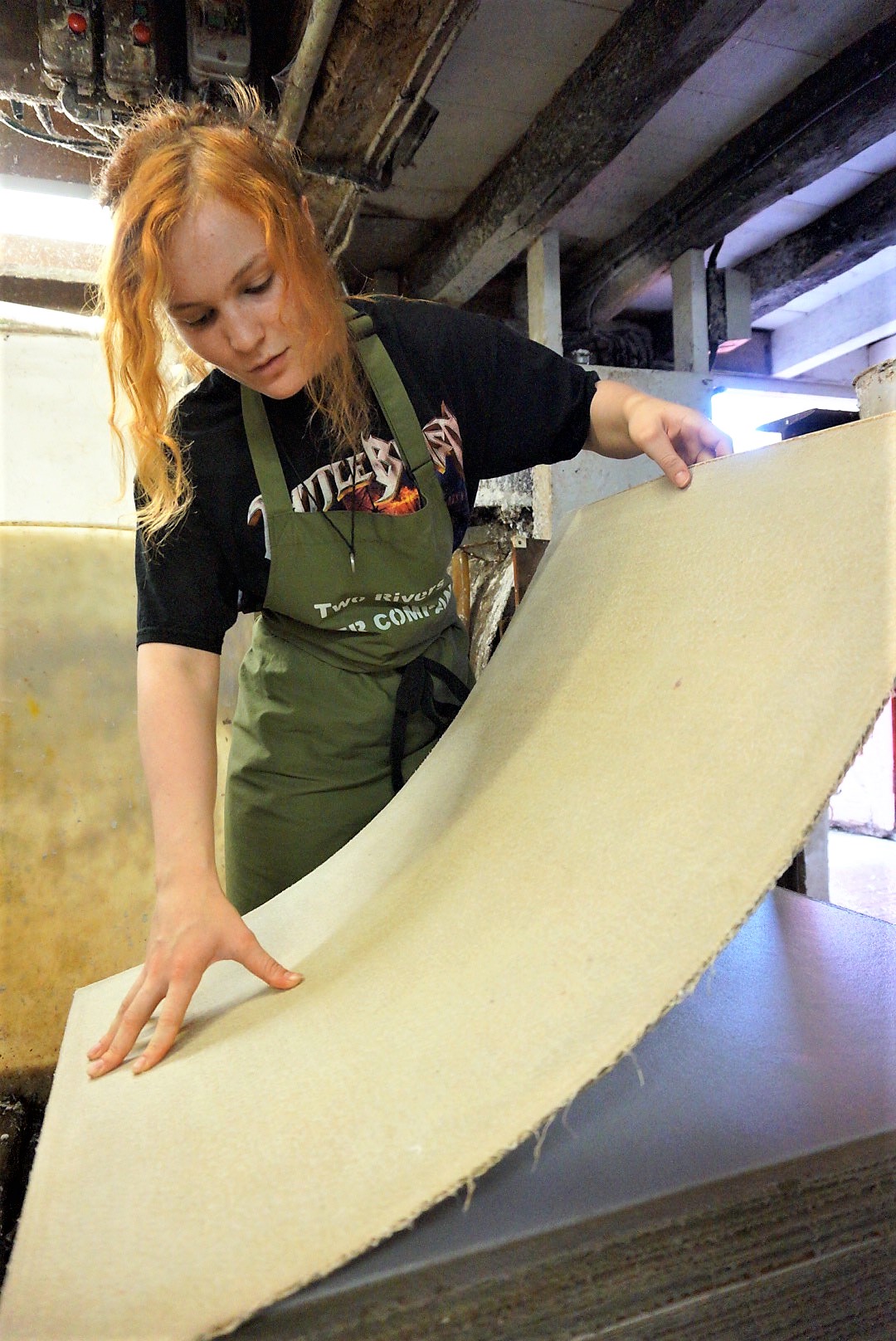 Congratulations to QEST Drapers' Company Apprentice Zoe Collis on completing a three year papermaking apprenticeship with distinction. After a Foundation Diploma in Arts, Media & Design, Zoe's search for a hands-on job led to the Two Rivers Paper Company in Somerset, one of the few commercial handmills in Europe. During a three-year QEST Drapers' Company Apprenticeship, founder and fourth-generation paper maker Jim Patterson taught Zoe all aspects of this endangered craft, from formulating the recipe to mixing the pulp and forming sheets. Here we catch up with Zoe to learn more about the apprenticeship.
How did you first start paper making and working at Two Rivers?
In Summer 2017, I took part in a Countryside Crafts pre-apprenticeship project, funded by the Ernest Cook Trust and led by the Heritage Crafts Association. I had taken a shine to working with my hands and I was introduced to Two Rivers Paper through the project. Jim took me on for work experience and after it was clear that I was capable, he agreed to take me on as a full-time apprentice.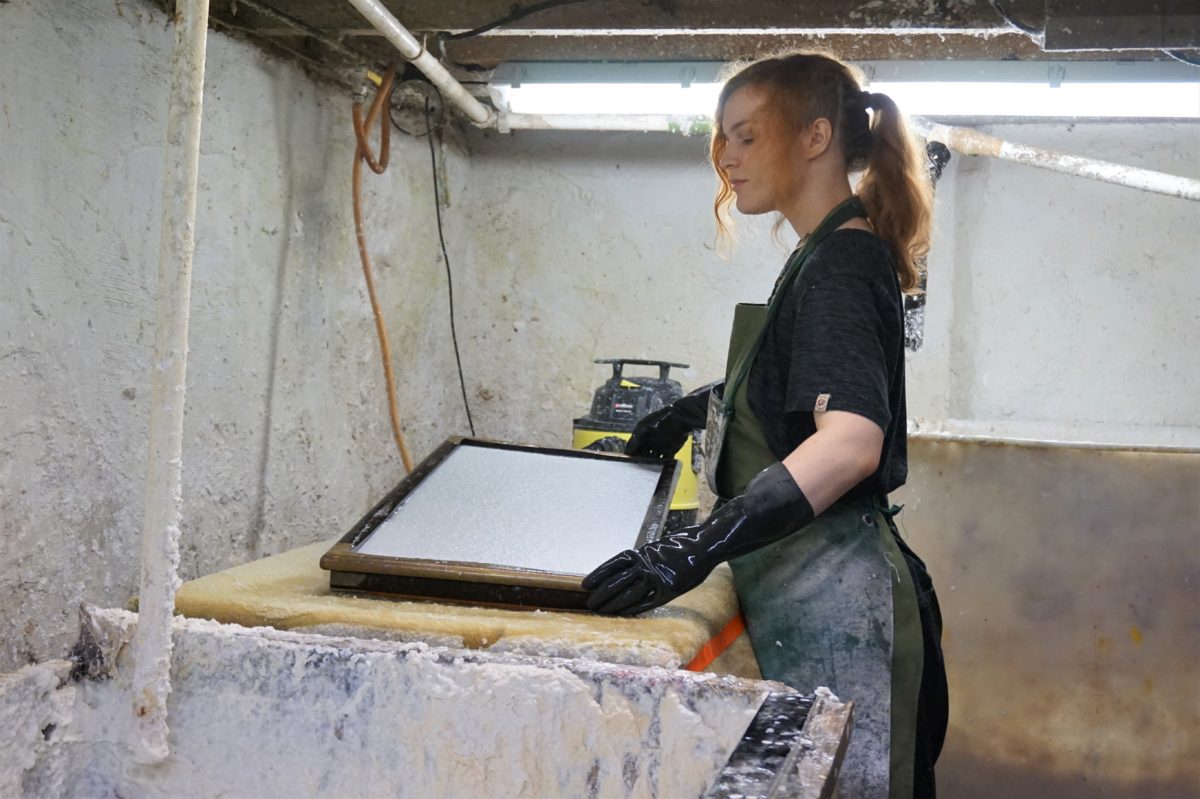 Can you briefly talk us through the process of making paper?
At every stage of the papermaking process, there is a possibility of spoiling the sheet so it's important to be careful. Our paper is principally cotton and linen rag, but other materials such as hemp, esparto and flower seeds can be added for different characteristics.
The first stage is the hydropulper, which is a large drum with a motor and propeller. This mixes water, cotton, chalk and an internal sizing chemical called aquapel, which opens up the cotton fibres to get them ready for beating. On the floor below the hydropulper, a valve is connected to a valley beater, a machine that processes the fibres, increasing strength properties in the sheet. The pulp is then transferred to the storage chest, and then the vat for the papermaking. Individual sheets are made using a mould and deckle, a fancy sieve that extracts the pulp from the vat, and forms a wet sheet. This sheet is then couched onto a felt, and another felt is stacked on top for another sheet to be transferred. When all the pulp is used up, the stack of felts and papers are placed into a hydraulic press for dewatering. The papers are separated from the felts and taken upstairs to be air-dried. When dry, the sheets are examined for imperfections before being individually coated in gelatin and pressed off again. Finally the gelatin-coated papers are air-dried again and then they are ready for use.
What did a typical day of your apprenticeship look like?
The first part of the day involves opening the gate for the waterwheel. The waterwheel powers our rag-breaker, a machine used to provide pulp for our second line of production. To keep in check with any changes, I may also check the weights of the paper to see if they are underweight, overweight, and figure out what I need to change to meet customer specification.
Speaking with my colleagues, I figure out what paper needs to be made and which is the first priority according to orders. With the pulp already prepared in the chest, beaten from the day before, I can start making paper as soon as possible.
While paper is pressing, I start preparing the next batch of pulp for the following day. As I'm supervising a trainee, I often check on him to ensure everything is operating ok and answer any of his queries. After the gelatin-sizing and a clean up, I take note of all sheets made and all sheets sized that day.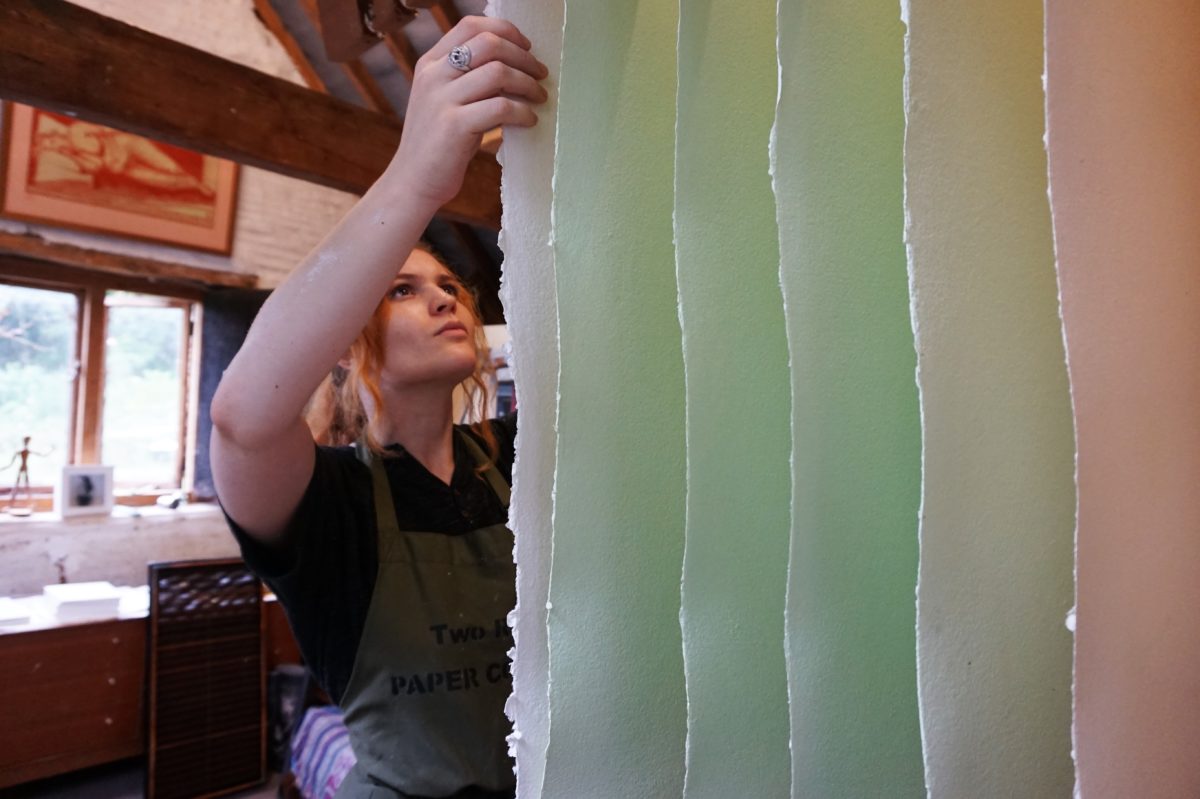 What was the highlight of your training?
Establishing our second line of production. Before lockdown last year we only had one line of production and when I came back from furlough, abiding by social distancing guidelines opened up the opportunity for a separate making room. While my colleagues worked in the main mill, I resided in the outbuilding – I had hands-on experience building the second line from the ground up, and independently took control of an operation. This was a significant transition in my apprenticeship, previously I'd been working around, and relying on, my colleagues' input, but now I was working completely solo. Taking the helm greatly bolstered my confidence and competence.
And the biggest challenge?
I would also argue the second line of production, as it required a lot of patience. Operations in the outbuilding were more manual and harder labour than that of the main mill, and working from the ground up meant that there were always things that needed improving or replacing. The screw press is a great example. We first started off with a small nipping press, which restricted the maximum sheet size and the number of sheets I could make. Eventually, that press was replaced by a massive cast iron press, which was double the capacity in size and quantity. One of the things that definitely still needs improvement is the time required to make a stack of paper; things are much slower than over in the main mill.
With the new operation came new business. I've been constantly kept busy with a handful of recurring customers with bulk orders, having to keep to deadlines while manufacturing bulks of quality papers.
And what are your next steps now you've completed your apprenticeship?
Now that I'm fully qualified, I'm going to stay with Two Rivers Paper. In July the company is expanding to Watchet and I plan to move with them! Watching the company expand as much as it has in the past three years has been wonderful and I couldn't pass up the opportunities that come through working with the team.