Catching Up With Bookbinder Emily Juniper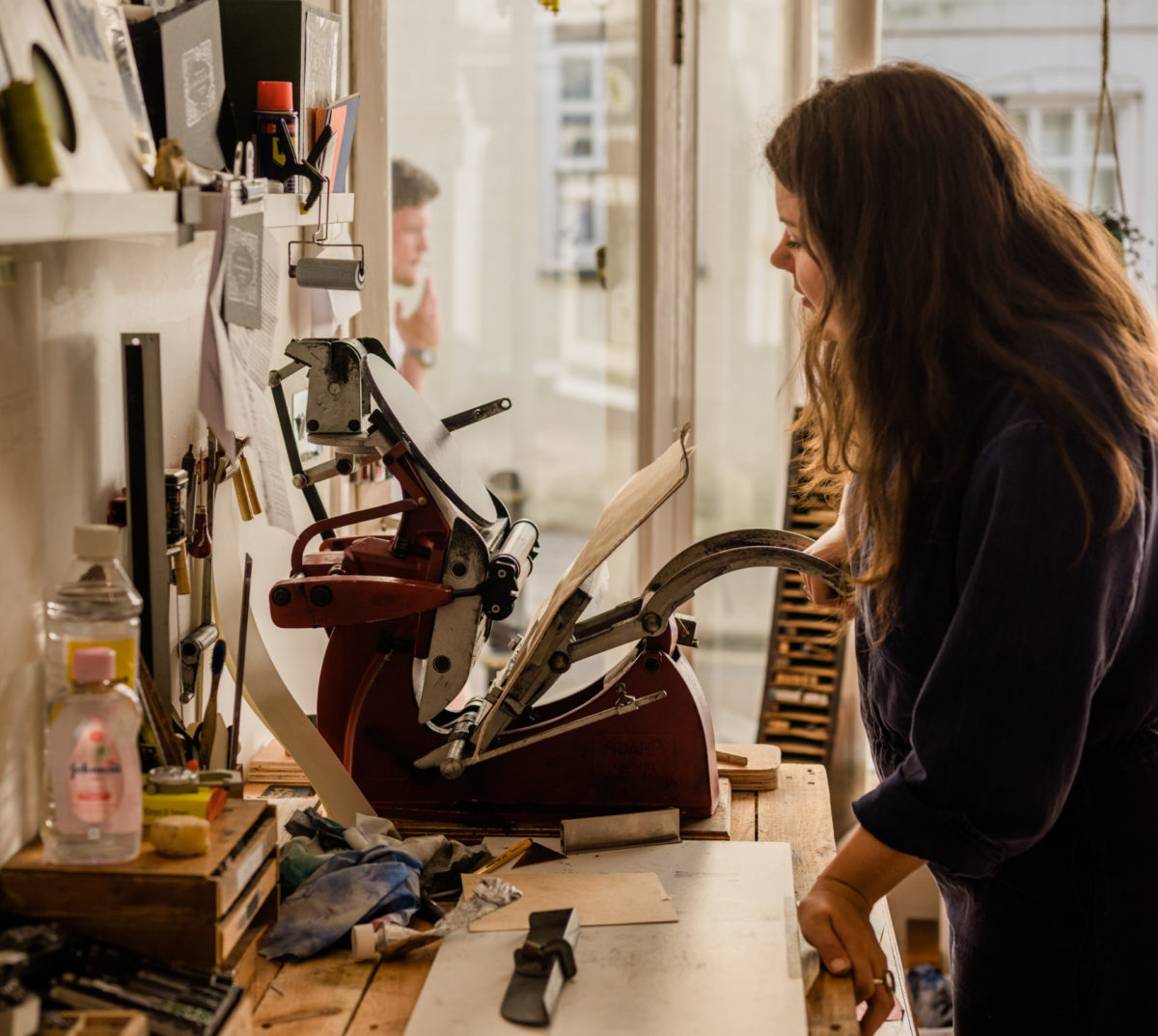 Based in Falmouth, Emily Juniper is a bookbinder who thinks of the book as a performance space, and in her work she tried to make sure every page speaks to the last. In 2015 QEST Clothworkers' Company Scholarship supported her during an MA in Illustration & Authorial Practice at Falmouth University. Emily has since set up her own studio, Juniper Bespoke, and she won The Wyvern Bindery Award for Best Newcomer at the 2017 Society of Bookbinders Awards. Here she tells us more about what she's been up to since her scholarship.
How did you start bookbinding and what is it you love about the craft?
A love and reverence for books is written in my DNA – even before I could hope to understand the contents, I knew that the shelves that held books were the most important shelves in our house. My grandmother was a writer in her heart, but didn't have the sort of back ground that allowed her to purse an education beyond secondary school. That made her fiercely proud of all of the academic achievements of her family, and that meant paper. Certificates were framed, newspaper articles were clipped and catalogued. This translated to me understanding that narrative is tangible, that stories are something you can hold and touch. 
I started binding because when I started writing it seemed entirely natural to me that the book you are holding in your hands is part of the story. The theatre of the whole experience of reading is in touch as well as language. Nuances can be mapped into the design of the object. These can be explicit like B.S. Johnson where parts of the page are cut out, or they can be almost subliminal, tiny choices which reward the curious, a choice of thread perhaps, or a mathematical placement of margins, it's a three dimensional craft, and it's an intimate art form. A book is an object which speaks directly to the reader, which comes to bed with them and rests on their pillow. Not many crafts have that privilege.
I began book binding by taking books apart. I dread to think of it, what a massacre my bedroom floor must have been. I was like an impatient surgeon, taking out the heart to see how it worked, and killing my subject in the process. I used to take my attempts to a binder upstairs at a printers in Fleet Street. This man, presumable binding reports and presentations for financial companies, would look at my weird fairy tales and give me advice. I remember being embarrassed to show my work – knowing it was wrong, but so keen to find out more – and if he even hinted that I had improved I'd be on could nine the rest of the day.
I think I turned a corner, when, in my search for bookcloth I visited a placed called Faulknier Fine Paper near Holborn, and a friendly assistant talked me through some of the tools I might find helpful. I still use the bone folder I bought that day. I think their generous giving of knowledge and enthusiasm for my experimentation fully set me on my path – I wish I could thank them!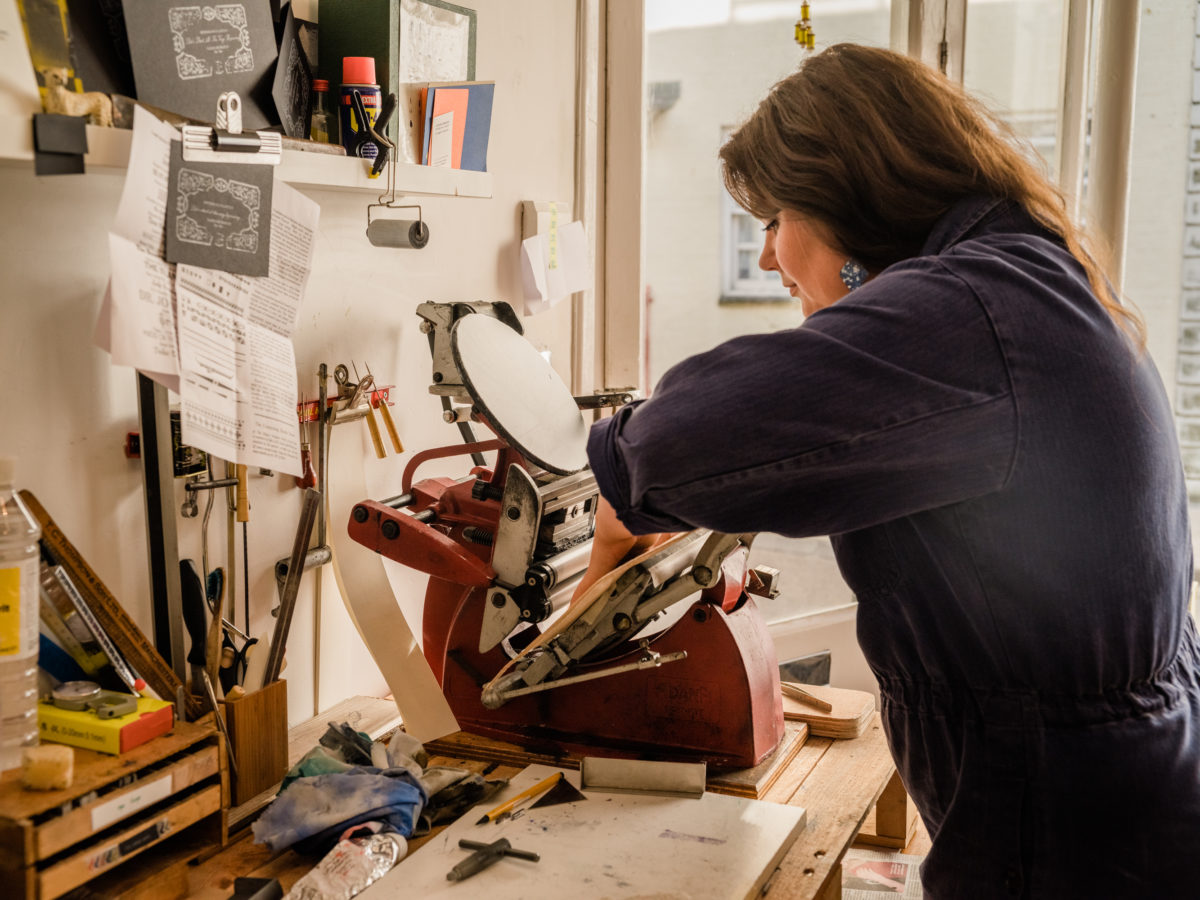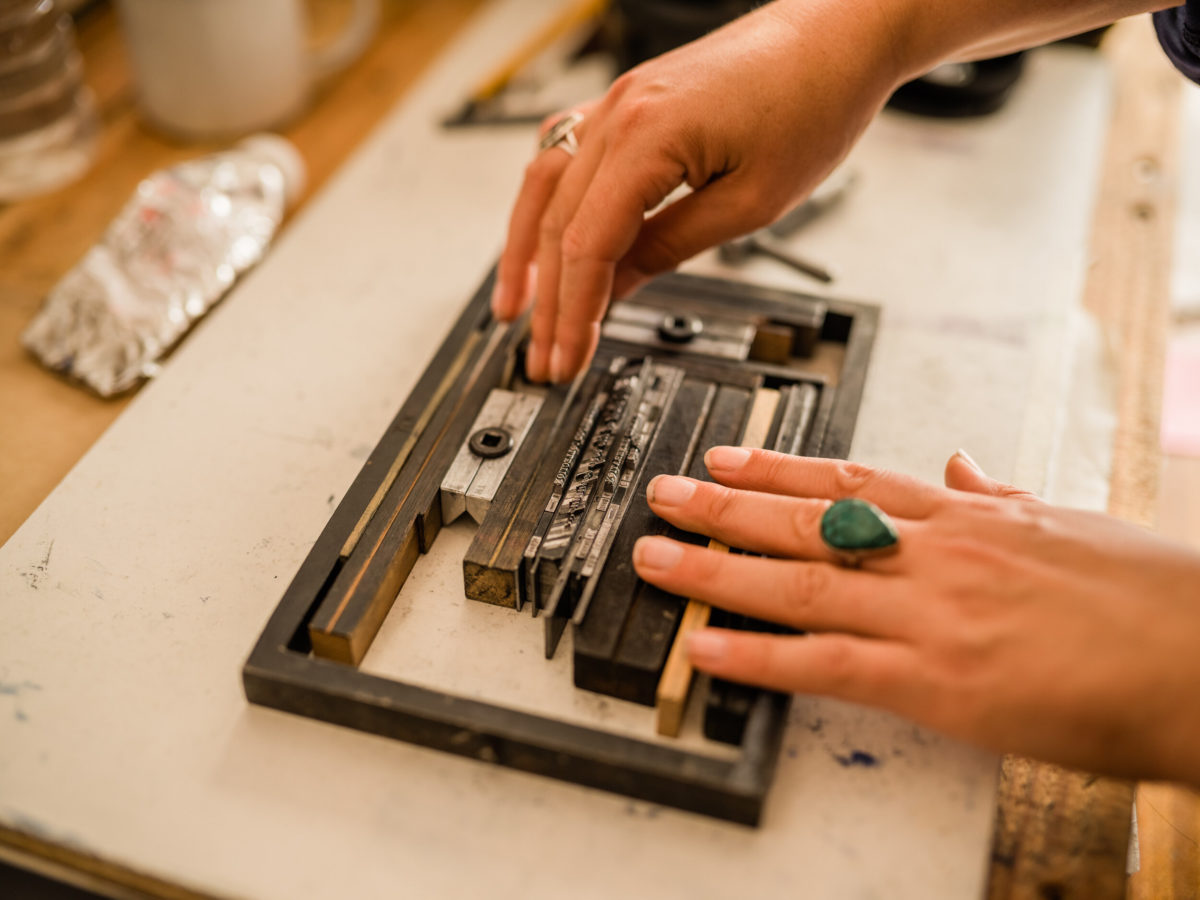 What did you do with your QEST funding and how was the training?
I took my bone folder and ignorance to Falmouth University in Cornwall to do an MA in Illustration and Authorial Practice, supported by my QEST funding. During the course I was able to do a placement in a bindery. This was what was really special about the experience, to be able to make and do, and experiencing the realities of the work in a bindery alongside the more theoretical line of enquiry was an incredible experience.
My placement was with Tom O'Reilly who worked in a converted school, full of taxidermy and curious artefacts. I have a very anxious and precise brain and a need to get things 'right', and it was a difficult process. Tom was always saying 'about this much' as he showed me a new process, and I'd want the measurement given in millimetres. I would be trying to make lists in a notebook as fast as he explained, and I couldn't keep up – I began to understand that this would be a life-long learning process. At some point in the future the measurements would be written into my muscle memory as they were for Tom. I was going to have to be patient.
Can you share a highlight of your career so far and any particular challenges you have overcome?
I set up a small book binding studio after graduating, slowly accumulating tools and experiences, failing as much as possible as quickly as possible! (Which was some wonderful advice I had from a silversmith about running a craft business). As an extension of what I was doing I set up an independent publishing house. The idea was to make small runs of beautifully designed work, thoughtfully made to reflect their content. I called it "Utter" & Press – a paper stage for the spoken word, specialising in writing that was connected to performance. It was the culmination of everything I had been learning on my MA.
My first author was Tim Key, a stand-up comic – I loved the challenge of putting his esoteric performance on to paper. The first publication, a run of 700 hand finished playing cards with his poems on sold out in 20 minutes. And it's been a whirlwind since then. We are on our fourth printing of these Poetical Playing Cards and have now sold over 7000 – it started a collaborative process with Key which is pretty unique. I've long been a fan of his work, and I seem to have found an author who is interested in design – the way his work is curated is important to him, so we sort of feed off each other. He likes to have layouts really early on, and he writes in a way that is sympathetic to the visual experience.
The pandemic meant that these paper versions of live performance have had a new relevance. We produced a book "He Used Thought as Wife." An incredible highlight has been Key sending me a photo message of his copy of the Sunday Times with the best seller listings. Circled was our book at number three in paperback non-fiction section. Now, that would be a clipping my grandmother would have put in an album! I'm still processing it. It means that my independent publishing house really has a market.
Probably the biggest threat to "Utter" & Press was when production of our book was held up because the paper was coming from Italy and this was when there were all the backlogs at the borders. That was a combination of Brexit and Covid that really walloped us!
And, personally, a challenge is knowing my own limitations. When everything is exciting and moving quickly I have a tendency to take on more than I am capable of. Being realistic is not a strong point. However – if it doesn't get out of hand – a healthy disregard for what is considered possible can be pretty useful.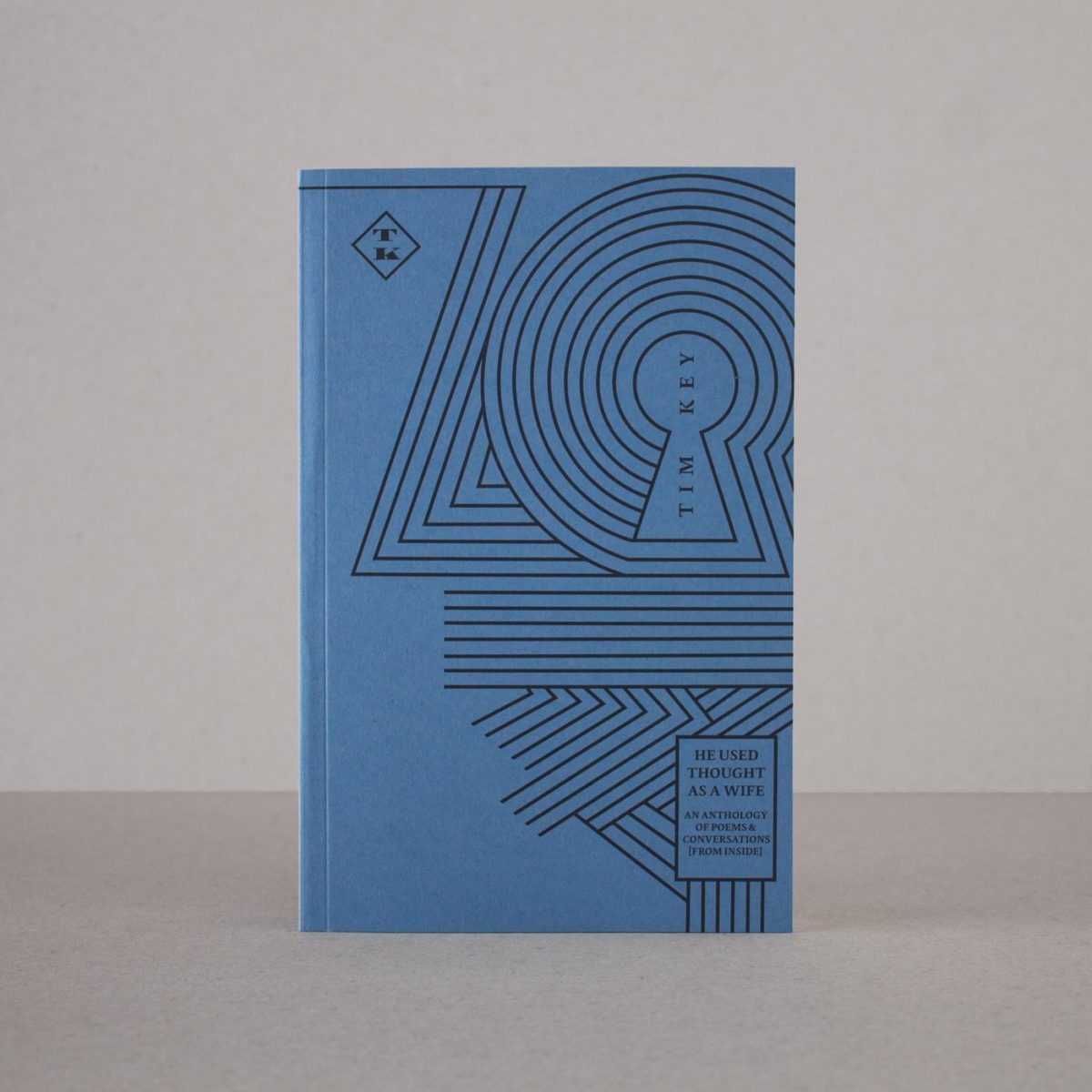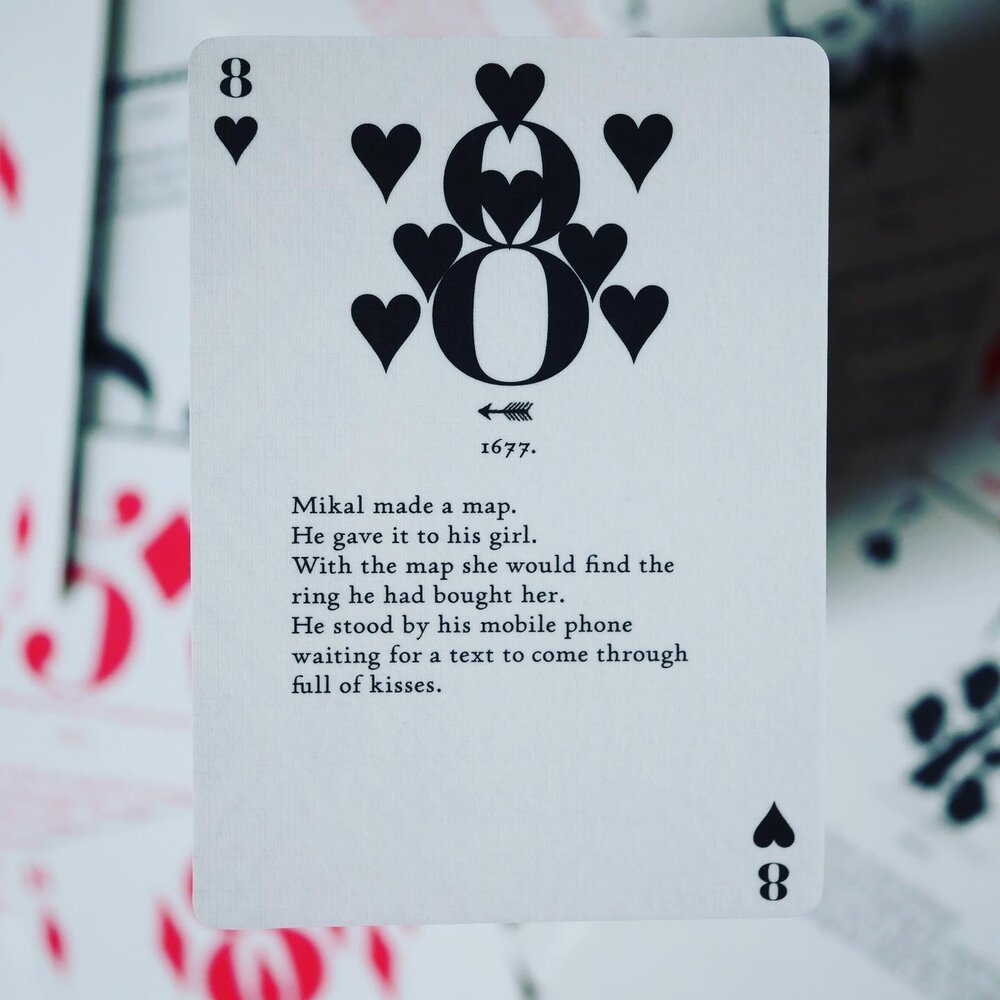 Has Covid changed the way you work?
In the beginning it was a case of swimming upstream. Everything was changing so quickly. We had just launched a third printing of the playing cards, and I was struggling to get the orders out. I was sending email updates and apologising constantly – we are so used to receiving things we've ordered online immediately, that this slowing down of the process felt really unnatural. My local post office closed and I drove to a nearby village that I'd heard on the grapevine was still processing post! I remember winging my way along a country lane thinking 'is this essential travel?'
Ultimately, when it comes to my studio, I work best on my own, and once I understood that walking to my studio and back was not illegal, everything settled down a bit. And when my local post office branch reopened things became easier and calmer. The biggest change is screen sharing has become how the author and I have kept communicating about changes to the book and how we have kept the collaborative design process afloat. We used to have meetings, sitting in Dishoom with paper samples and coffee, having the sort of breakfasts that becomes lunches – and I do miss that.
What are your plans for the future?
"Utter" & Press has turned out to be a really exciting project and I want to keep up the momentum. Having a platform to produce work which gets an audience is a responsibility that I don't take lightly. I want to make the next work as beautiful as the last, and to explore the ways that performance can be captured on paper.
I also want to learn more about binding! I feel like I have spent a lot of time looking at spread sheets recently and I really want to get lost in the making of a project. The contemplative satisfaction of folding paper is hard to beat.