QEST Scholars Collaborate to Raise Funds for WWF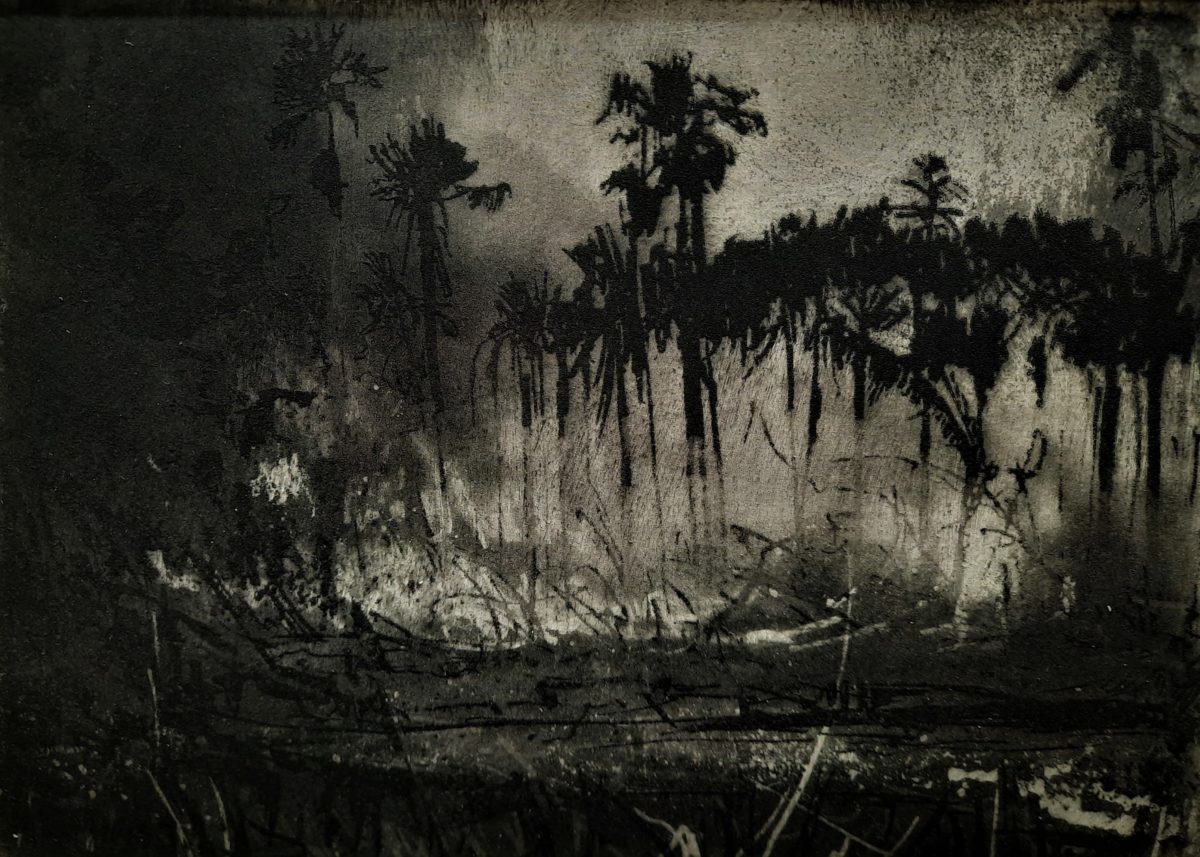 After a global pandemic where people have discovered increased appreciation for the natural world, two QEST Scholars believe it is more important than ever to bring awareness to the 'tipping point' of forest habitats that are in threat of disappearing forever. With their love of the natural world, fine-art printmakers Jemma Gunning and James Harrison have joined forces to create Tipping Point, a set of interactive hand-made prints for WWF.
Combining their craft skills in the traditional printmaking processes of lithography and screen-printing, this collaboration aims to raise awareness of deforestation in a new light. On the surface, the artworks will celebrate the beauty of life within each ecosystem, and hidden in their distinctive styles, threats to these places will come to light through the combination of glow in the dark screen-print ink and lithography.
Discussions between the pair began in March 2020 and since then test prints have been posted back and forth between Jemma in Bristol and James in Glasgow, as they worked out which processes and paper to use to form the strongest set of visual prints.
Alongside developing the technical aspect of the work, frequent discussions around content, compositions and narratives has driven the project. Together they are working with Bristol based filmmaker Luke Ripley to create a short film that aims to demystify their working methodologies, whilst raising awareness of the impact of deforestation and presents viewers with positive solutions that can help stop the climate being tipped to the point of no return.
The resulting series of prints will be available to buy later this year – 10% of each sale will be donated to QEST and 20% to selected conservation charities, including WWF. The project is sponsored by Fedrigoni Papers, Great Art, Intaglio Printmakers and UWE.
More about the artists:
The practices of both Jemma and James are rooted in conservation and heritage preservation. Since 2015, QEST Scholar James has been working on Under the Skin, a creative venture with his brother Ed to raise awareness of some of the world's most endangered and vulnerable animals through design and printmaking. Their mission is to celebrate and raise awareness of endangered species before it is too late.
QEST Johnnie Walker Scholar Jemma regularly works on heritage projects, documenting abandoned structures that are in threat of being lost and forgotten. Through traditional printmaking processes she records architectural forms that are in a state of flux, acting as archives of our collective past. The documentation of shifting landscapes and changing ecosystems from human impact connects both their practices.