QEST Scholars to Feature in Goldsmith's Fair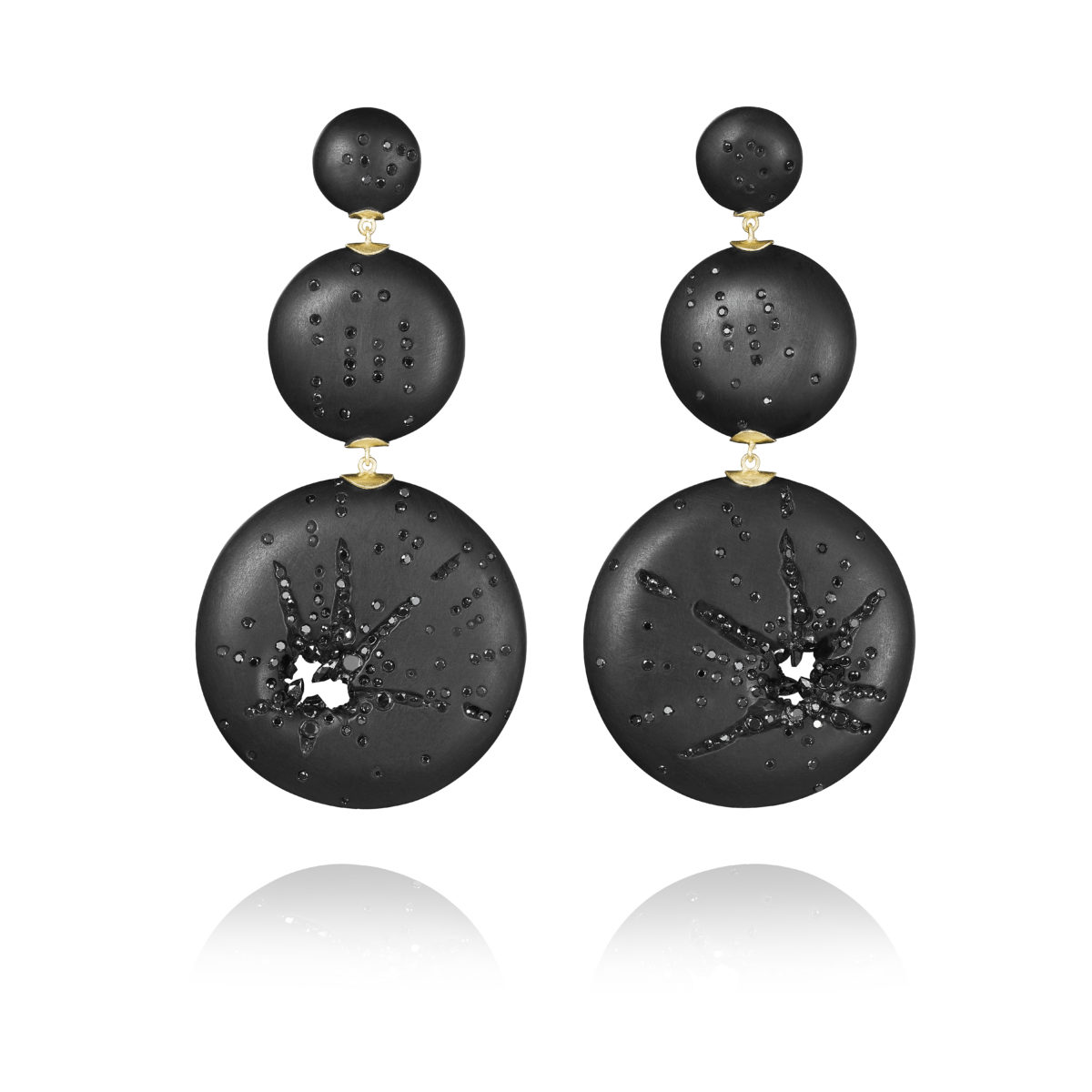 A number of QEST Scholars will be exhibiting their work in the virtual Goldsmith's Fair this year (24 September – 6 October 2020). The online fair provides a platform for 130 exhibitors and thousands of visitors from around the world to enjoy works created by a selection of the best jewellers and silversmiths in the UK today.
Jacqueline Cullen looks to dynamic natural phenomena when creating designs for her jewellery and she will be showing pieces from her Dark Matter collection. Inspired by black holes, exploding dark matter and vortices, these earrings are crafted from Whitby jet, marquise and round black diamonds and 18CT yellow gold.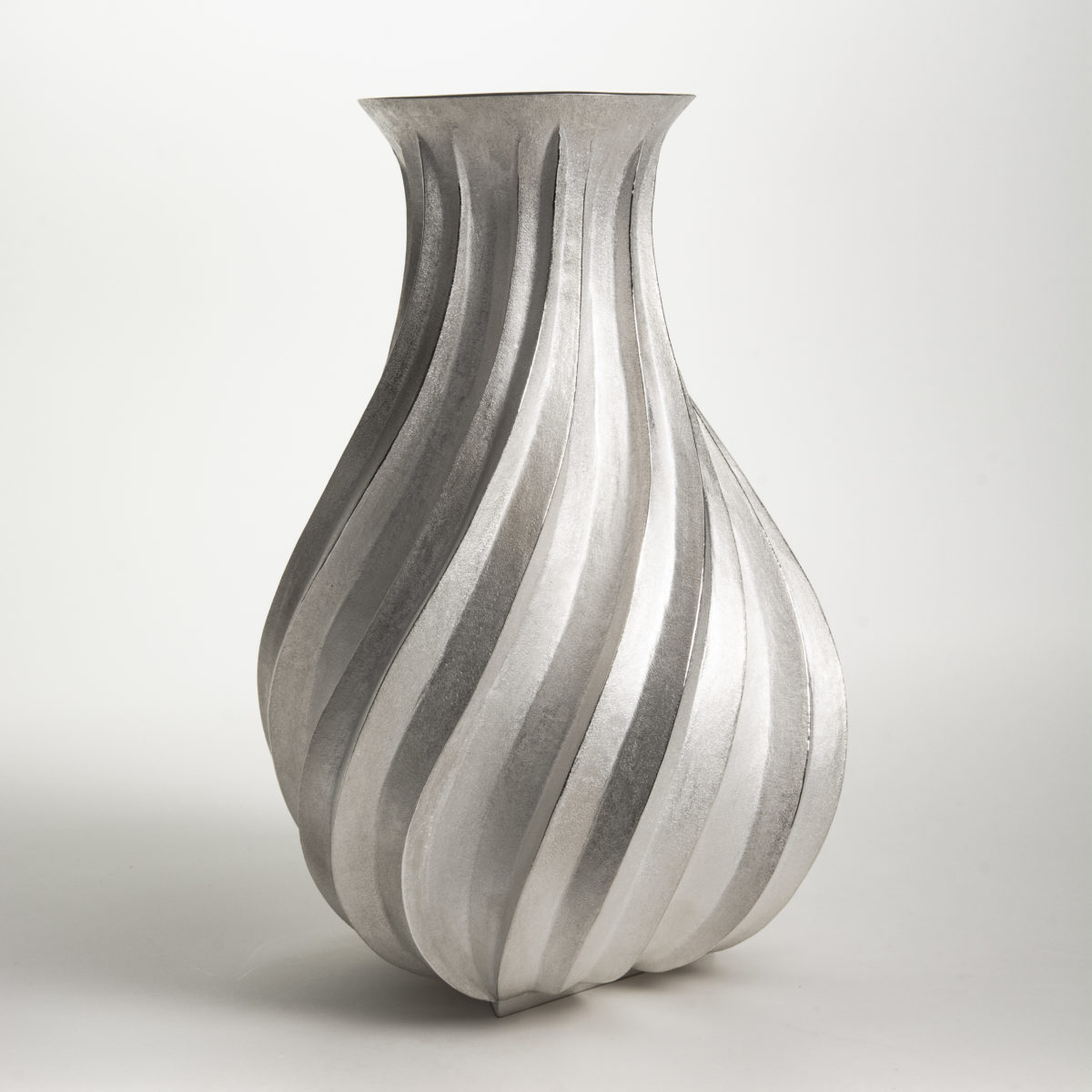 Ryan McClean is a silversmith working in Sheffield.  He combines traditional silversmithing techniques with contemporary skills such as 3D printing. For the Fair this year Ryan will be showing this hand-raised and chased Koch Snowflake vase, measuring 280mm in height and weighing 1.7kg. He will also be exhibiting a fractal wave vase, which measures 300mm in height and weighs 2kg. 3D printed and electro-formed, it won the Gold Technology Award at the Goldsmith's Craft & Design Council Awards.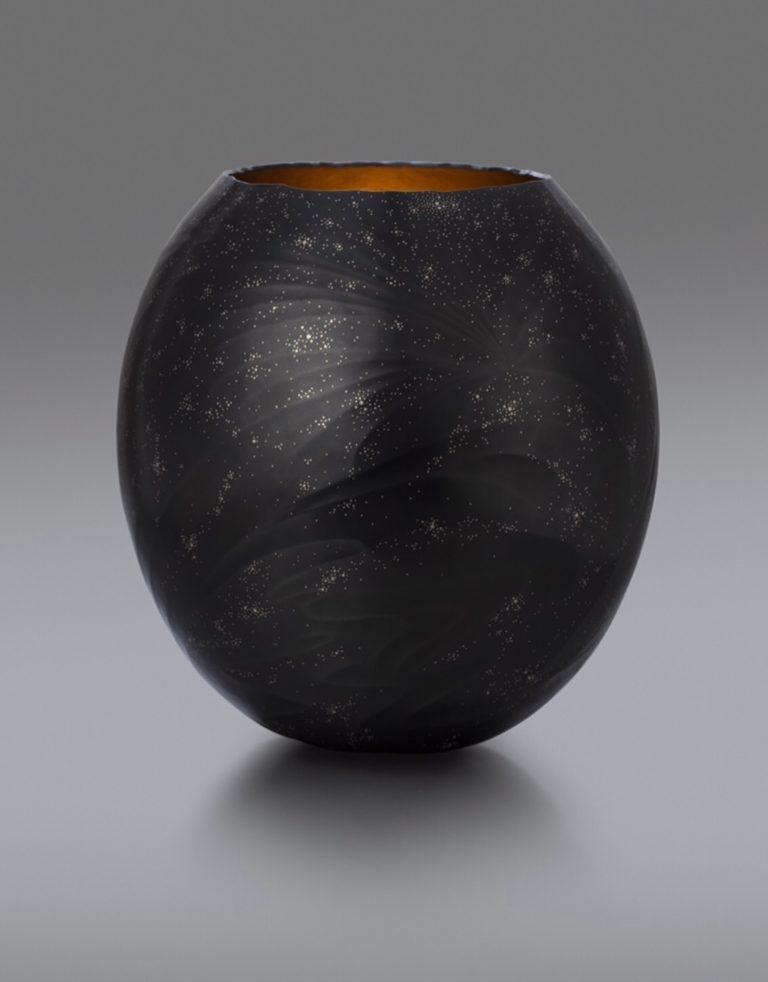 Wayne Meeten will be showing his Dance In The Night Sky vase which was awarded the Premier Prize at the Goldsmiths Craft Council Awards 2020. Crafted from shakudo metal, gold and copper alloy, it was inspired by trips to see the Aurora in Iceland and Sweden. It is gilded gold on the inside and patinated black on the exterior, with the stars shining bright in white and gold.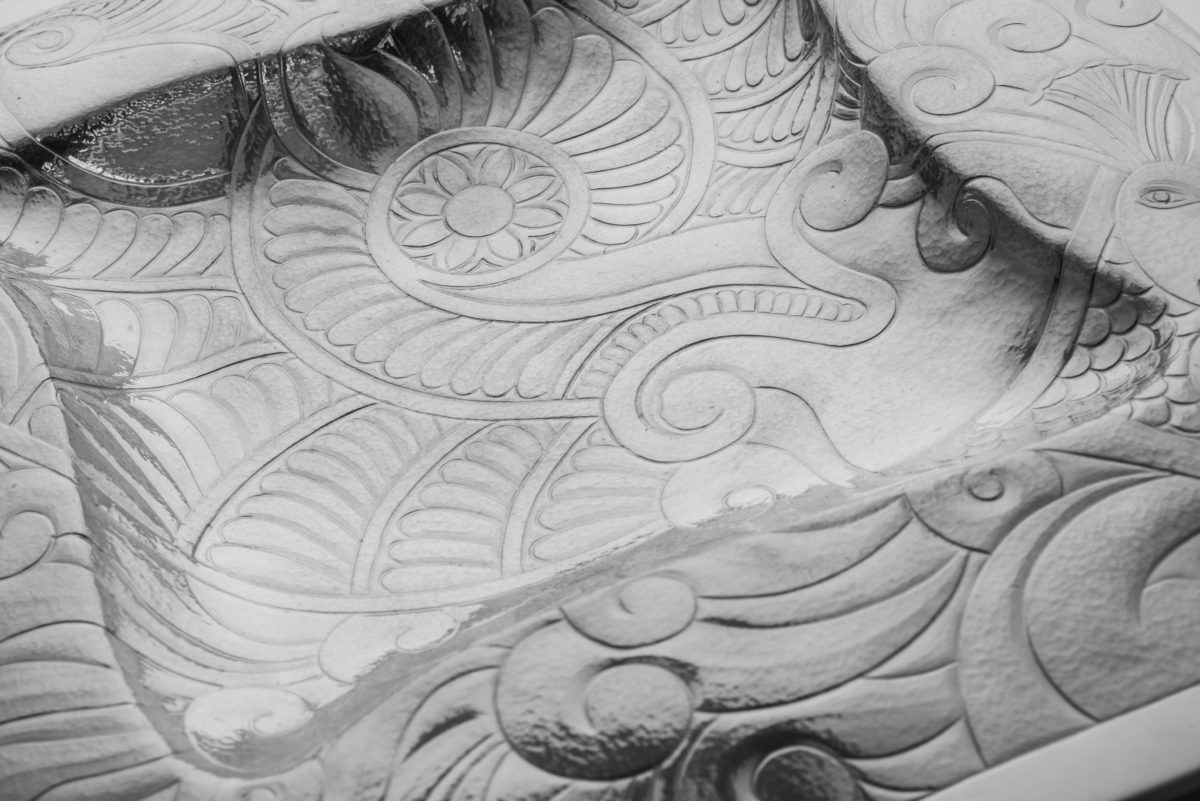 Manasi Depala is a contemporary silversmith based in Leicester. She has a wide interest in both eastern and western styles of decoration and also enjoys using architectural details as a basis for decoration in the form of chasing in larger pieces of silver. She will be exhibiting Dreamy Dish, a sterling silver dish chased with a peacock motif; Twisted Floral Vase, a sterling silver twisted vase cased with four different flowers and Ebony Box, a sterling silver box chased with architectural details from a wood-carved door, lined with ebony.

Kayo Saito will be presenting a variety of brooches this year – small collectable brooches, Rhodium-plated black brooches and marble-and-gold brooches. Kayo is fascinated by nature and has always gravitated towards her Japanese roots. Her latest work comprises two marble-gold brooches inspired by the Haiku of Abe no Nakamaro, an evocative poem about nostalgia for the homeland moon, with the moon expressed in marble.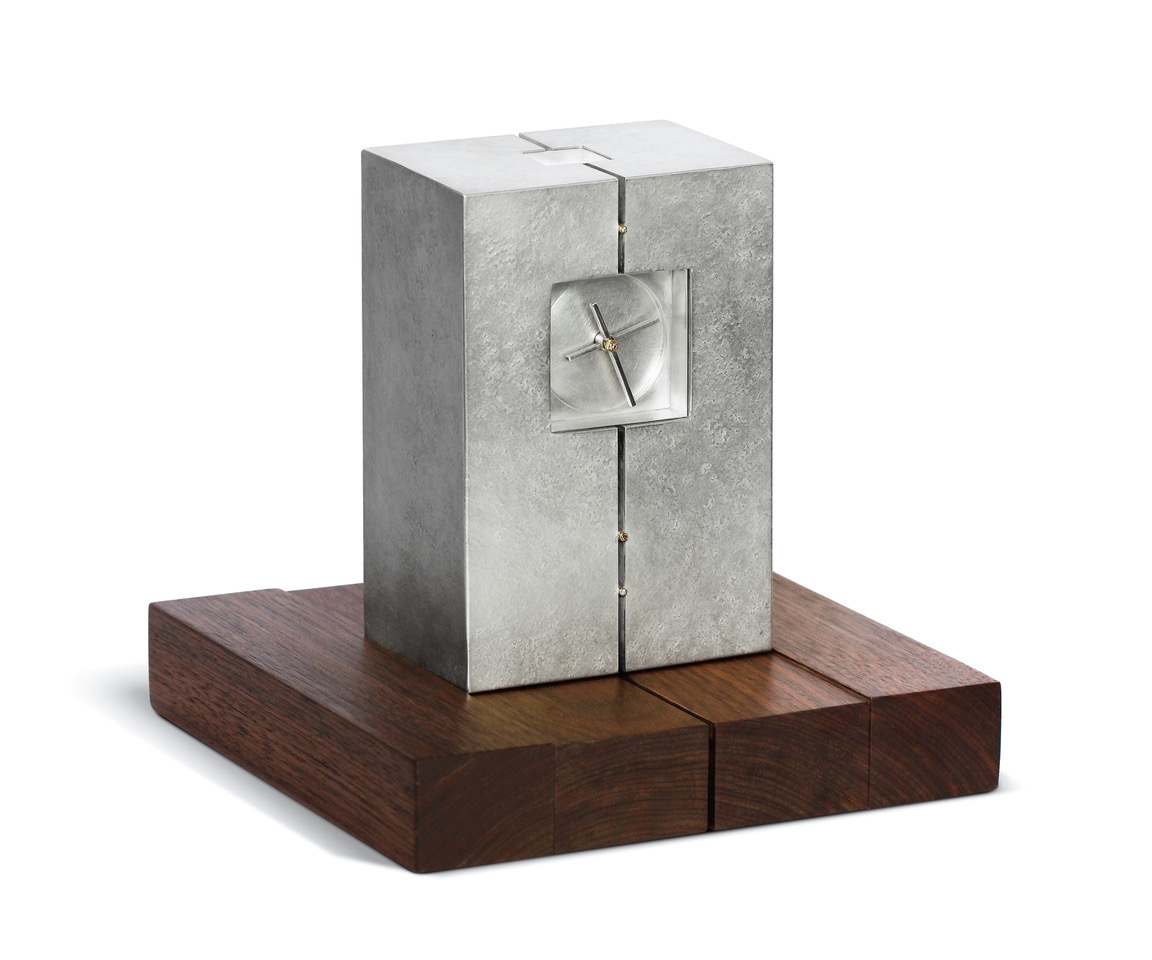 Louise Parry has selected her latest timepiece, The Square Round mechanical clock for the event, amongst other works. The clock was inspired by the anniversary of the Bauhaus movement with the colours pared down to the base materials, but drawing contrast as the silver clock rises from the dark wooden block. The straight lines and austere feel from the period feel particularly relevant in the current times and have inspired Louise to continue these designs as part of a developing collection.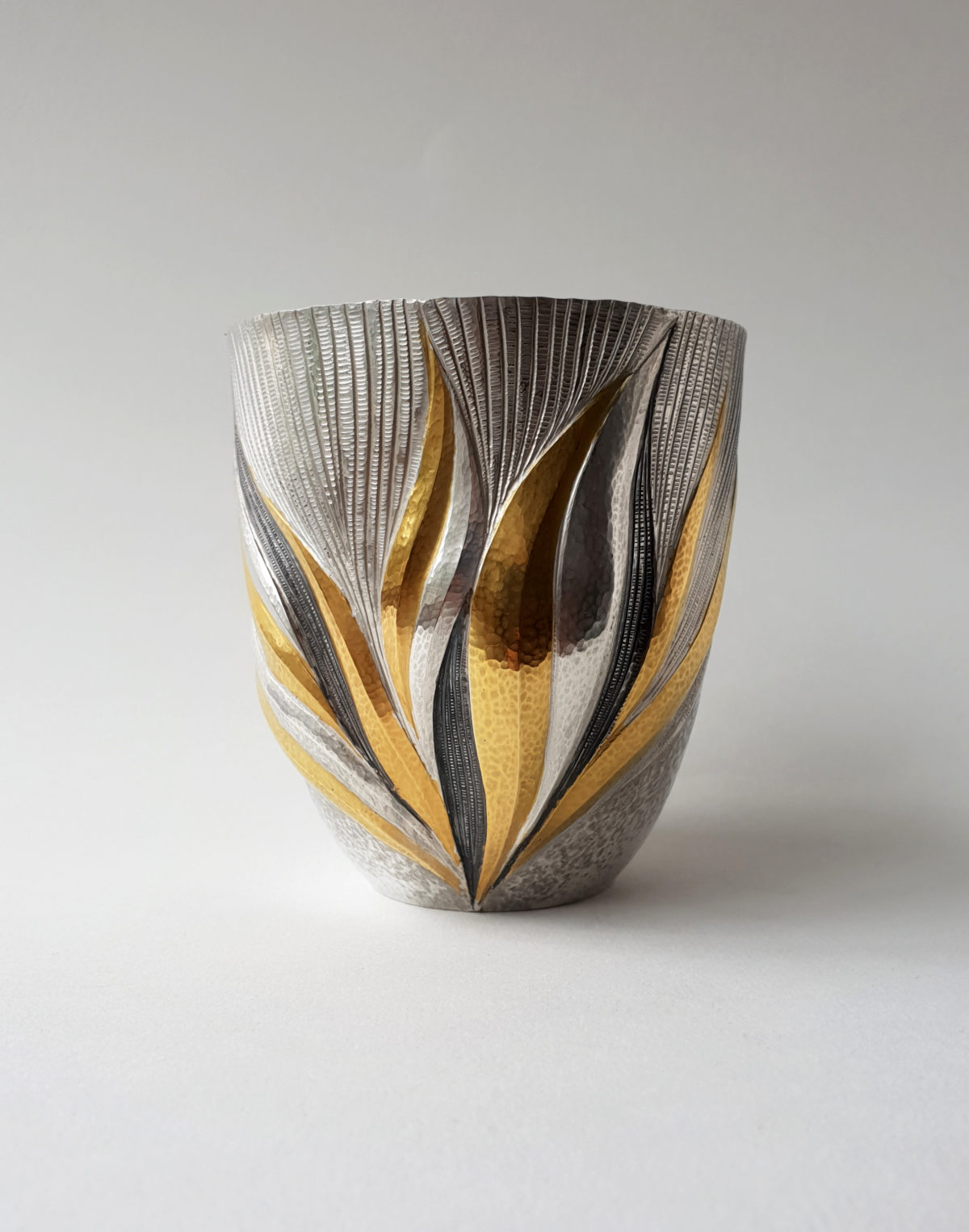 Zoe Watts will be showing a selection of new works created specifically for the event. She seeks inspiration from the movement of energy within the natural world and is intent upon translating this undulation and various textures into her pieces, for example the twisting turmoil of a storm, or the curling wave. This Fire Beaker is one of the pieces that will be on show.
Visit www.goldsmithsfair.co.uk to see more of the makers' and their work, as well as details of online events throughout the fair.