Training Tales: Megan Levet on Painting Conservation at the Courtauld Institute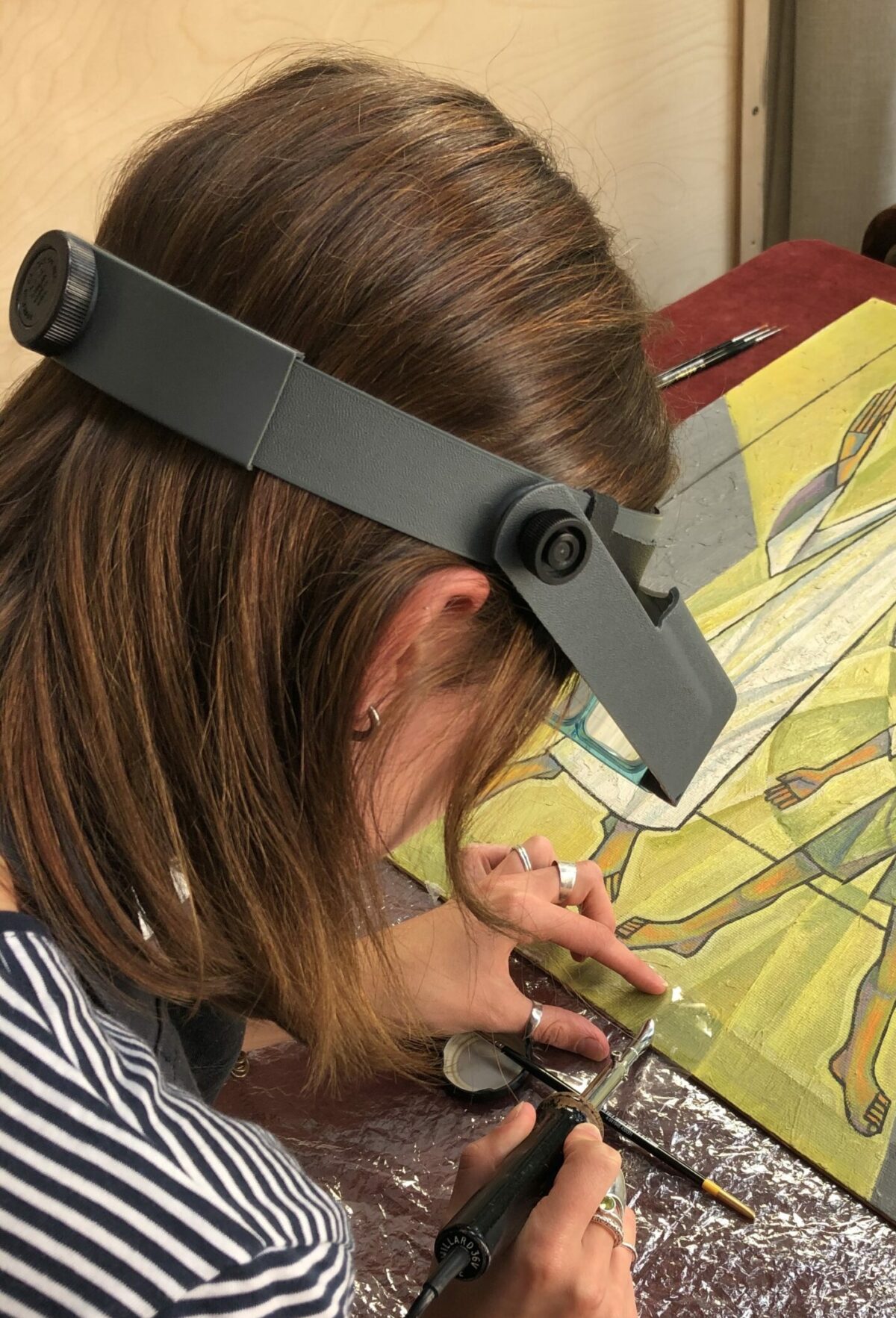 Megan Levet received a QEST London Art History Society Scholarship in 2019 to support her through an MA in Painting Conservation. Here she recalls her path into painting conservation and her experiences of learning at the Courtauld Institute of Art.
I have a vivid memory in the first week of my first term at the Courtauld where some of my tutors were explaining the structure of the replica course we were about to start. Replicas are a useful practise to help understand the techniques used by artists and, how the materials behave and age. Of the five of us in my year, some had studied conservation already and others had done work experience so had a prior knowledge of contemporary practise. The conversation moved to adhesives and our tutors mentioned that we would need to begin by soaking our own rabbit-skin glue overnight in order to make the size and priming for our traditional Italian and Northern renaissance panels. It is very common to use adhesives that derive from the natural sources of collagen in animals, hind glue, sturgeon glue and gelatine all examples so I had no questions at this point. Then the modern adhesive BEVA was mentioned. Having never heard of it before and, assuming natural adhesives were still the topic of conversation, I heard beaver instead of BEVA. Worrying that conservation involved using various furry animals and I was embarking on the wrong career, I asked for clarification on the spot, much to the amusement of my tutors. They say there are no stupid questions and asking as many questions as possible is the best route, but I think I managed to prove in my first week that some questions definitely are stupid…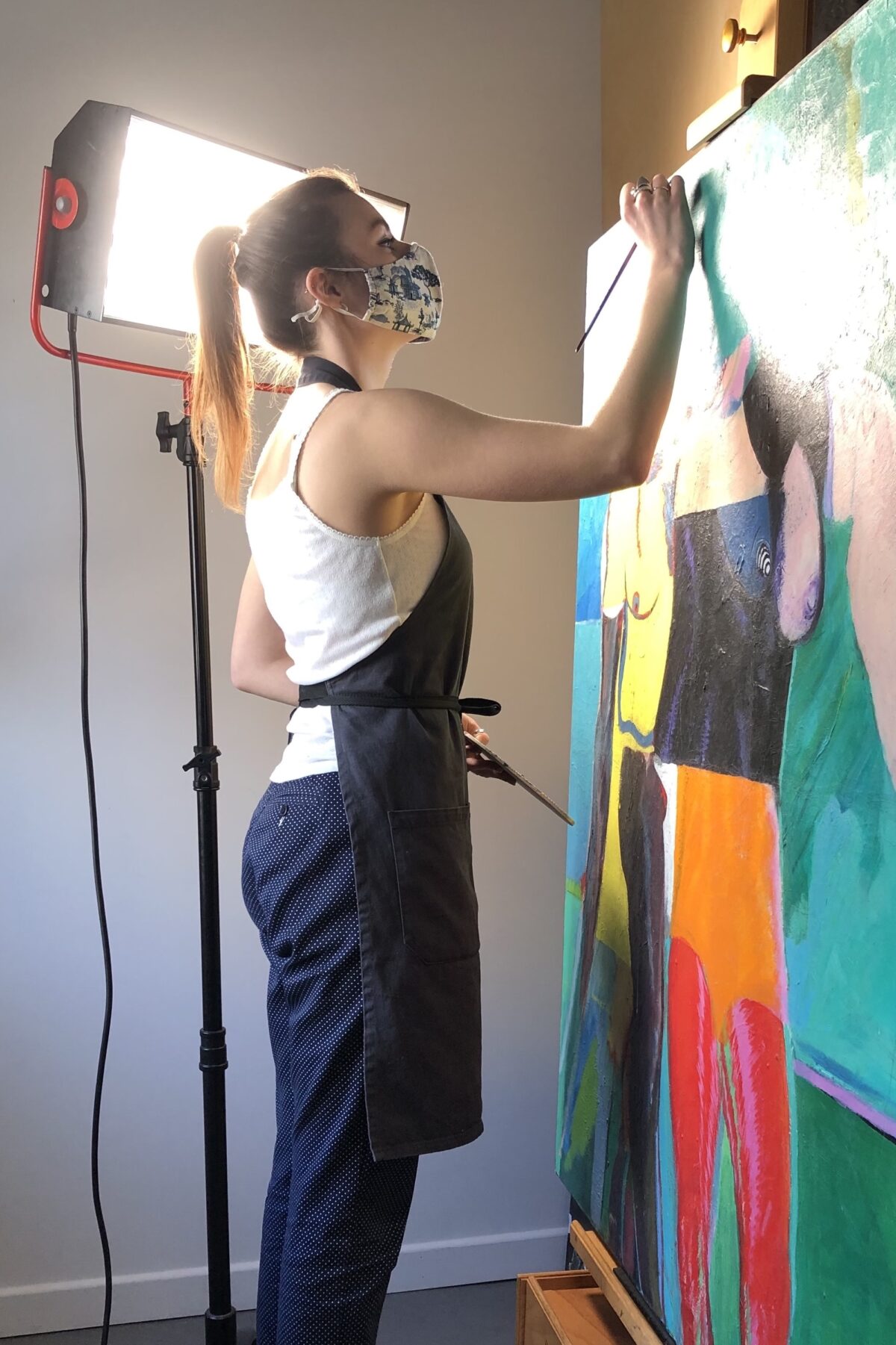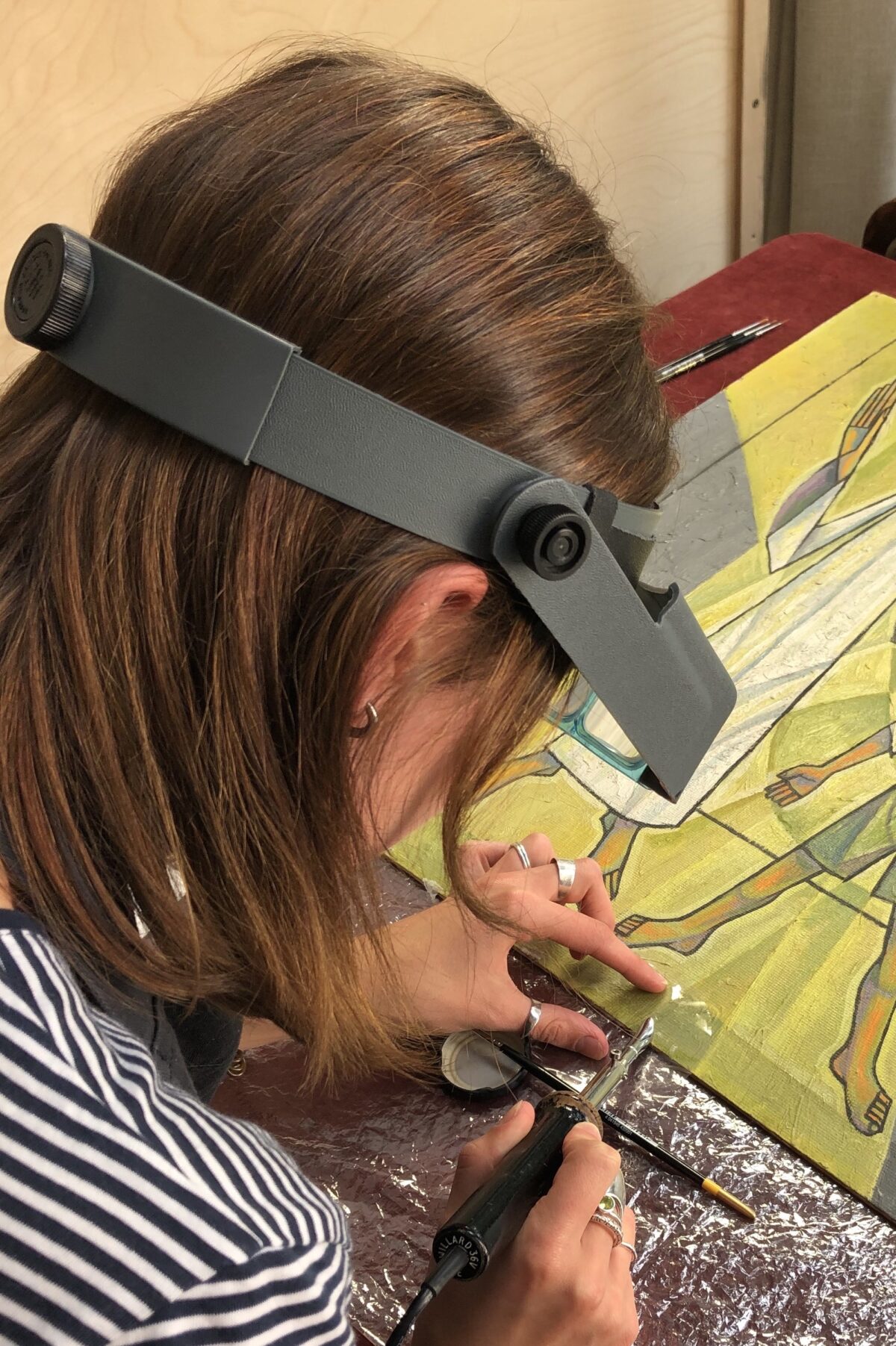 I first became aware of painting conservation during my undergraduate Art History degree at Birmingham. It wasn't featured on the curriculum, but I remember discussing it with one of my tutors in an abstract and theoretical way, thinking about the ethical implications of paintings 'changing' over time and the idea that paintings feature the hand of not just the artist, but the restorer or conservator too. My knowledge of the discipline in general was naïve at this point – I hadn't even considered that varnishes discolour over time and affect the reading of paintings – but my fascination was gaining momentum, so I decided to dedicate my final year dissertation to the restoration of a painting by Pieter Brueghel the Younger in the Barber Institute of Fine Arts. I discussed the ethical considerations surrounding the copying and reconstructing paintings in relation to both Brueghel's exact copies of his father's work and the restoration and retouching of the painting itself. I was very lucky to visit the studio of Ruth Bubb, who had restored the painting in question, and she gave me in depth insight into the different aspects of conservation and her journey to running her own successful business. I went on to work for Ruth in the summer of my first year at the Courtauld when the world was disrupted by a global pandemic. We are still in regular contact and she continues to inspire me.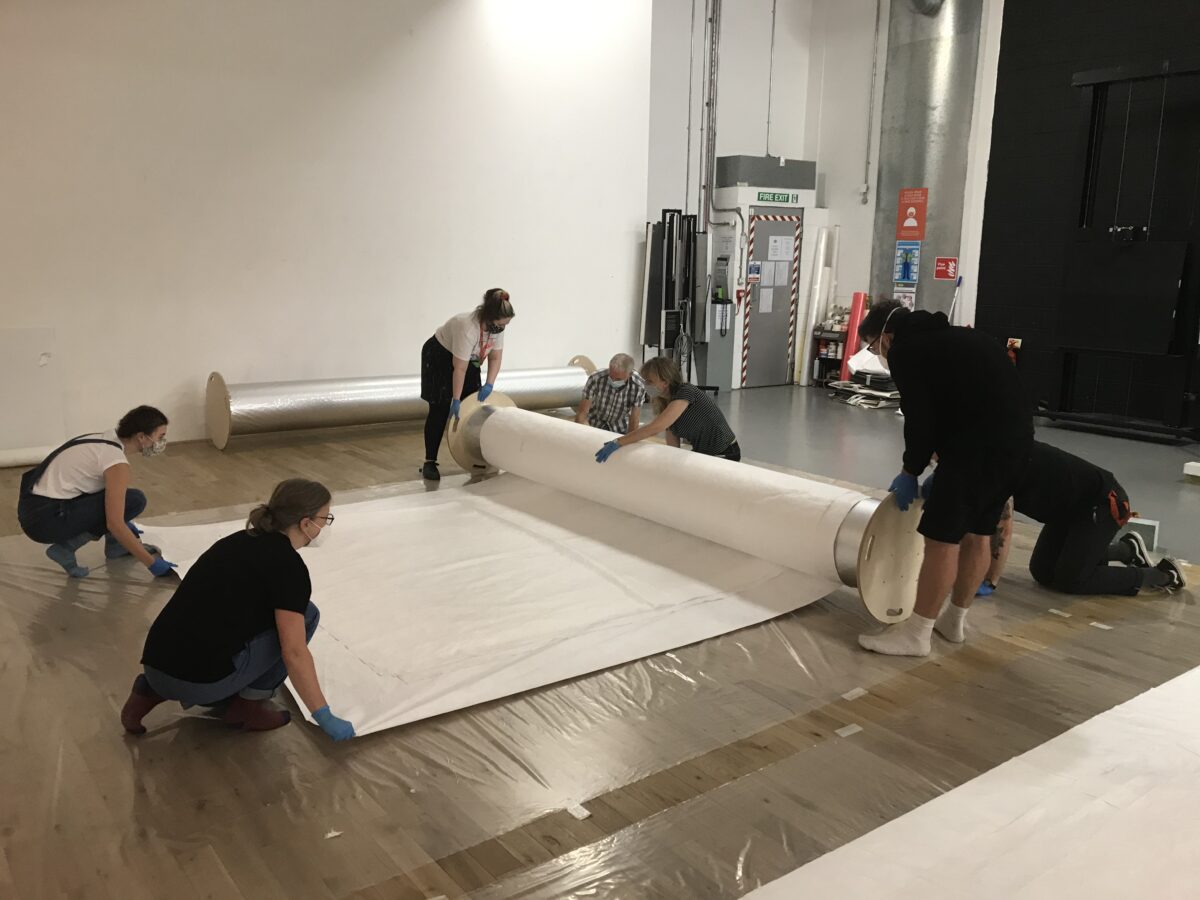 With her encouragement, the support of my tutors at Birmingham and my family, I decided to pursue conservation as a career and was lucky to earn a place at the Courtauld. My training has so far exposed me to new technologies, new ideas, new disciplines, new skills, new opportunities and has taken me on my own personal journey through art history. For example, my current projects include an early 16th century panel, a 19th century canvas, and we are soon to start a workshop on cleaning acrylic paintings. There are few training programmes that offer practical work from the beginning, and I learn more with every painting I treat. This is something I will continue to do throughout my career. Every day is different in painting conservation, and I enjoy the days where I can dedicate hours getting the exact texture and colour with my filling and retouching or practise other time-consuming skills such as tear mending individual threads under a microscope. Conservation is a team sport and I learn from my colleagues as we help each other navigate different treatment options. There is always someone who knows more than you, and I am lucky to be able to enter a discipline where the sharing of new research and knowledge is encouraged just as much as conducting the research itself.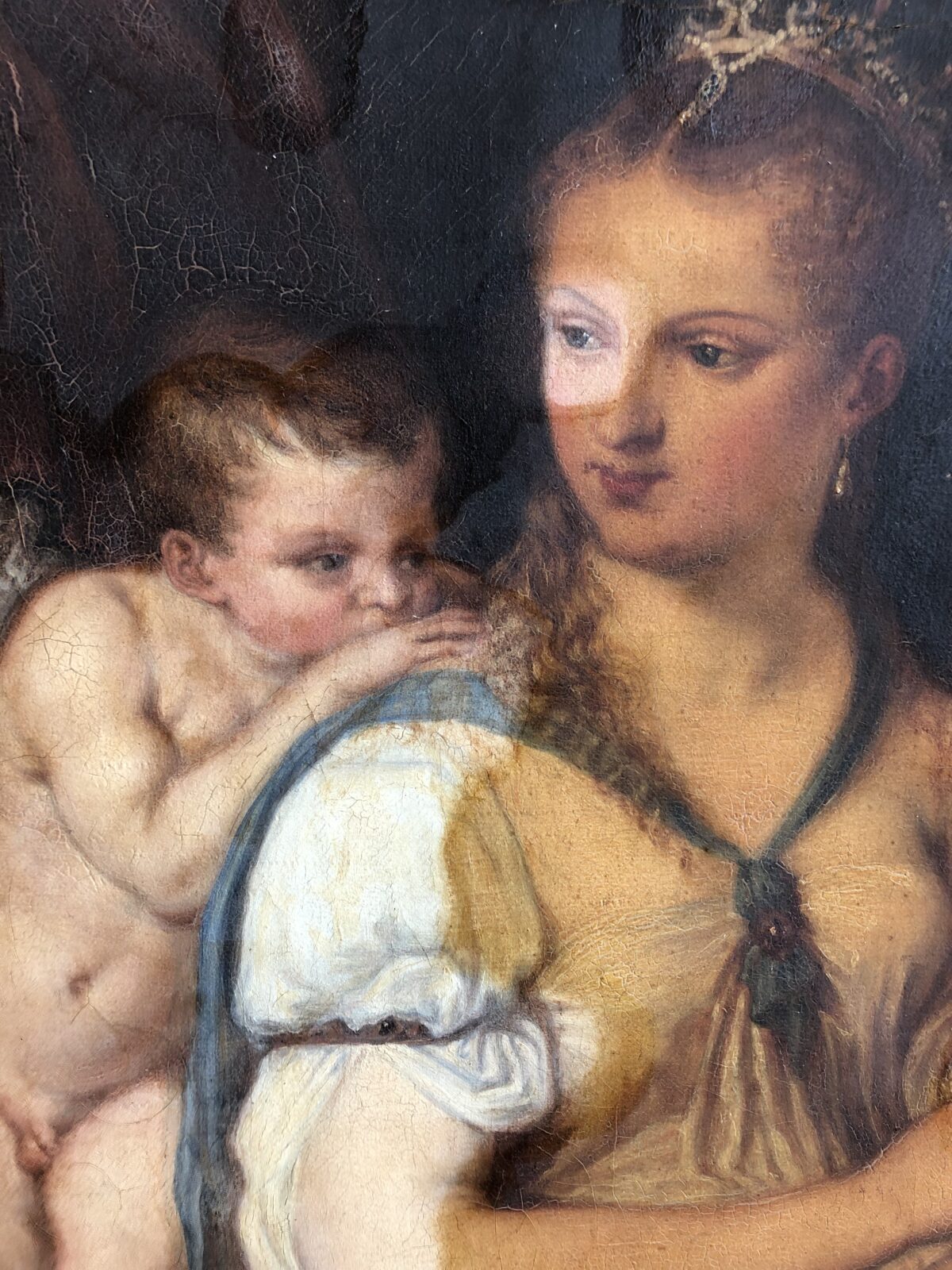 It is the same level of support and generosity I have experienced from my QEST Scholarship and I am proud to say I will be graduating this year from one of the most distinguished conservation training programmes in the world. My Scholarship has not only supported me throughout the three years of my study and allowed me to meet conservators in other disciplines, but also enabled me to undertake exciting unpaid experiences alongside my studies, including a two-month internship at Tate and a month work placement at The Ashmolean. The knowledge passed on by my tutors, and the other conservators I have had the pleasure of meeting and learning from, has prepared me to start my professional career and I'm simultaneously excited and terrified to be 'let loose' into the professional field. I don't know yet what the next few years will entail for me but to say that my training has opened up new possibilities, helped me realise new skills I never knew I had. I can say with confidence that my enthusiasm will continue to grow with every new painting I am lucky enough to work on and with every new conservator I am lucky to work with.