A Day in the Life of a Tate Paintings Conservator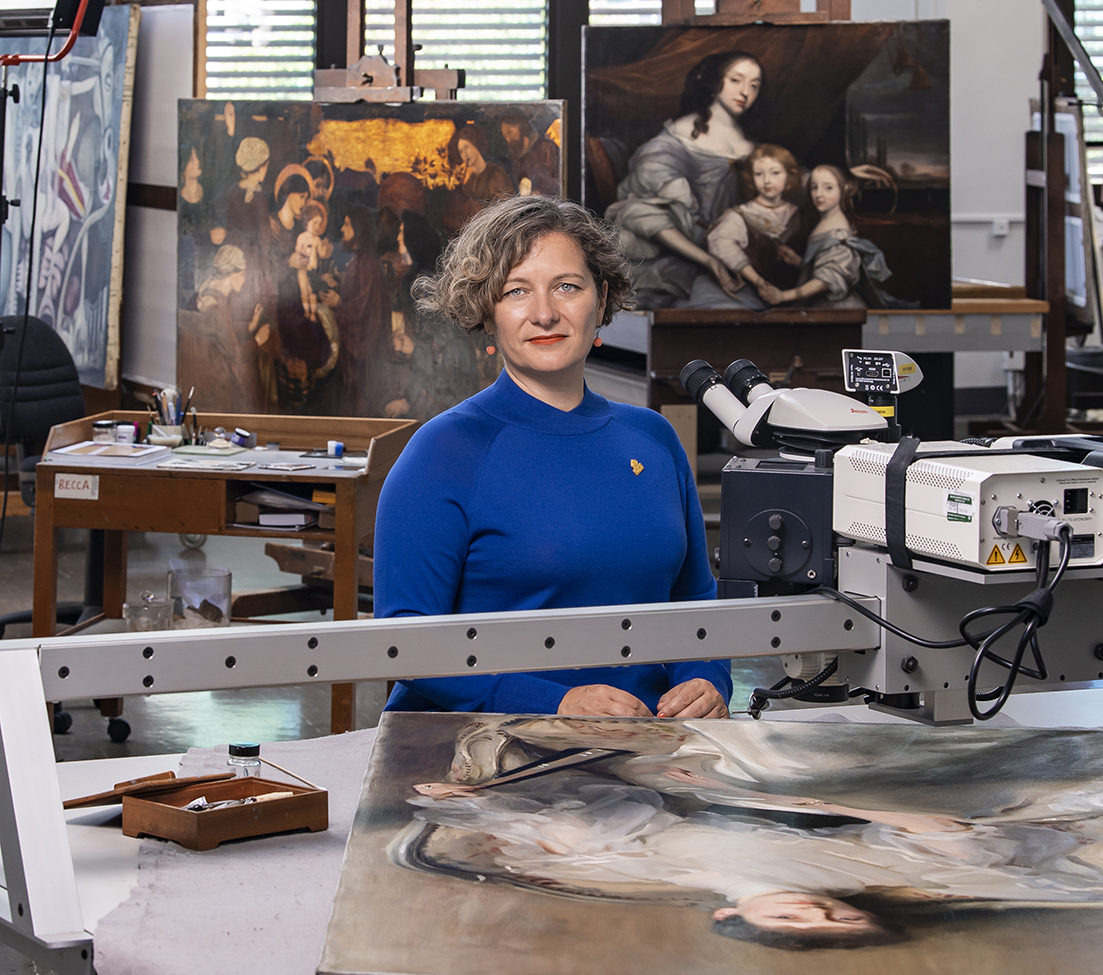 From extensive restoration work to a simple spot of dusting, no day is the same for Rebecca Hellen as she looks after Tate Britain's painting collection
My alarm goes off between 6.30-8.30am. If I'm part of the team putting up or taking down an exhibition, or if I'm really concentrating on a piece, I'll get into the studio at Tate Britain in London early – I look after all the displays and exhibitions for the paintings. I wear jeans and a pinny at work, but smarten up with a jacket for visitors, or a dress if I'm hosting an opening.

There are about 450 paintings on display in the main galleries, as well as two exhibitions running concurrently that may involve paintings, which change three times a year. I look after different aspects of various collection works, including cleaning, varnishing and assessing suitability for display. I'm the only person looking after Tate Britain at the moment, but I have help from an assistant conservator and a team of 12 freelance painting conservators.

Before a new exhibition opens, the curators provide me with a "wish list" of pieces they would like to feature. First, we check a picture's quality using the conservation records mounted on archival roller racks in our offices, as well as on our electronic database. After that, I will scrutinise the artworks themselves. Our main priorities are structural stability and aesthetic readiness – we need to know that a picture is in good enough condition fo rthe public to see it. If a painting comes with any real problems, we consult with the curator to find out if it is essential to include that particular one, or if there is adequate time to treat it.

There are a lot of processes involved in painting conservation. Each painting is a composite, made up of wood, canvas, primer, paint and varnish, and all react differently to temperature. Sometimes the canvas edgings have become weak, or a panel painting might have split along the grain. If a piece has become damp, the paint can lift. We use various light sources to examine a surface, such as UV, infrared or x-radiography. Some treatments can take half a day, others more than a year. I like having enough time to do treatments calmly, especially if the job is complex, so will aim to have a work ready at least two to three weeks in advance of it going on display. We also document each piece with photography to show "before" and "after" treatment.

I don't stick to routines at work. in addition to conservation, I attend a lot of meetings and sometimes show visitors around the studio – generally fellow professionals or potential sponsors. Occasionally I do gallery maintenance – before opening hours you might find me in the gallery with my little dusting brush and hoover. When it's time for lunch, I bring my own, which I eat in the gallery's lovely tea room.

The Tate is a very big, ambitious organisation, which has its challenges, especially as I do a practical job and the nature of my work isn't easy to predict. There have even been rare cases of deliberate attacks on a picture, such as the 2012 vandalism of a Rothko at the Tate Modern. Security and visitor assistants act as my eyes and ears on the gallery floor, however, and will report anything of note.

I enjoy working to a schedule, but occasionally I'll get a painting with unexpected issues and then feel disappointed that I didn't work on it as much as I'd like. My most memorable career moments include working on Mercury Sent to Admonish Aeneas, one of Turner's latest exhibited works and the most intense and complex treatment I've completed. I also enjoy representing Tate Britain abroad, including taking the first exhibition of works by Turner to be shown in China. The best part of my job, though, is working on the collection – we have the best collection of British art in the country, of course.

After work, I try to take advantage of all that London has to offer, whether it's music, yoga or theatre. I'm very much a night owl, so I'm never in bed before midnight.

Since this interview took place, Rebecca has left the Tate and is now Specialist Advisor for Paintings at the National Trust. This article first appeared in the QEST 30th anniversary magazine, produced by Illustrated London News, September 2020.