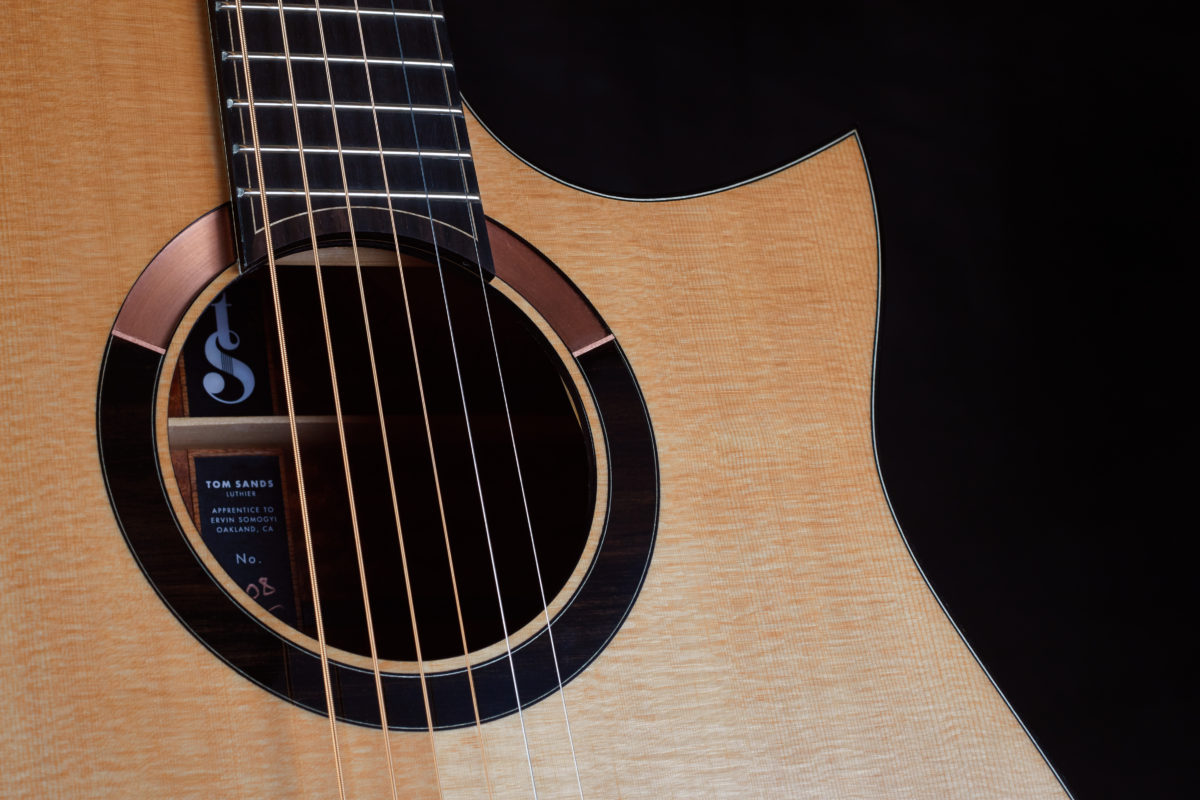 Once makers master their craft, they often decide to recruit an apprentice to expand their business while passing their expert knowledge on to the next generation. This was exactly the case when luthier and QEST alumnus Tom Sands took on Daisy Tempest to teach her the art of making guitars in his Yorkshire workshop.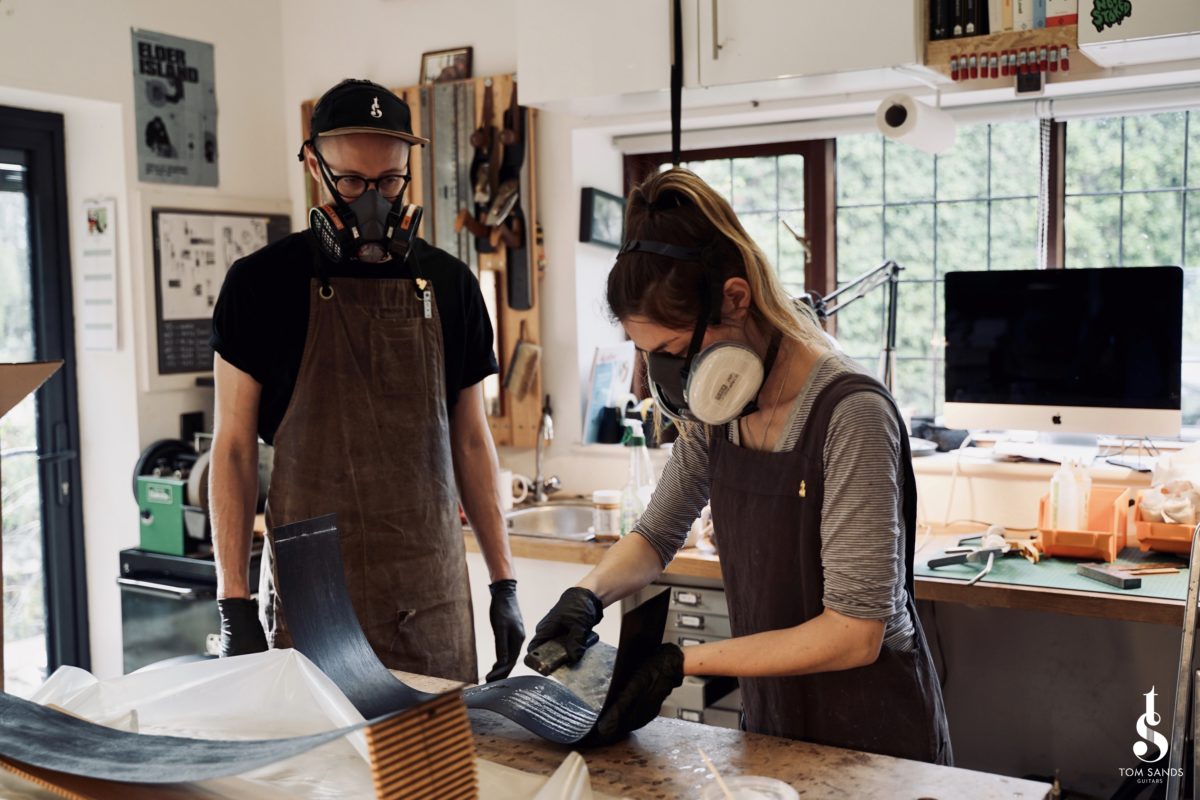 How did you two first meet?
Daisy Tempest: I was studying English Literature at university, but realised that I didn't want to take that any further. I started to think about what I really enjoyed – making things by hand and music. I felt too shy to make it as a musician, but making something that other people could play seemed like a great idea. As I've always loved playing guitar, I did some research and found Tom on Instagram. I wanted him to teach me because I thought his work was beautiful.
Tom Sands: It was serendipitous. I'd been working for about a year as a luthier before realising that I needed help as I had lots of orders to fill – then Daisy contacted me, enquiring about work. We hit it off straight away. She started in summer 2018 as a creative assistant.
DT: I worked hard to show him I was serious. After a year we applied to QEST and i was awarded a QEST Garfield Weston Foundation Apprenticeship to formalise my training and give me woodworking skills. In May 2019 I became Tom's official apprentice. 
TS: That's when the real training started!

Tom, what kinds of things do you teach Daisy?
TS: Guitar making is an art form. A guitar is a very complex system; it has to be structurally sound, but also cleanly made. Daisy is learning how to work wood to a really high standard and I'm also teaching her how the material works as a component system. Each piece has a different dynamic. It's a very holistic training exercise, from how to get and retain clients to marketing the business. I've also tried to instil self-discipline – when Daisy first worked here, she was scatty and found it hard to keep focus.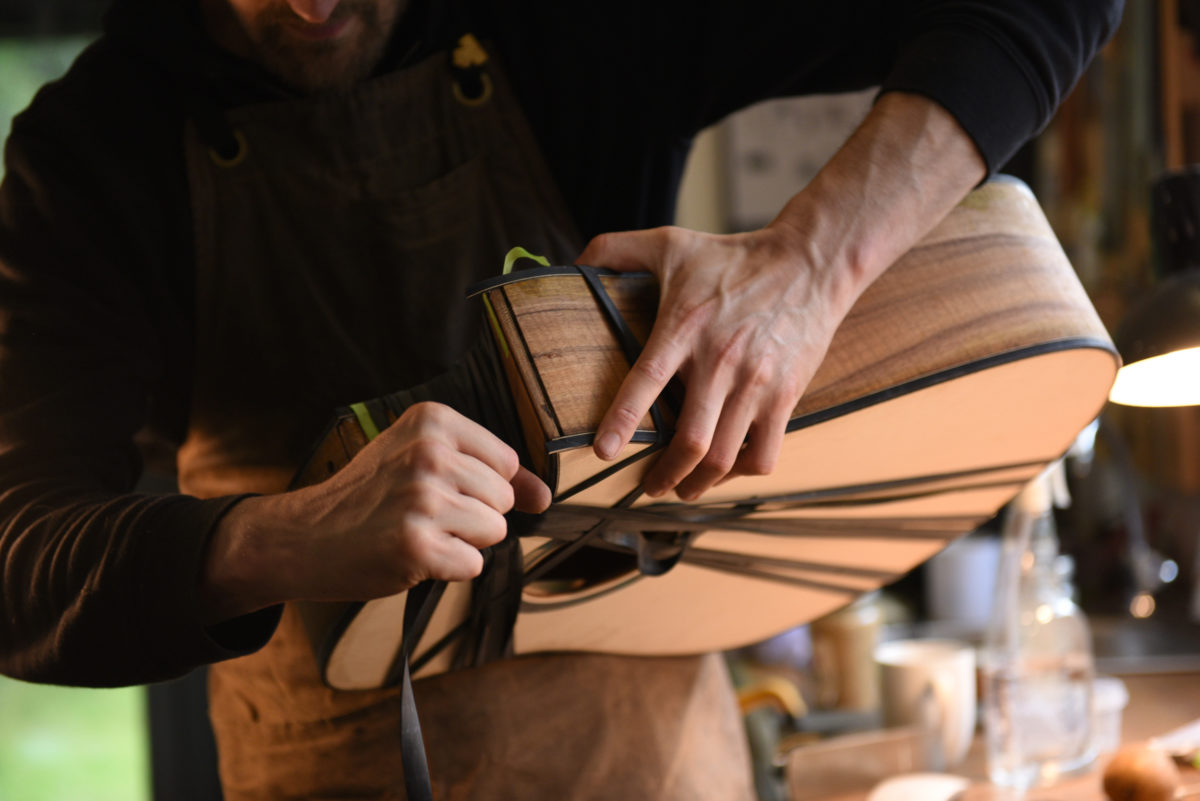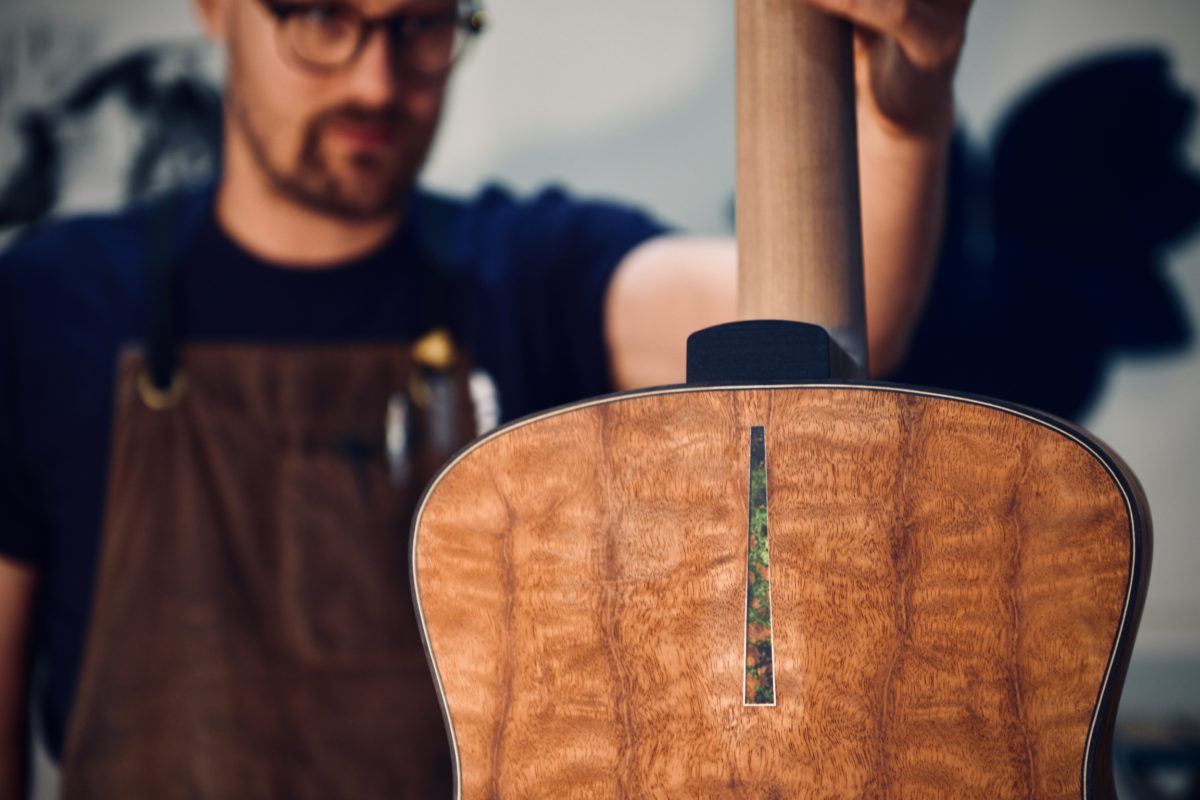 Could you describe a typical day in the workshop together?
TS: Every day is different as each guitar has its own challenges. If an enquiry comes in, I'll work with a client to figure out what kind of guitar they want. I offer three sizes – each has its own tonal characteristic and is designed for different kinds of music and players. Once finalised, I'll pass a lot of the basic initial work over to Daisy, such as roughing out the shape, gluing and joining pieces of wood, bending and getting the raw bones and basic structure together. Then I'll come in and take care of the smaller, more delicate details.
DT: I've been doing a lot of side-bending with the external wood of the guitar – it's layered with an inner core and a veneer, which needs to be bend and glued over a few days. Other tasks include assembling pieces and sticking sides together, as well as sanding. There are lots of components to think about. I also take photos for my own notes, as well as documenting for clients and promoting work online. Tom is quite big on social media, so we often get companies sending us tools in exchange for demonstrating them online.
TS: We're influences, apparently! I try to make sure Daisy is always learning something, so I'll be doing anything from showing her techniques to correcting mistakes and helping her understand why she went wrong. We have just finished our first collaborative guitar, which was fun. Daisy did most of the work on the body, while I concentrated on the neck.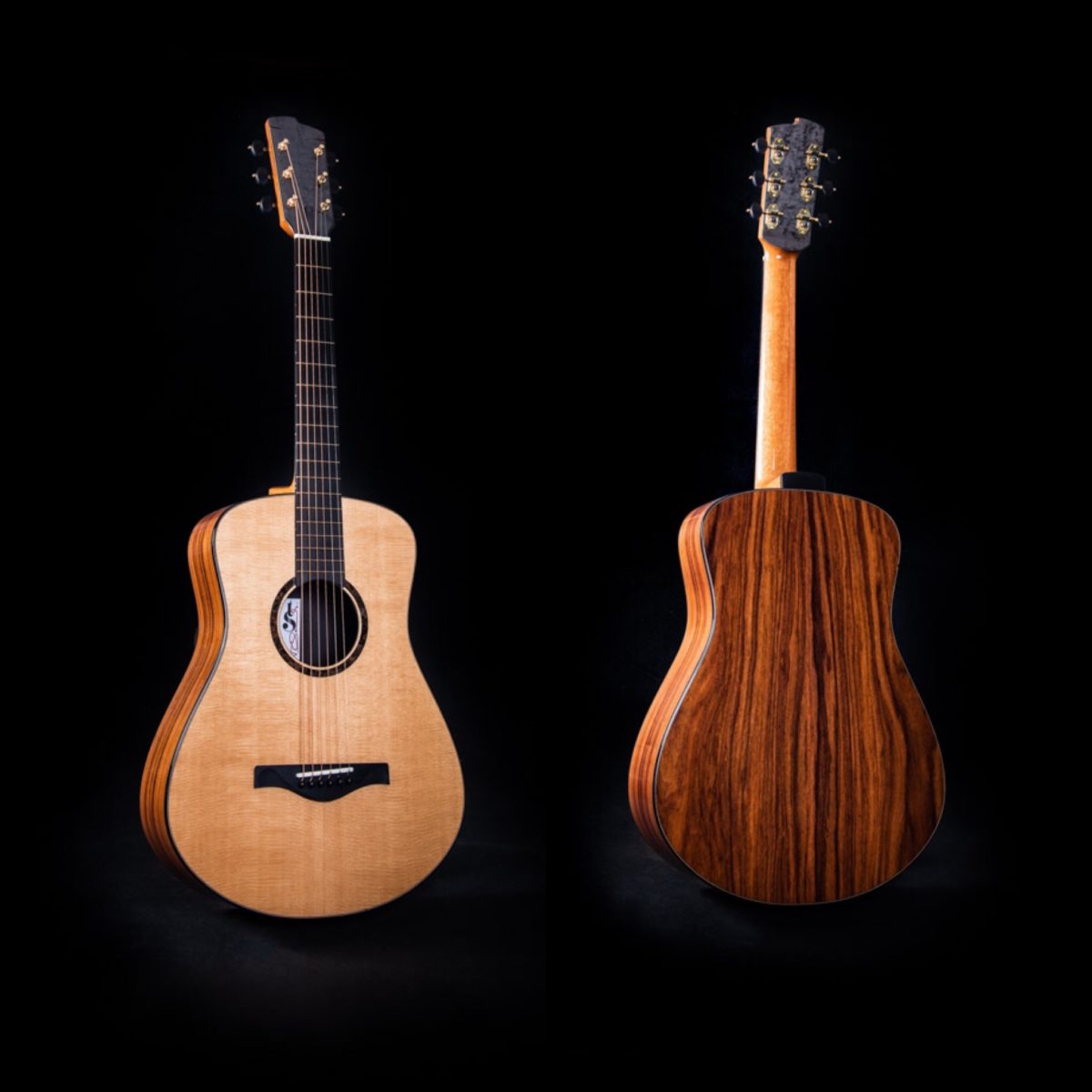 What are the advantages of having an apprentice?
TS: Passing on knowledge keeps the craft going. Training somebody also helps me understand my craft more completely – you don't fully understand something until you can explain it. Daisy didn't have woodworking or guitar-making experience before she came here so was approaching it all with fresh eyes, which forced me to dissect everything and unlearn my own bad habits. I've changed a number of processes as a result, for example in guitar construction. Taking on an apprentice has taught me a lot about myself as a person. I have a huge responsibility towards Daisy, which means I am now more measured and patient.
Daisy, what are your plans after your apprenticeship ends?
DT: To keep working with Tom, hopefully. He might get another apprentice…
TS: Yes, and start the cycle again. We might move to a bigger workshop. Daisy and I work really well together and there's a lot of value in sharing resources and knowledge, so we're keen to keep that going.

Do you have any tips to pass on to other makers thinking of becoming a master or apprentice?
DT: Apprentices should make themselves invaluable to their employer and offer something that no one else can. I had writing skills from my degree and had dabbled in photography, for example. I also proved that I was easy to work with and open to doing things Tom's way.
TS: That's a good point. When Daisy started, she used her skills to show me what I could find useful. That's a key piece of advice for anyone wanting to get their foot in the door. Also, as an employer, you have to think long and hard about taking on an apprentice as you will hold the keys to their future career. You need to be committed to that responsibility so you can give them the best training possible. Do it for the right reasons – and make sure you give more than you take.

This article first appeared in the QEST 30th anniversary magazine, produced by Illustrated London News, September 2020.