Catching Up With Armourer Graham Ashford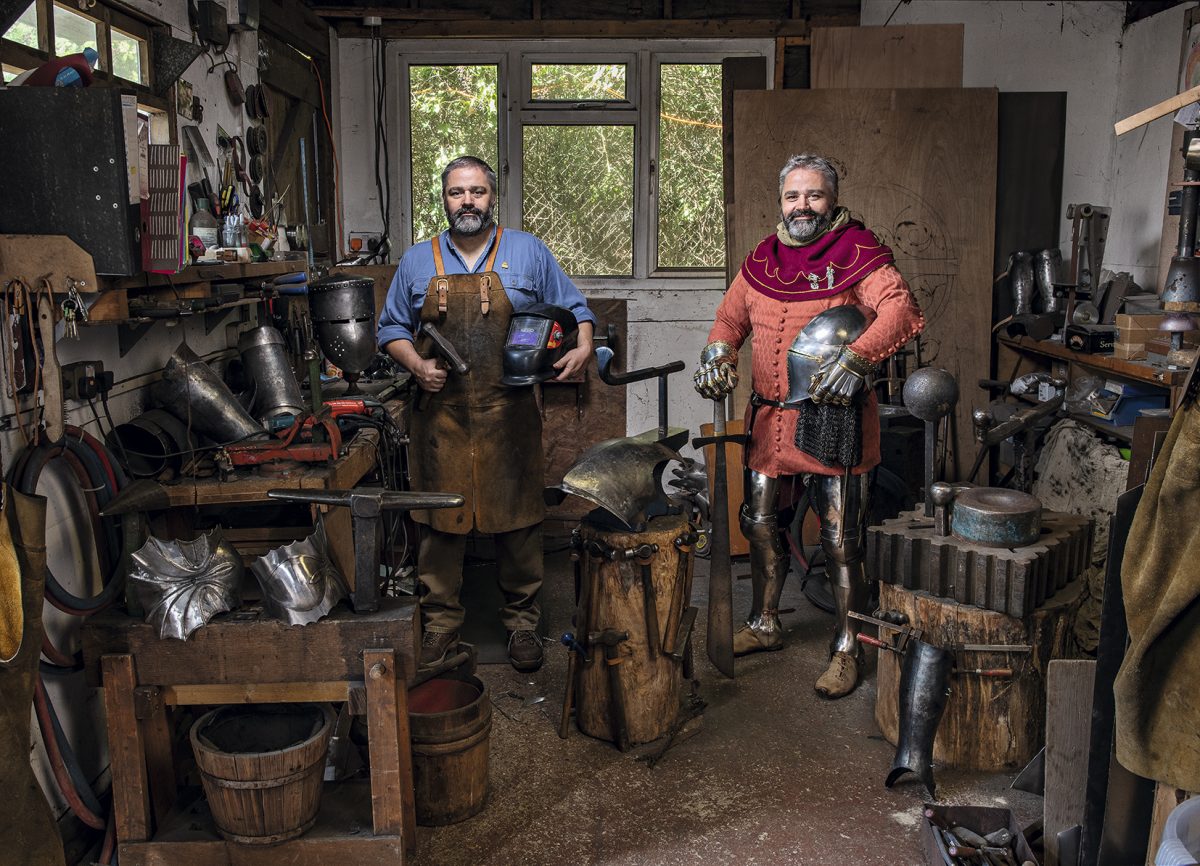 Having previously worked in IT, a 2010 QEST Scholarship enabled Graham Ashford to train with Master Armourer David Hewitt. He subsequently set up Greenleaf Workshop and creates bespoke armour for collectors, re-enactors, museums and living historians. Here we catch up with Graham to find out more about his work, inspiration and how he's been coping during lockdown.
Can you tell us about how you first got interested in making reproduction armour?

I started doing re-enactment in the late 90s. At that time the internet was still in its infancy, so finding information was not as simple as it is now. There were a couple of overseas suppliers selling cheap items, but the workmanship and the historical research both seemed to be very low quality. The few bespoke armourers in the UK that I discovered wanted too much money for something that I believed I could do myself; so I thought. Over time I discovered that their prices were reasonable for the top shelf levels of craftmanship they were producing – every day is a school day.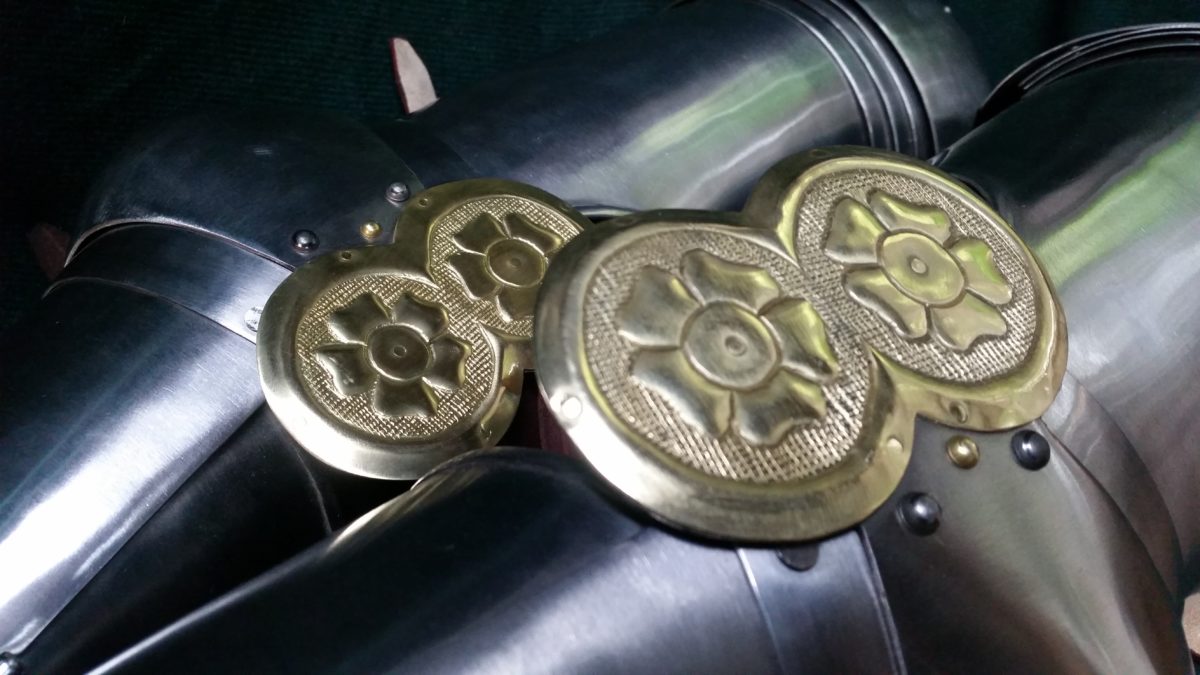 Have you always been interested in history, or are you drawn to it for the metalwork?
I enjoyed history at school. My history teachers always managed to make it seem interesting, apart from the Industrial Revolution, but I suspect most teachers have difficulty making that interesting to the majority of teenage students. Ironically I loathed metal work at school, the metal dust, off cuts, cooling fluids, swarf from the drilling and much more all did nothing to endear me to the projects we had to do; I much preferred wood work. How things change!
Could you tell us about setting up your own forge?
When I started I had little to no clue about what to do, I had read a few books about blacksmithing and followed their advice as best I could. Most of these books were written for an American audience and seemed to assume that each novice blacksmith had several acres of workshop space and out buildings to setup in.
I think the biggest thing I learnt over that time was not to rush into buying tools, rather get working and buy or make the tools as your skill and projects require them. I have some tools I rushed out to buy from these early days that I have never used.
What does your average day look like?
Putting the effects of coronavirus aside for the moment, an average day starts around 0900, ends about 1700 and is spent in the workshop working on armour in whatever state it is at that point of the build. Historically much of the work I do would have been spread across a number of different craft disciplines and individuals, but today I am patterner, cutter, armourer, assembler, leather worker, decorator, hinge maker and polisher. This means the work of each day can differ quite a lot but will usually always involve armour work. I try to use the evenings for quotes, customer contact, online work and all those other things that sole traders need to do. Sometimes it can get very busy, but for the most part it is manageable.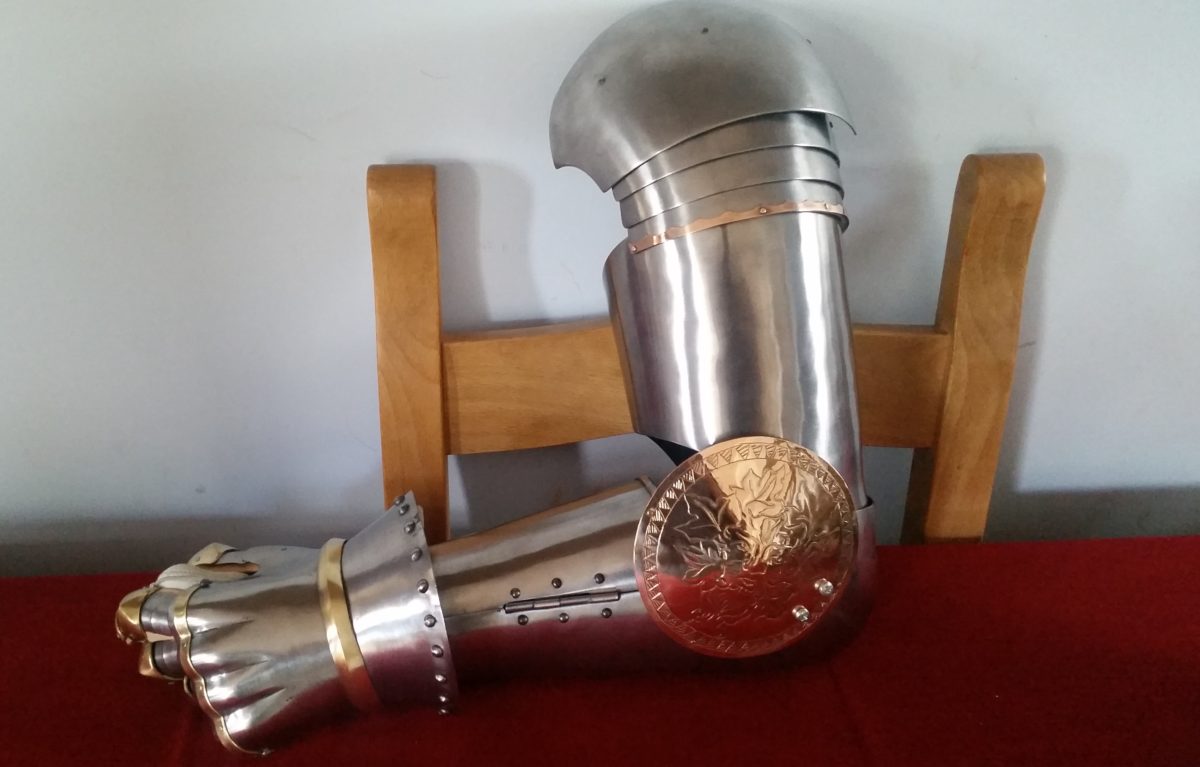 Are your clients individuals, or do you work for museums and others?
Most of my clients are individuals, I do work for museums and collectors too, but less frequently. I will pretty much make armour for anyone that wants it, so long as the time frames are realistic. I am approached by film, TV and games from time to time, but I am yet to make anything for them as their time constraints are often too aggressive to be able to complete the work well and on time.
Are there many people in the UK who make armour?
There are about 6 or so full time armourers in the country and quite a few more hobbyists.
What is your favourite piece of armour to make, and why?
I enjoy making most of it, but my favourites would be gauntlets – they are intricate, require a lot of fiddly work and have the most interesting shapes.
What has been a highlight of your career?
Getting to work with David Hewitt at White Rose is likely one of the highlights that I will treasure for the rest of life. He managed to bring on my nervous faltering, first steps and help turn me into something that resembled a competent armourer.
Regarding actual commissions, I think making my first pair of arms for a paying customer. The price was too low and the work (with hindsight) was awful, but it was an honest attempt and helped me have the belief in myself to carry on and make a go of this.
What do you find the best way to promote your work? You make lots of wonderful videos on YouTube sharing processes and methods – do you find these help with business?
Social media all the way. Most of my work is bespoke, so I rely heavily upon an online presence to generate interest. I am not very good at the background skills for good social media – photography, lighting, SEO, promotions and many other skills elude me, but armed with my mobile's camera and accounts on Instagram, Twitter and Facebook I have managed to build up a fairly useful online presence. I am beginning to read up and take advice on how to improve the general quality of the other skills as they are important and I have neglected them for too long.
YouTube took me a while to adopt and get the hang of. I bought a small hand-held camera, tripod and video editing software and got stuck in, learning on the job. It has helped my business in a different manner to the way I thought it would. Initially, I assumed the revenue it might create would be through YouTube ads and this has helped a bit. However, mostly it has allowed potential customers to get to know me prior to talking about their orders or coming to me for tuition, and this has proven very important to my business.
How have you had to adapt during lockdown and what are you working on now?
I had hoped lockdown would enable me to work more. Being alone in the workshop meant I did not need to stop work, travel to and from the workshop was none existent and I had no one able to just pop in for a 'quick chat' that could last hours. However, I forgot to consider that the school would be shut, so my wife and I are spread 50/50 trying to make sure my daughter does her schoolwork, has a nice time and doesn't turn feral. Couple this with shopping for some at risk relatives and friends I am actually in the workshop about 70% less than normal.
Oddly this has meant I work a lot harder in the workshop, because the time is so constrained, but it isn't as much as it ought to be and work is taking a lot longer than I would prefer. Thankfully though all of my customers have been superb and understand why and what is happening.
Currently I am working on a pair of mid 15th century English gauntlets and some late 15th century English legs. The gauntlets are due to go to the US and the legs to Australia.
Here Graham gives us a tour of his workshop: