Catching Up With Kiltmaker Emma Wilkinson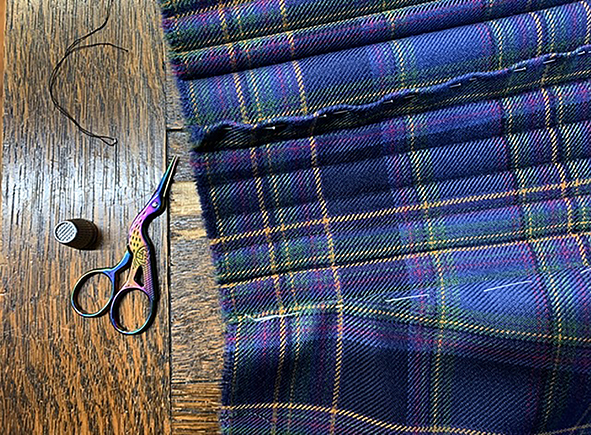 Kiltmaking came very naturally to Emma Wilkinson. Upon graduating from Edinburgh College of Art with a degree in textiles, and having trained in embroidery at Hand & Lock, she decided to look back at what makes her truly tick – a deep love of her Edinburgh home, heritage and the continuation of traditional hand-based crafts. A QEST Scholarship allowed Emma to undertake an intensive kiltmaking course at the Edinburgh Kiltmakers Academy (EKA), allowing her to gain an extensive knowledge of tartan, weaving and tailoring and she then began working at Gordon Nicolson Kiltmakers. As well as kiltmaking, Emma fuses heritage craft skills with contemporary design to create beautiful embroidered pieces inspired by her Scottish heritage. Here she tells us about life as a kiltmaker and updates us on her current projects.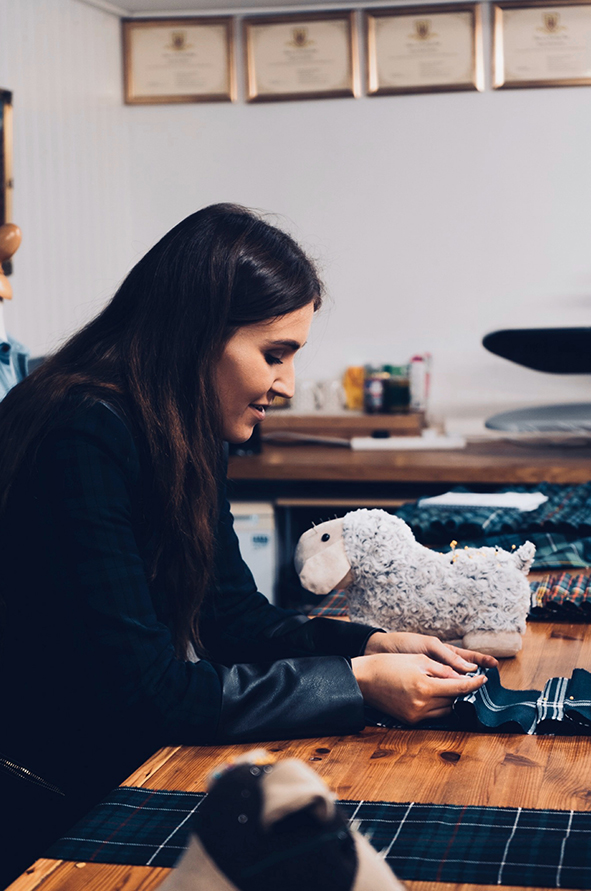 How did you learn the necessary skills?
I did an intensive course at EKA which I absolutely loved and there I learnt everything from measuring to the military box pleat kilt. This was my way into the world of kiltmaking. I searched hard for an organisation that would be happy to support a passionate person pursue a craft stuck in the shadows and I found QEST, who got on board with my ambition completely, funded my EKA course and essentially made my career possible. Once I completed the training, I was confident in my skills and immediately started making kilts for customers and taking on any tartan. Kiltmaking gave me a lifeline in a way, allowing me to bring my textile knowledge and skills together with my love of history and culture. It felt like a calling.
What does your typical day look like?
Busy! I pull together my textiles knowledge, kiltmaking skills and digital marketing experience – there isn't one role in my workplace I haven't stepped in to! When I arrive in the morning I get cracking straight away. I am often working on two kilts at a time, one in work and another at home, plus bespoke accessories such as tartan bow ties, straight ties, scarves, shawls and even dog collars – you name it, I've probably made it in tartan. I work with clients first-hand, helping build bespoke highland wear tailored outfits to their required specification. I then ensure production is all completed on time and ready to ship across the world to our customers. Some days we also host talks, so I can be found speaking on the history of kilts and tartan in Scotland instore to groups of students or tourists. I've also started teaching kiltmaking now, which I find very rewarding. No two days are the same.
Tell us about your workplace and your team set-up.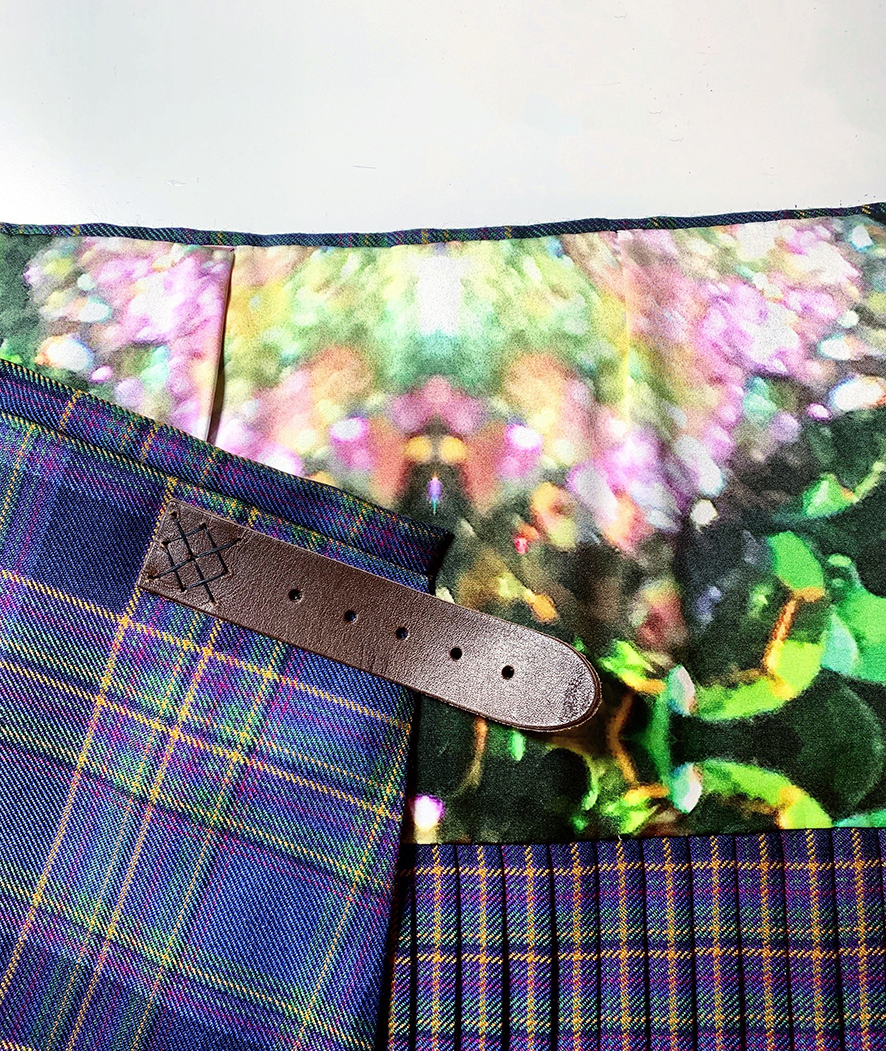 We are based in the heart of Edinburgh's historic Canongate, in a building so old it has witnessed many of the Royal Mile's historic events. From monarchs visiting to the Jacobite army marching to Holyrood, through to the more recent climate change protests, there is a buzz of both historical and modern excitement. The team is small but tight knit with the chief, Gordon Nicolson, at the helm and the sales manager Gillian Hart looking after us. The team is made up of exceptionally knowledgeable salespeople who are also kiltmakers – so we really know what we are talking about when we talk to clients. We work closely with our sporran makers, weavers, photographers to showcase highland wear that both celebrates tradition and looks forward to the future. The industry is small, relationships are important and that is something Gordon Nicolson Kiltmakers has cultivated, consequently creating a fantastic network of people.
What do you like best about your job?
It's never boring, even though you are technically doing the same thing all the time. The tartans and the sizes vary so much that making a kilt is always different. Despite being such a small industry, it is vast in terms of history, culture and stories so I will never ever stop learning – and that is something I love.
You've also designed new tartans for clients – tell us about this process.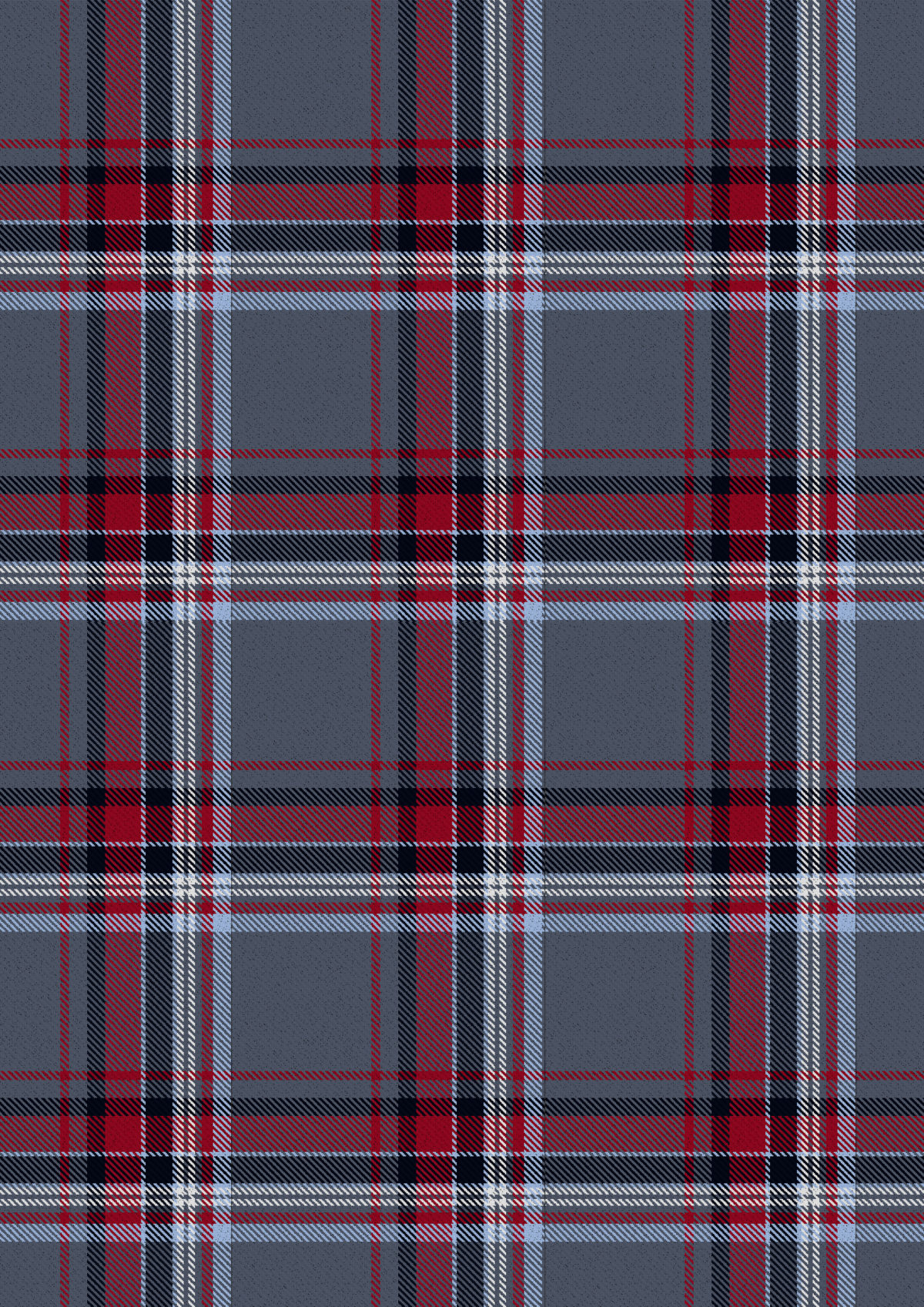 I am obsessed with tartan, so getting to create new ones is always exciting. Coming from a textiles background, I have a keen eye for colour and have previously won awards in this specific field. I see stories in colour rather than motifs, so tartan really speaks to me. I love to bring a family, organisation or even just an image to life in colour and line – you can convey so much in something so simple. I recently designed a tartan for the Embroiderers' Guild. They wanted to use their logo colours of red, white and black, and create something that could be worn as scarves or other clothing and accessories too. I chose a non-matching tartan to show the diversity of work and people the Guild promotes. I added an antique grey, a beautiful timeless and wearable shade and introduced a subtle cornflower blue into the mix for contrast and to represent the unexpected and the evolving projects of the Guild. For me, it is about capturing not only what the client asks for, but what they are all about as a whole – a celebration of them in cloth. 
What is the biggest challenge you've faced so far?
I have had a very long slog of being expected to do an awful lot of work for very little. I think many in the textiles and craft professions will have experienced this. To feel like you are working so hard but not getting anywhere is a challenge. You really have to love what you do to get through this – I'm still on the road, but I know I am doing what I am supposed to be doing and hopefully it will start to pay off soon.
Where do you see yourself in three year's time?
I am currently evolving from not only being a craftsperson but also a marketer – to succeed it's important to be able to market your products. In three years I hope to have successfully completed a Masters in Marketing; I hope to have made 200 kilts; I hope to be a fully-fledged tartan designer creating new and beautiful tartans; and I hope to have taught three groups of budding kiltmakers and see them successfully working in the industry.
Tell us more about the inspiration for your embroidery work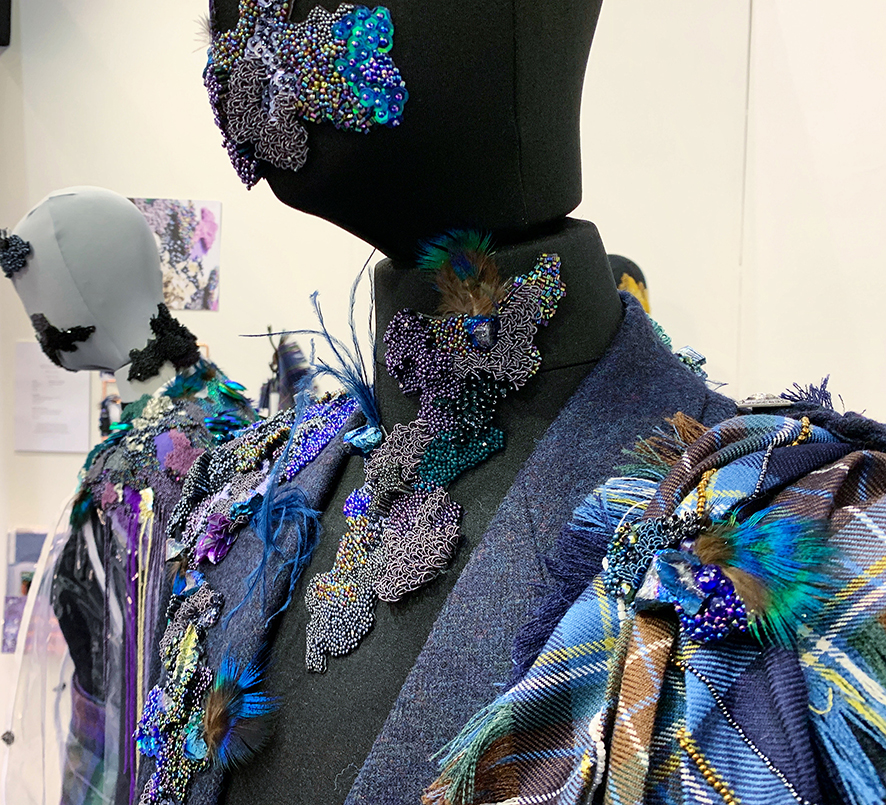 Like my approach to tartan design, which is undoubtedly inspired by my approach to embroidery, this work isn't so much about motifs but colour, texture and telling stories. My work is so close to me – it's my home, it's the story of my life and experiences and it's an entire culture. Because of this closeness to it, I'm always very moved when it is appreciated and understood by others. I live in a city where classic and modern architecture sit in harmony beside the rolling hills and the sea, so my textural but structural approach comes directly from this. Scotland is a hard and soft place in many aspects…we are a colourful bunch in a colourful country with a colourful history, and together these influences inform my pieces.
What are you working on at the moment?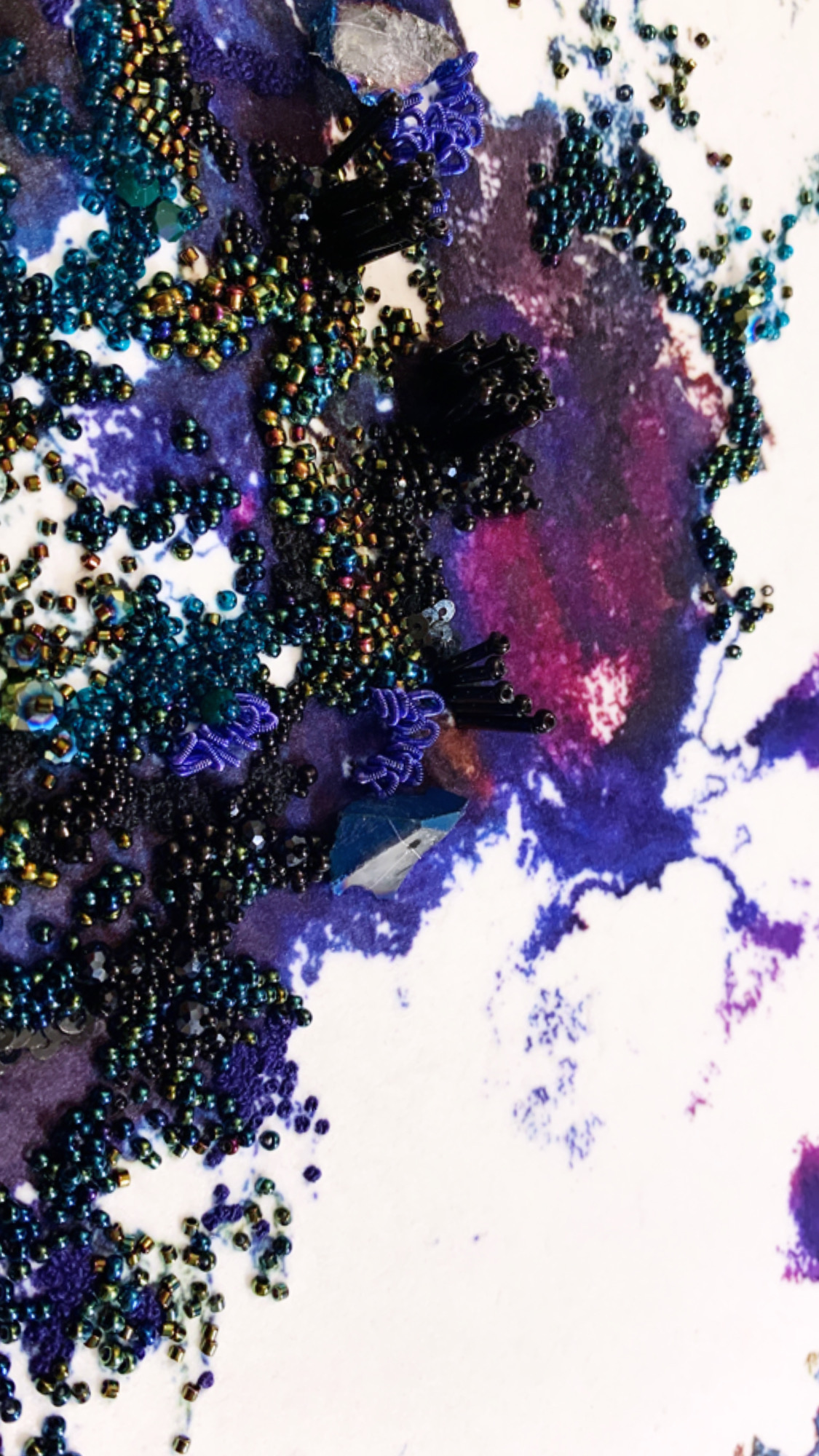 My previous few collections have focused on bringing embroidery and classic tailoring together – I have showcased embroidery on kilts and highland wear, to create a fusion of old and new. I sometimes joke that the result is something someone like Elton John may like to wear to a ceilidh! But, right now my attention is turned to an issue extremely close to my heart – dementia. Both of my grandmothers have suffered from dementia and it's an issue that is going to affect more and more families over the coming years as our population ages. I want to create a piece that is both informative and thought provoking, but also raises awareness and is a beautiful talking point of a very difficult subject. I started with my Grandma's dining chair – she sat in this chair at every big family event my entire life, and now she is in a home I want to give it and her a new lease of life. I've repainted it light grey – like a fading memory or an old film, and I've created a print based on brain scans to reupholster it with. The embroidery is a combination of hard and soft and spans across the symmetrical print in a very non symmetrical way, inspired by the a-symmetric brain scans of dementia sufferers. The colours tell the story of the devastating effects of this mysterious disease – from greens of life through greys and black of black-out confusion and missing memories and personality traits, through angry and frustrated reds and purple, turning eventually into softer shades of pink and blue symbolising the eventual contentment in nothingness, where the sufferer is essentially lost to the disease but no longer frightened.
It is by far the hardest project I have tackled personally, but I have been able to apply my signature style to tell a new story which I hope will show others with a relative with dementia that they are not alone. When it is complete, I would love to exhibit the chair around the country if I can, and raise some money for dementia and age charities in the process too. I also hope to take it into my Grandma's home when it is done to show her, the residents and carers.
Finally, how have you coped during lockdown? Has this had a significant impact on your work?
Lockdown has sadly had a huge impact on my work. My job was reduced to virtually nothing, but I'm still making kilts when they come along. I'm also working on my embroidery dementia project, making face masks to raise funds for AgeUK and I'm still designing and hand-weaving tartans based on my lockdown experience. Finally, I'm pushing myself into a new realm – marketing. I will be studying for an International Fashion Marketing MSc at Heriot Watt University, where I hope to research the marketing of heritage crafts in a world now more ready than ever for "made in the UK" to be front and centre of our purchasing strategy.