Catching Up With Sculptor Thomas Merrett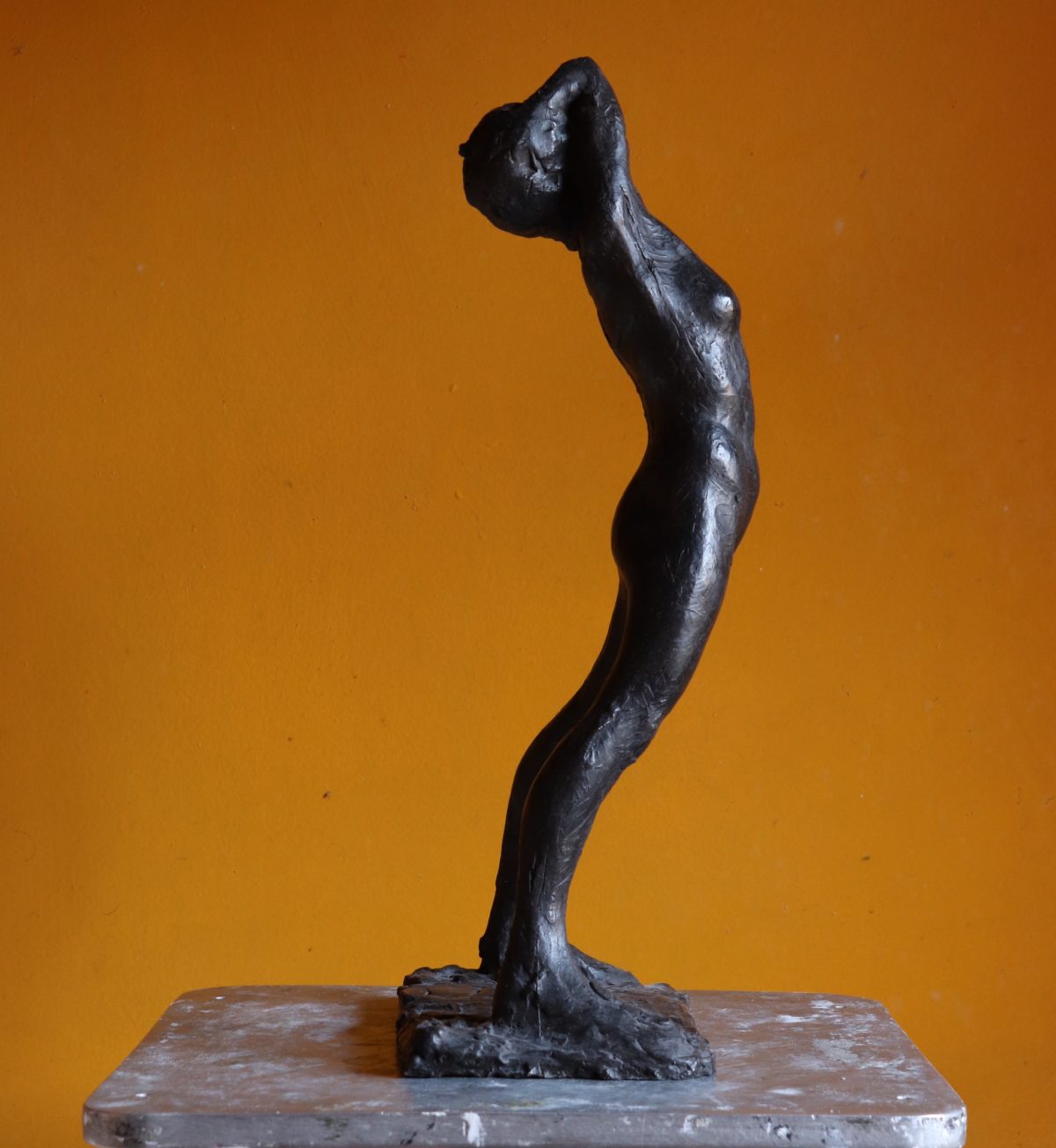 London based sculptor Thomas Merrett originally trained at City and Guilds of London Art School. He is fascinated with the human body and creates beautiful works in marble, stone and bronze. We caught up with him during lockdown to find out more about his work and what he's been up to since receiving his QEST Garfield Weston Foundation Scholarship in 2014.
How did you first get interested in sculpture?
I've been fascinated by sculpture for as long as I can remember. As a child I was always making things, taking things apart and putting them back together again. When I first became aware of sculpture I thought it was just about the cleverest thing anyone could do. I still think that when I'm impressed by a sculpture in museum or gallery today.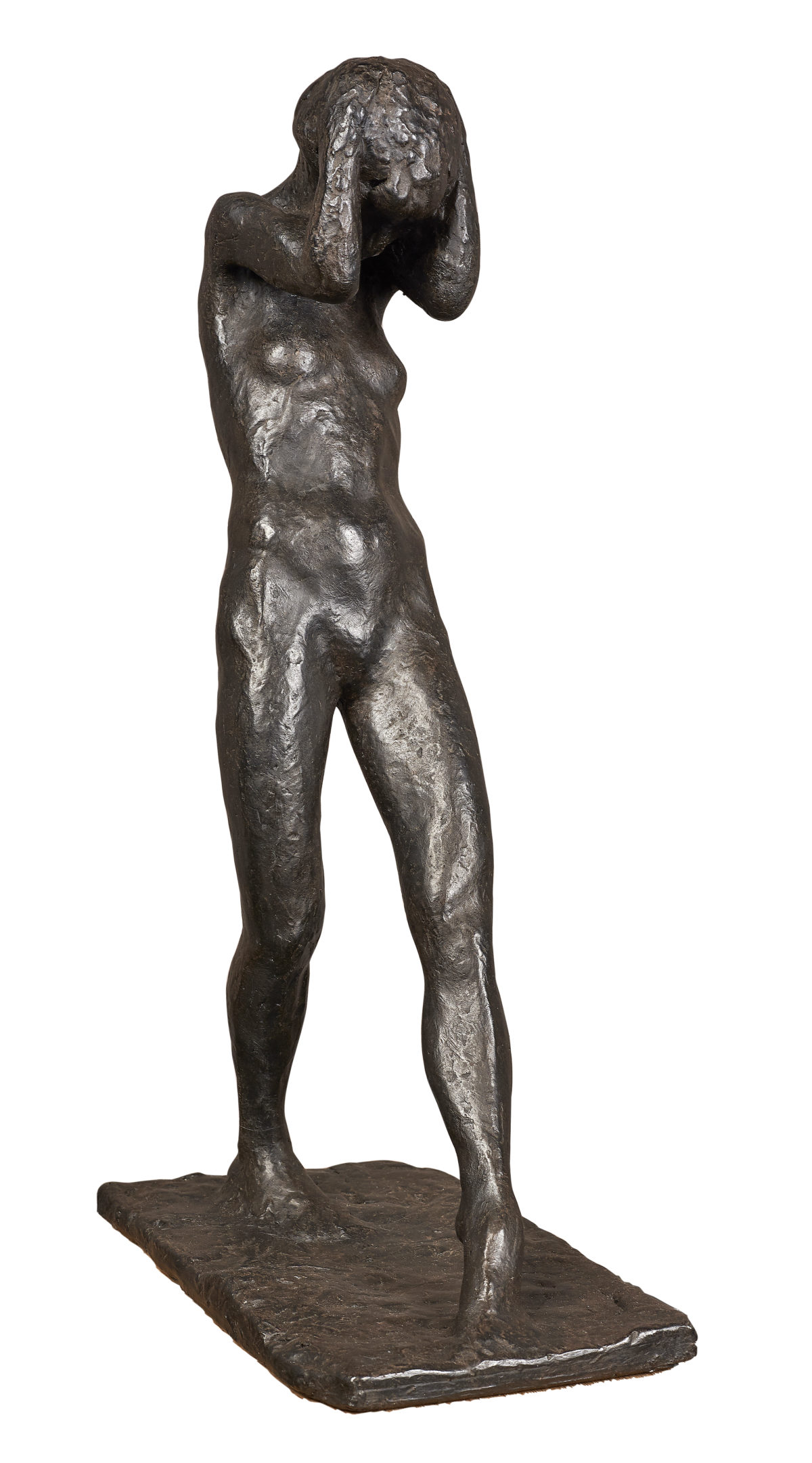 What you did with your QEST Scholarship and how it impacted your career?
For my QEST Scholarship I travelled to Italy to do a workshop at the Florence Academy of Art, a traditional school which offers a high level of training in observational drawing and sculpture from the live model which has had a huge impact on my career. The rigorous training in the craft of figurative sculpture allowed me to develop my own work as a figurative sculptor with confidence of having these newly acquired skills. Without this opportunity my work would likely have developed in a significantly different way and certainly at a slower pace than it has. There are not the opportunities to acquire this level of training in the UK and it was essential to travel for the education I required, which I was able to do thanks to the support of QEST. 
Can you tell us a bit about your working process? You work in bronze, marble and stone – which is your favourite medium, and why?
I begin all projects with direct observation from the human body. When I make figures I get models to pose for me and make drawings as they move on the podium. I then make sculptures based on the drawings and the memory of the pose. This is where my training in Italy comes in handy as it gave me a good understanding of anatomy and how the body is put together. Working from the drawings after the model has left gives huge freedom and allows me to create a sculpture as an aesthetic response to forms rather then a direct reproduction of a body. When I'm working on a portrait I do as much work from the sitter as without. Through my work I am concerned with achieving a unique interpretation of the subject rather than just a skilful copy of their likeness. 
My favourite medium would be clay. I always work in clay before I translate the piece in to the final medium of bronze or marble. I do all my decision making in the soft malleable material and it allows me to be more creative with form and composition. It's only when I'm completely satisfied with the sculpture as a whole that I cast it in plaster and then carve it or cast it in the more durable medium.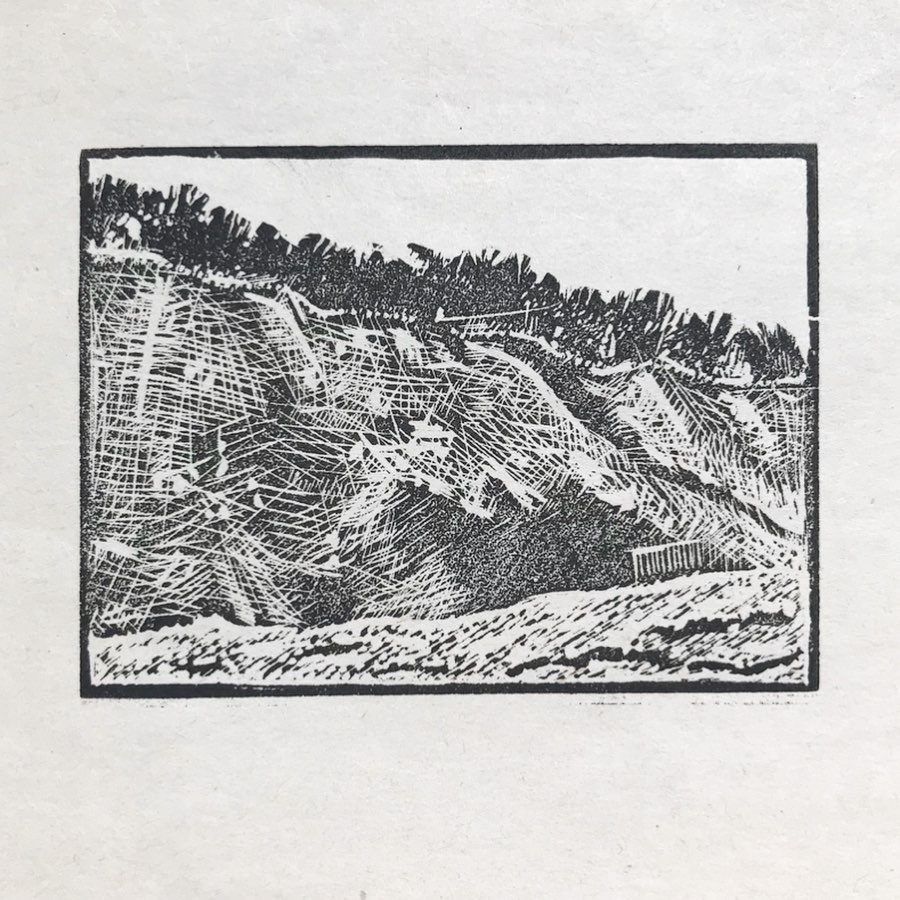 Are you managing to continue working during the Covid-19 lockdown?
I'm very fortunate in that I live a ten minute cycle ride from the studio so I can get in to work. I would usually work with life models and this has been affected, but the isolation is providing an opportunity to carry out the final laborious polishing of several marble figures that I'm currently bringing to completion. I'm also taking the opportunity of more spare time to experiment with printmaking and have made several woodcuts and monoprints. 
You have created many portraits – what do you particularly hope to capture in these works?
I want to capture someones character, for me that's the most important thing. This always seems impossible when starting out but develops slowly the clay is added and more time is spent with the sitter. When starting a portrait it's not always the case that you know the sitter, but sculpting someone is an intimate process and it doesn't take long for someone's character to appear to you. The skill is to not make a caricature but to emphasise certain features to draw the attention of the viewer to where you want them to look.
What has been a highlight of your career so far?
In 2016 I was awarded the Founders Sculpture Prize by the Worshipful Company of Founders, an international competition for early career figurative sculptors. The prize funded the production and casting in bronze of my sculpture 'Flight' which was exhibited in a central London gallery next to a bronze edition of Rodin's 'Balzac' – a huge honour.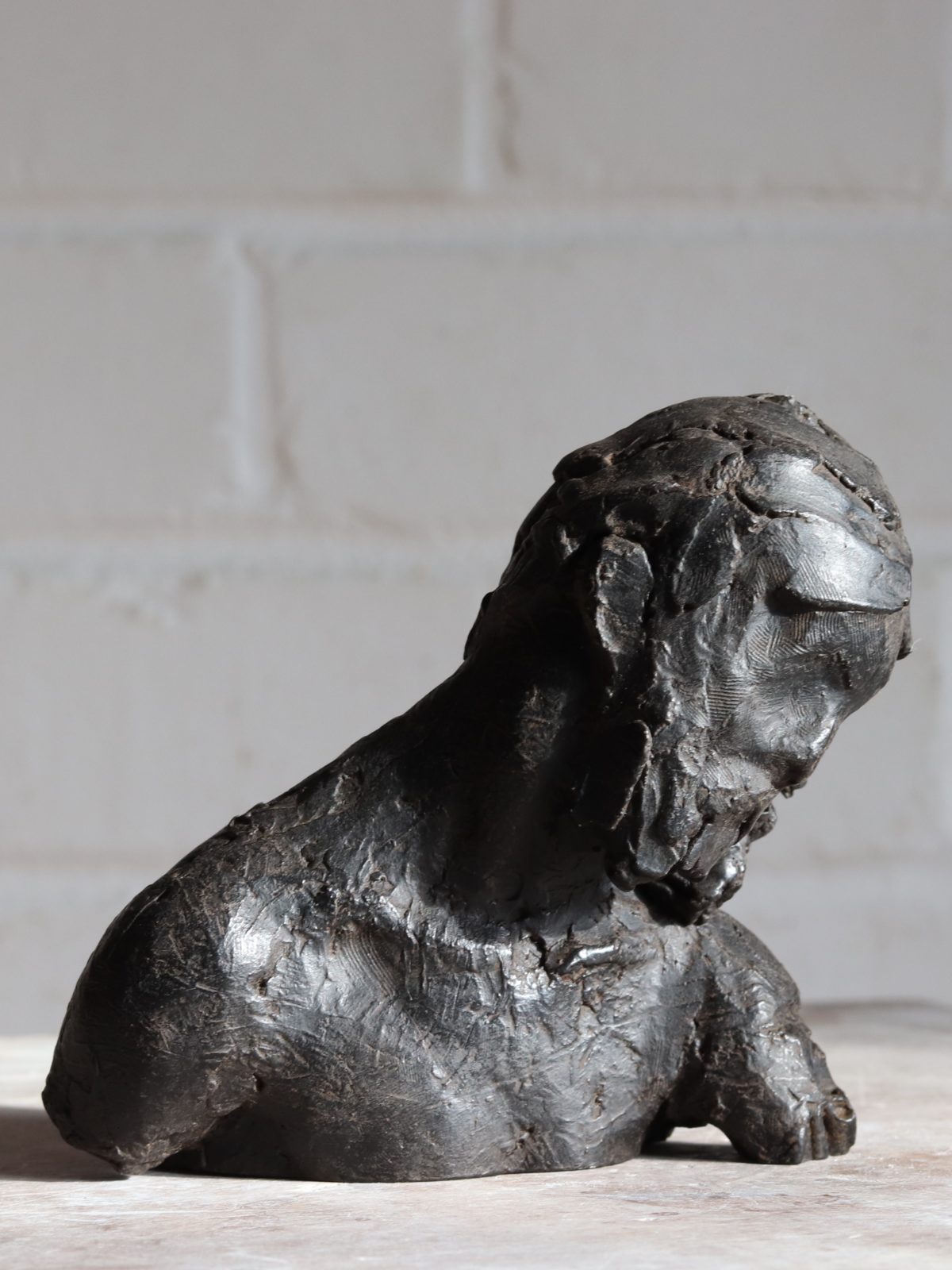 You've recently had work selected for FACE2020 – can you tell us a bit about the piece and the exhibition?
FACE2020 is the annual open exhibition of the Society of Portrait Sculptors, usually held in London but this year's exhibition is online due to the Covid-19 pandemic. The exhibition attracts entries from around the world which go through two rigorous selection stages by the society's council. My work 'Untitled' was selected from over 300 portraits to be part of the exhibition. This portrait of a friend who has posed for me many times was originally a full figure made as a maquette for another project. I was unsatisfied with the figure as a whole but after cropping it through the shoulders it somehow became more dynamic as a piece and worked much better as a portrait bust. 
What are your next plans?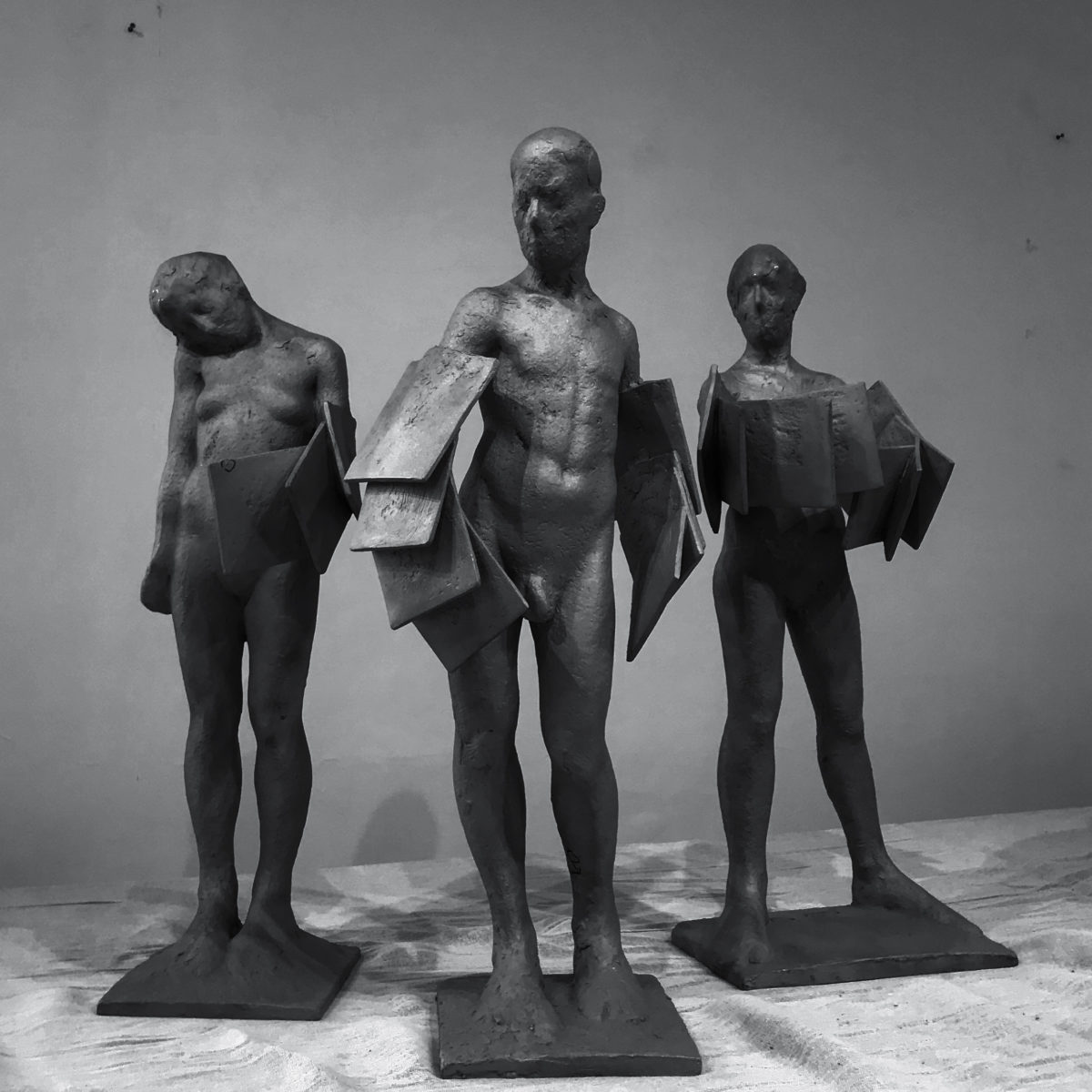 I am currently bringing to completion large multi-figure sculpture, an interpretation of William Blake's 'Marriage of Heaven and Hell' for a private collector. It consists of three bronze and three marble figures and has been my project for the last two years. The bronze work was completed early in the spring and I am now doing the final polish of the marble before it heads to it's new home. As part of the preparatory work for this project I made many drawings and maquettes and the plan is to hold on exhibition next year where the final sculpture will be displayed alongside the early preparatory work, to offer an insight in to the process of making a work like this. 
I am also collaborating with fellow QEST scholar Emma Payne on a project of three carved marble heads. Emma is an academic and as part of her research will record the process as I carve the same portrait three times using different methods. We are due to start this as soon as lockdown is over.
---
In November 2019 Thomas was carving marble sculptures in Italy. Watch this video to discover more about the process: