Belgrave Gallery, St Ives to Show Part Earth; Part Flower by Ceramicist Rebecca Harvey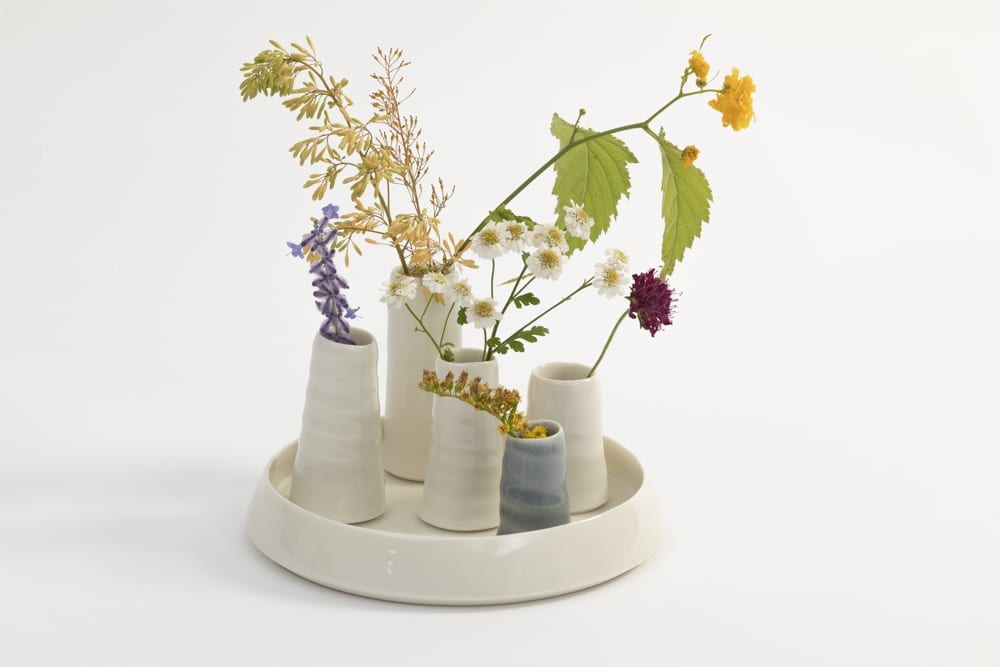 Part Earth; Part Flower comprises of a series of new and specially created works in porcelain by QEST Scholar and ceramicist Rebecca Harvey, in a site-specific installation of vessels at Belgrave St Ives. The exhibition opens on 16 September as part of the St Ives September Festival 2019.  
Harvey has collaborated with St Ives based gardener Polly Carter, to incur a deeper connection between her vessels and their intended use of displaying flowers.  The collaboration extends to a creative and experimental approach to the display of the work, the relationship between the vessels and flowers and how the gallery space is experienced by visitors.
The installation attempts to explore this inter-connectedness between earth and flower in the vein of Zen philosophy. Also drawn from this tradition is a wabi-sabi approach and aesthetic in the work. Harvey's porcelain is beautiful and tactile with strong forms but also displays the maker's marks, and what could be perceived as 'imperfections' though a manipulation of the porcelain whilst wet, leaving rough edges with indentations.  This wabi-sabi aesthetic prizes imperfection as holding the authentic and spiritual acknowledgement that nothing lasts, nothing is perfect and nothing is finished.
Harvey's collection of vessels in this exhibition resist defined terms; they are not particularly vases and bowls, although they may well look like them. They are all objects in their own right, which also have the potential to hold flowers. The flowers will be displayed by Harvey and Carter through an ikebana inspired approach.  That is of mindfully and instinctively placing just a few stems, to illustrate the plants natural growth and connection to the vessel through line. The edges of Harvey's porcelain vessels, as well as rough, are kinked by hand, creating offerings for the stems to fall naturally in place without too much effort or thought and forming a continuous line between the two.
As wabi-sabi is considered a philosophy that can only be truly understood through the senses, so Harvey's work invites the recipient to engage in a tactile and physical way with the work. Little vessels are arranged on dishes and are interchangeable between themselves and across works, inviting the user to play; invoking the curiosity, simplicity and joy that is the spirit of the works making.
Belgrave Gallery St Ives: 16 September – 7 October 2019