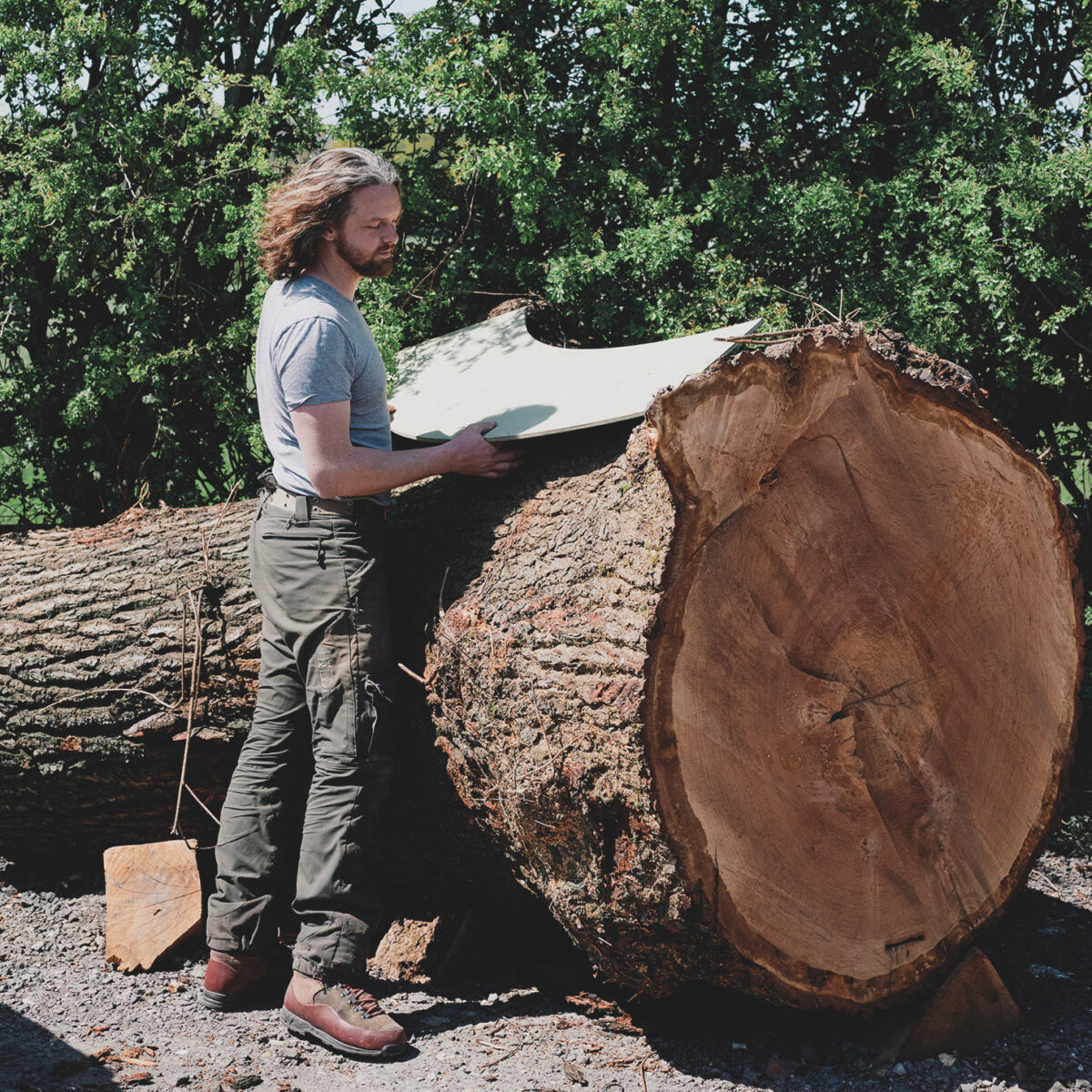 Former tree surgeon Philip Walker on how a QEST Carpenters' Company Scholarship is helping him channel his skill with a chainsaw into creating works of art
Philip Walker is a wood sculptor based in Hampshire, whose passion for working with the material derives from his experience as an arborist. A grant awarded last year by QEST is enabling Philip to refine his skills under the tutelage of sculptor and furniture maker Alison Crowther, who says: "It was clear from the outset that Philip had qualities necessary to become a skilled craftsperson – he is a perfectionist, and he has an artist's eye". Philip describes his career trajectory so far, and how the QEST Carpenters' Company Scholarship will boost his practice.
Tell us how you got to this point
Philip Walker: I studied advanced IT at college and then went into industry. I was very bored in an office; a friend of mine was a tree surgeon, so I thought I could try that out. I went on a week's course to get my basic chainsaw and felling tickets and then, by chance, I got a job with someone who was desperately trying to find a climber. Tree work is fun but brutal on the body – I realised fairly quickly that I couldn't do it forever.
What else prompted you to make the career change?
There was always a part of me that wanted to do something creative. We were cutting a tree down at a client's house and Alison [Crowther] was delivering a piece to the client. I could not believe what she had made out of this piece of wood [taken] from a tree felled in the garden. I had never seen anything quite like it. This was a big solid piece of work, but it was delicately hand carved on one face.
I went home, looked on her website and sent her an email, saying, "I can use a chainsaw, do you need some help?" For the past seven years, I have worked two or three days as a climber and also worked with Alison one or two days a week as her assistant. I started making my own stuff in the evenings and at weekends. It developed from there; since the end of last year, I've been sculpting full time.
How difficult is it to create with a chainsaw?
Everything starts with the chainsaw, which is a crude tool but you can achieve quite accurate work with it. I use it for getting material off, for getting rid of bulk. Then I go down to using the power tools, and then finally down to hand chisels.
You focus on seating and feature sculptures in wood?
Yes, people can justify something functional in the garden much more than just a standalone sculpture. I like both. I like making functional work because you really have to think about how it's going to function as well as being aesthetically pleasing. And I really like making purely sculptural work, too.
What are the defining characteristics of your practice? I understand scorching (charring the surface) is a key element
I like the scorched element a lot. One of my really early works was the original Darkness Within piece, which has become a series. I like the contrast between scorched and natural wood and the texture of the scorched wood. Characteristics [of my practice] are crisp lines and smooth curves. I'm a bit of a perfectionist so everything has to be crisp and as it should be. And I'm obsessed with spheres, too.
One of the struggles I have is that I'm looking for perfection in my work, but the medium itself – green wood – moves when it dries and does funny things. It is always evolving and the shape will change. It's foolhardy trying to make it look perfect, though that's what I try to do. It's those elements that make working with wood enjoyable.
How do you approach the wood? Do you work in parallel with natural forms?
Sometimes, but I'd say most of the time I work against the natural form of the wood. It's often a limiting factor because trees are all cylinders to begin with, so I'm always limited with what I can make. I look for knots, decay or strong colour.
How will the scholarship from QEST enhance your practice?
It's enabled dedicated time for Alison to teach me things we wouldn't be able to do under normal working circumstances. I've always just done the rough work; she utilises my chainsaw skills and my power tool skills. My role is to shape pieces of work that are ready to be hand carved. But there's never been any time to commit to teaching me hand carving because it's so involved.
I'll also learn how to sharpen the tools because that's a difficult technique in itself – understanding what tool to use and for what application – and then there are actual carving techniques. I also asked Alison to include some art history and design development [theories]. I've had no formal education in art or design at all since GCSE level. Alison described it as building a visual vocabulary. The scholarship covers 25 to 30 days of training. [QEST is] so organised and always asking the right questions. I'm really impressed with how they operate.
In 10 years' time, where do you see yourself?
I just want to make things that I want to make. I'm already doing that to some extent. Originality is something I really strive for and struggle with because it's impossible not to be influenced by everything you see around you. I've already seen other people use elements from my work. I think that's awesome.
This article was written by Gareth Harris with images by Sarah Weal. It originally appeared in the Summer 2021 issue of the QEST Magazine.