Creating Engagement In Outdoor Spaces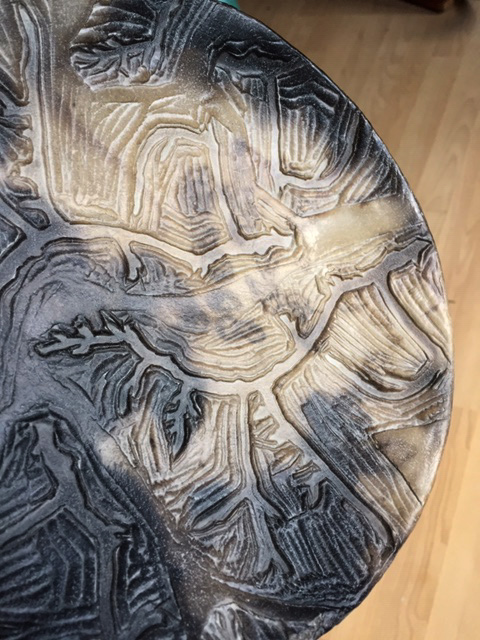 Sarah Diver Lang is currently studying on our Building Arts Programme, run in collaboration with The Prince's Foundation. Previous work in public art, strategy and engagement projects has inspired Sarah to use her abilities in craft and design to influence and help to improve our public spaces. She also has a keen interest in preserving our heritage and volunteers with South Glasgow Heritage Environment Trust. The Building Arts Programme has given her the opportunity to learn more about the built environment utilising heritage crafts. Here she shares with us what she has been up to during lockdown, and her thoughts on creating engagement in exterior spaces.
Like many I've been so grateful during these changing times to be able to make things, making has been not just a distraction from worry but a supportive tool which has taken me out of my own thoughts and has helped me to process them. The positive influence of making can be seen across the world where people have used craft, design and art to help them through this globally difficult time.
Another activity which has helped me has been gardening; both have enabled a flow like state removing me from the worries of what tomorrow holds back to focusing on the present, making small achievements whether that's clearing a bed from weeds in our back court or carving a bowl at home.
During lockdown while the Building Arts Programme has continued remotely in a revised fashion, we have been tasking ourselves to carry out projects around the home which test our understanding of craft in the built environment. For me it has been a time to think about the positive impact of craft and design on people and how our built environment has the potential to create flow; to remove us from introspective worry, and allow us to engage with our physical environment and have meaningful experiences in that place.
So how can we as designers and makers encourage engagement with our built or landscaped environment so meaningful experiences can happen? We must first understand that what we respond to differs from person to person. What creates that sense of flow, that focus on the present, can happen for different reasons. For me the repetitive tasks of weeding, printing, or carving clay achieves this, but for others it happens through music, through knitting, reading, running or talking to a friend etc. Different things work for different people but we've seen now during this time, there is a heightened need for this engagement as our world has become a little more uncertain.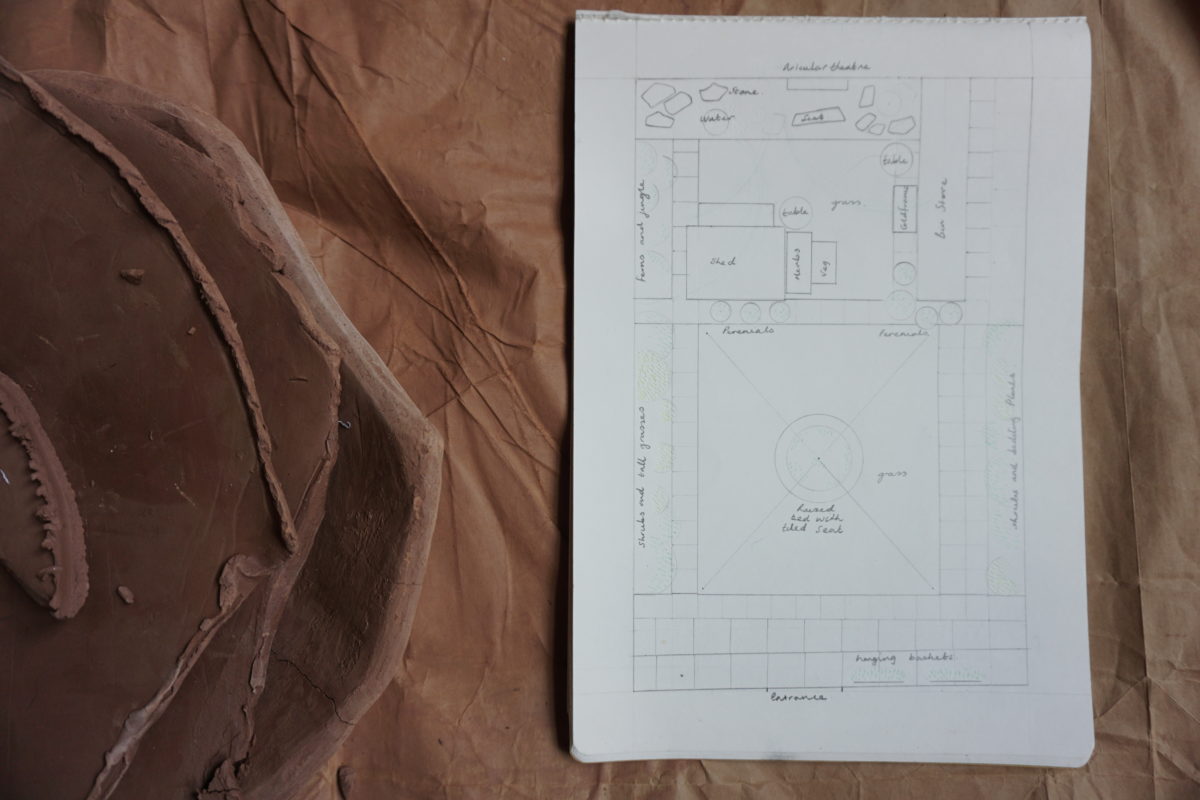 In considering how we make spaces, how we design our environment or objects for people, it's been really useful to consider how this engagement can be maximised. An article I came across called Spectrum Matrix: Landscape Design and Landscape Experiences suggests that considering the multiple ways in which we learn, combined with repetitive sensory tasks or challenges, can result in the achievement of flow in a space, and for as many different people as possible. For example, we respond to learning or challenges better when they are presented in a variety of ways, visually, linguistically, kinetically, rhythmically, interpersonally etc. Placing things in our environment which challenge us through these various ways can result in more engaging spaces for a greater number of people.
I've been considering this approach when designing the back court of our home here in Glasgow. We live in a tenement shared across 11 flats, therefore how lots of people with different interests might enjoy the space has been the most important consideration of the design. Recently the back court has been an unused space; very overgrown, with no opportunity to enjoy it. Like many of these back courts in Glasgow it had become redundant except for a place to store communal bins and an occasional washing line. However, in tenement's history the back court was a place for active social interaction and shared work.
'The back court was a busy place…It widened the community of the close a little further, for all the back windows looked over it and the neighbouring backs. This was an essential 'service area', with its midden for rubbish, its shared wash-house and a place for drying clothes and beating carpets. Usually paved over, it was a hard environment but a relatively safe place for the close children to play and was always full of activity.' Up Oor Close, Memories of Domestic Life in Glasgow Tenements., 1910 -1945.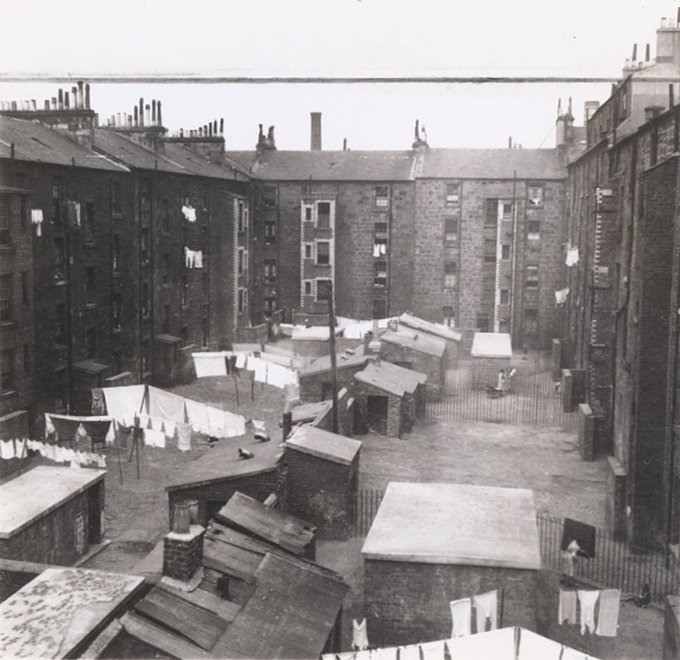 Thinking about the changing function of this space creates a complex purpose for the back court and therefore challenges when reinterpreting it for a different use. For example, its lack of privacy, drastic changes of light throughout the day and seasons due to the height of surrounding buildings, and washing lines dominating the front area of the lawn.
Therefore designs must allow for change and adaptation, and objects should be able to be moved around as needed. For example, a blanket or table which follows the sun and pots and planters which can be moved in the change of seasons.
These moveable objects have allowed me to introduce clay and textiles into the space and having a flexible approach has enabled me to make use of resources already available in the court, for example some unused planks of wood to make a cold frame or tree cuttings to fuel the fire needed for the clay.
To create a sense of flow I've designed a pattern onto a picnic blanket based on the history of the back court. The pattern's construction is inspired by paradise garden carpets of Persian heritage, these carpets were made to transport those living nomadic desert lives into the luxury of a green space teeming with life. Here, white finch, the seeds of the sycamore tree, the flowers planted to add colour, wildlife and pests all tell the story of the space through its recent history and the pattern's repetition helps support a flow like experience.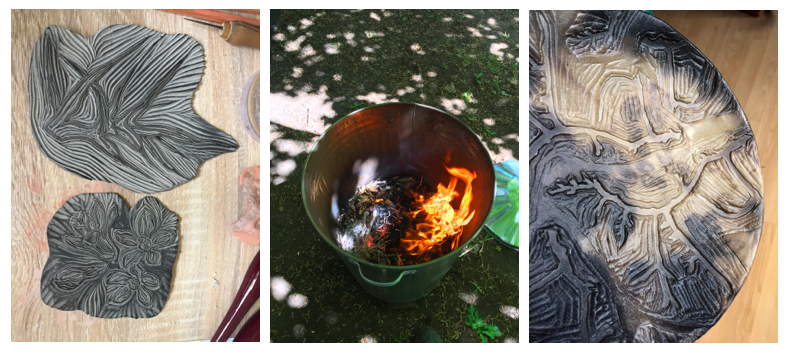 Similarly, I've used patterns in lino to press into clay pots and bowls which hope to engage those who respond to objects through touch and naturalistic learning. These pots are to be fired using a terra negro technique which enables them to be used during cooking, hopefully resulting in some outdoor feasts this summer.
The next step is to make tiles to cover a second hand table using a process of transfer printing onto clay, a process I've never done before but find now is the perfect time to try. Right now access to the back court has been fantastic and for many, working on little outdoor spaces has been a blessing while we've all been without the social places we miss during this time. I hope this place remains a space of comfort and satisfaction even after we all go back to our offices and studios, pubs and cafes, finding a welcome distraction when life gets a little more busy again and creating meaningful experiences for those who use it.