Oscar Whapham Carves New Chandeliers For Kensington Palace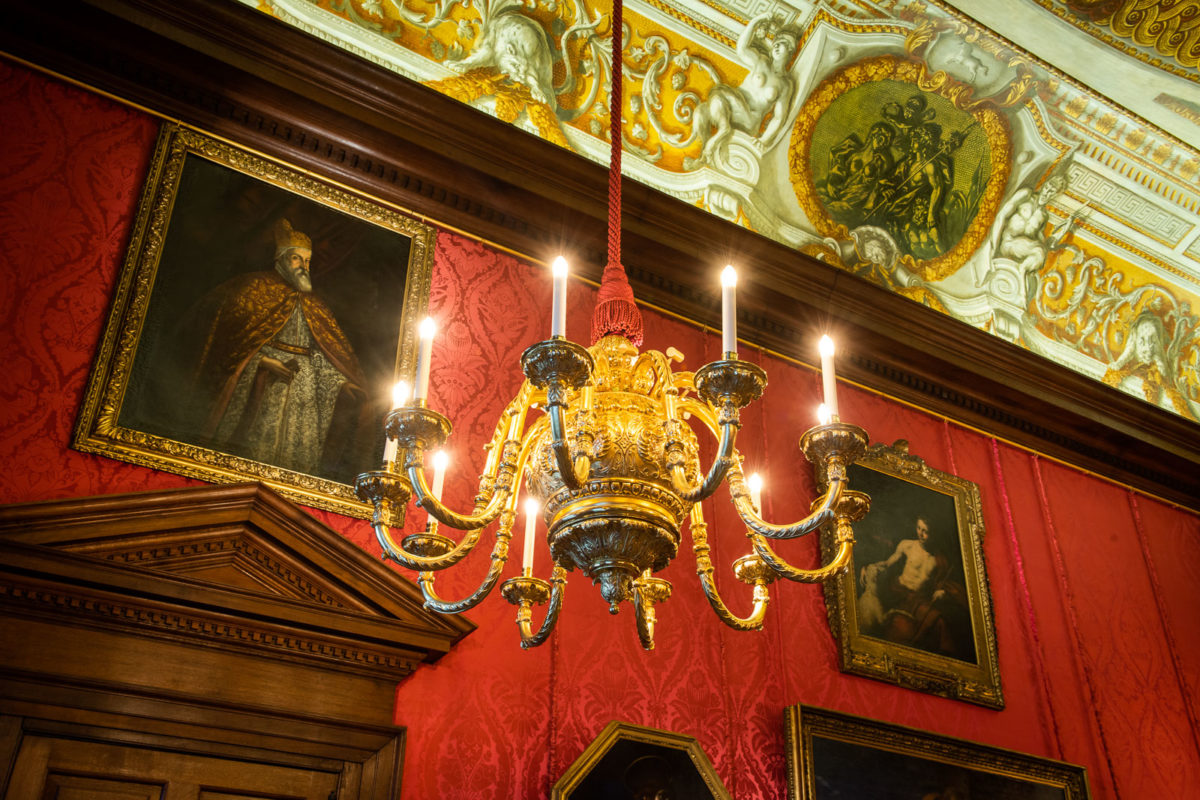 New chandeliers for the King's Drawing Room at Kensington Palace have been created by W.Thomas Restorations Ltd, with the help of their QEST Made in Britain Apprentice Oscar Whapham.  The original chandeliers had long since disappeared, so the craftsmen working on the project looked through records in the Kew National Archives and found a payment record which gave a brief description of their design. This, together with one visual record, a watercolour, allowed them to create early sketch designs to produce new chandeliers.
Ray Dudman who led the project says, "Oscar was very involved in the production of the carving for these chandeliers and is establishing himself as an exceptional craftsman, without the help from QEST it would not have been possible for us to have taken on an apprentice."
Oscar is following a traditional apprenticeship program which is workshop based with weekly time spent at City and Guilds of London Art School, where he is studying a broad range of modules. Here he shares insights from his apprentice and working on this prestigious project.
Can you share some of the highlights of your apprenticeship?
Attending City and Guilds of London Art School has been a definite highlight of the programme. It would have been hard for Ray to find time to teach me skills such as modelling and drawing and this has been wonderful – it's also been great meeting other likeminded carvers at the school. Ray has got in some wonderful jobs such as the Kensington Palace chandeliers, restoration on the Cutty Sark and a reproduction table for Marble Hill House, and working on these allowed me to utilise skills learnt at both the art school and the workshop. It has made for a great balance of work and education.

Tell us about your involvement with the chandeliers project
I was involved with the chandeliers from fairly early on in the project. I assisted Ray in carving some sample mouldings and other sections to be presented to the various committees as the design was being established. Once the design was finalised, I had a hand in carving most of the many different sections that made up the 4 chandeliers. These included the top feathers, water leaf mouldings, arms, candle dish, main section, egg and dart moulding as well as re-cutting a lot of the gesso applied to the carving.
All the carving work I was involved with took place in the workshop. I haven't visited the palace yet, so I was really looking forward to seeing them up when the palace was due to open in March. Unfortunately lockdown came in the week before opening so I'm still waiting to see them all up together in situ. It's always nice having things we've done on display to the public as a lot of work we do goes into private places and we don't get to see them much outside of the workshop. And it will be especially nice to see them in such a grand setting at Kensington Palace.
Were there any particular challenges or successes?
Being a part of a team of 4 carvers can be challenging when we're all trying to produce the same thing. Although we have patterns to copy each carver has their own style and trying to make everything uniform and tie in together can be difficult. Overall though working as part of a team was a lot fun and created a great buzz around the workshop.
What are your future plans?
Hopefully get back into the workshop as soon as possible and to carry on learning under Ray at W.Thomas' and improve my carving as well as my understanding of form and design.
Discover more about the chandeliers in this video produced by Historic Royal Palaces: