QEST Panel Discussion on the State of British Craft Today at the V&A Museum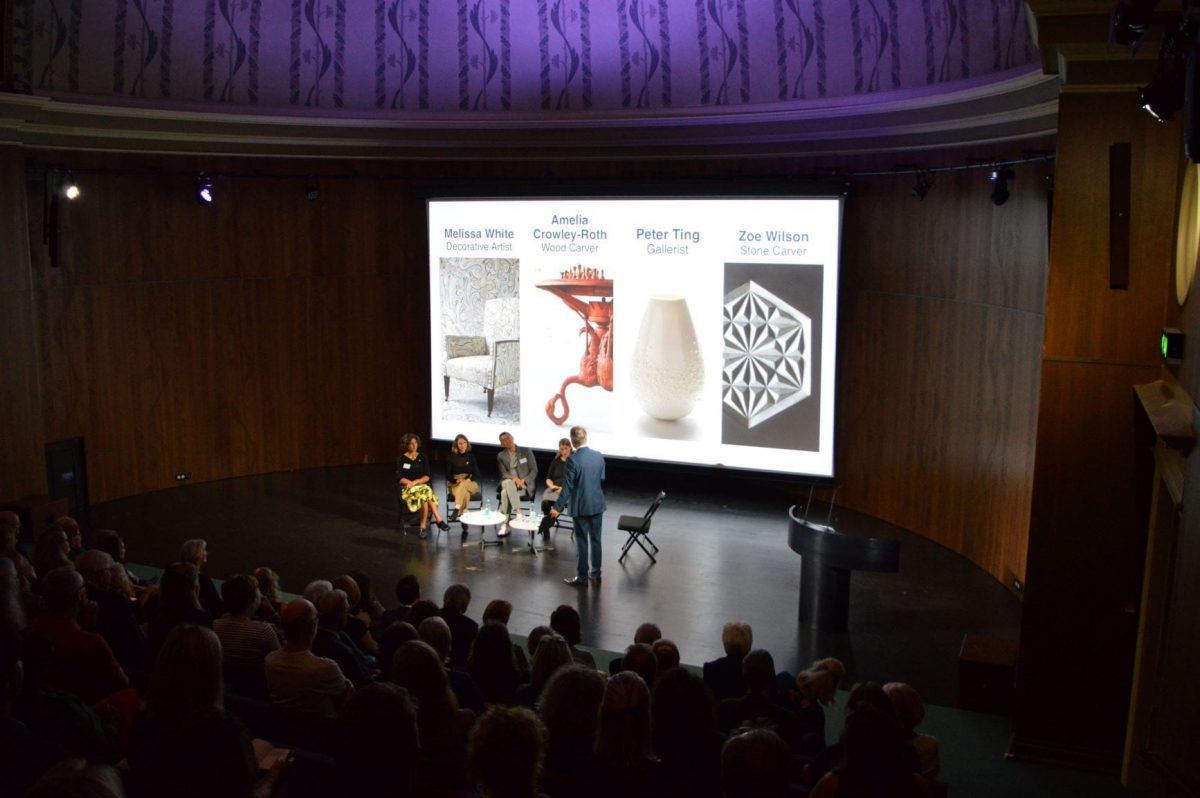 QEST recently hosted a talk at the V&A Museum on the state of British craft today, as part of the V&A's curated programme of events. Led by QEST Ambassador Dr Jonathan Foyle, architectural historian, broadcaster and advocate for heritage sites; the event took place in the V&A's Lydia & Manfred Gorvy Lecture Theatre on Tuesday 24 September 2019.
Jonathan introduced the topic by highlighting some of the fascinating and varied craftspeople he has interviewed for his regular 'Artisans' feature in the Financial Times Weekend. He then welcomed to the stage the panel of QEST Scholars:
Designer, gilder and wood carver Amelia Crowley-Roth who, under the name London Wood Carving, takes commissions for both functional furniture and whimsical sculptural pieces
Peter Ting; ceramicist, designer, gallerist and QEST Trustee. Peter is Creative Director at Thomas Goode and his work is currently on show as part of the V&A's exhibition 'Blanc de Chine, a Continuous Conversation'
Decorative artist Melissa White, who began her career reproducing and restoring Elizabethan wall paintings, and now hand-paints bespoke wallpaper and fabric designs for brands like Kit Kemp, Lewis & Wood and Zoffany
Zoe Wilson, accomplished stone carver and Yeoman Mason (appointed by the Worshipful Company of Masons) who, under the name Lapidis, specialises in bespoke sculptural pieces from traditional carving to contemporary, geometric artworks.
The panel discussed a range of topics from materials and their differing properties and how they inform their work, to how to best promote themselves in today's world.  It was particularly interesting to hear them discuss their differing approaches to their work – Amelia admitted that her clay maquettes are often incomplete; she prefers to get carving and intuitively tweak designs as required by the natural curling of the wood. In contrast, Zoe prefers her designs to be meticulously thought out, as no carve can be misplaced when she is producing effective geometric patterns. Peter is meticulous during the design and sculpting, but also embraces the unique and unpredictable effects of the kiln on ceramics.
Conversations continued after the event during a reception in the stunning Silver Galleries. We were delighted with the success of the evening and hope this will be the first of many. Our thanks again to all at the V&A.